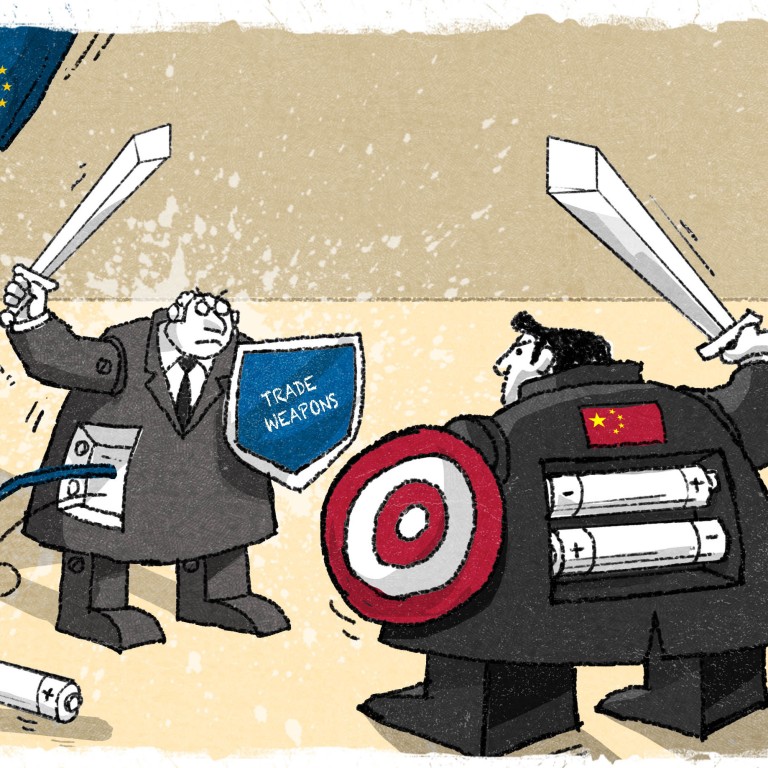 Europe beefs up trade armoury for long-term fight with China
Trade weapons in the works will tackle everything from market access to forced labour, but getting them through will be 'the litmus test'
It's being driven by a geopolitical shift amid Russia's war in Ukraine, frustration with the WTO and hardening attitudes towards Beijing
Galvanised by
Russia's invasion of Ukraine
, technocrats and lawmakers in Brussels are dotting the i's and crossing the t's on a muscular arsenal of trade weapons for what they see as a longer-term battleground with China.
Many of the instruments have been years in the making, but have been given fresh impetus in a newly geopolitical, wartime Europe.
The "toolbox", as it is termed in
Brussels
, will tackle everything from state subsidies to market access, from economic bullying to carbon emissions, from deforestation to forced labour, and from lopsided investment rules to forced technology transfer.
Frustrated by the
World Trade Organization
's (WTO) failure to deal with "problems that go to the heart of China's state capitalism", a senior EU trade official believes that the tools, if adopted, "would not leave significant gaps" in its trade armoury.
"But getting all this stuff on the books will be the litmus test," they added.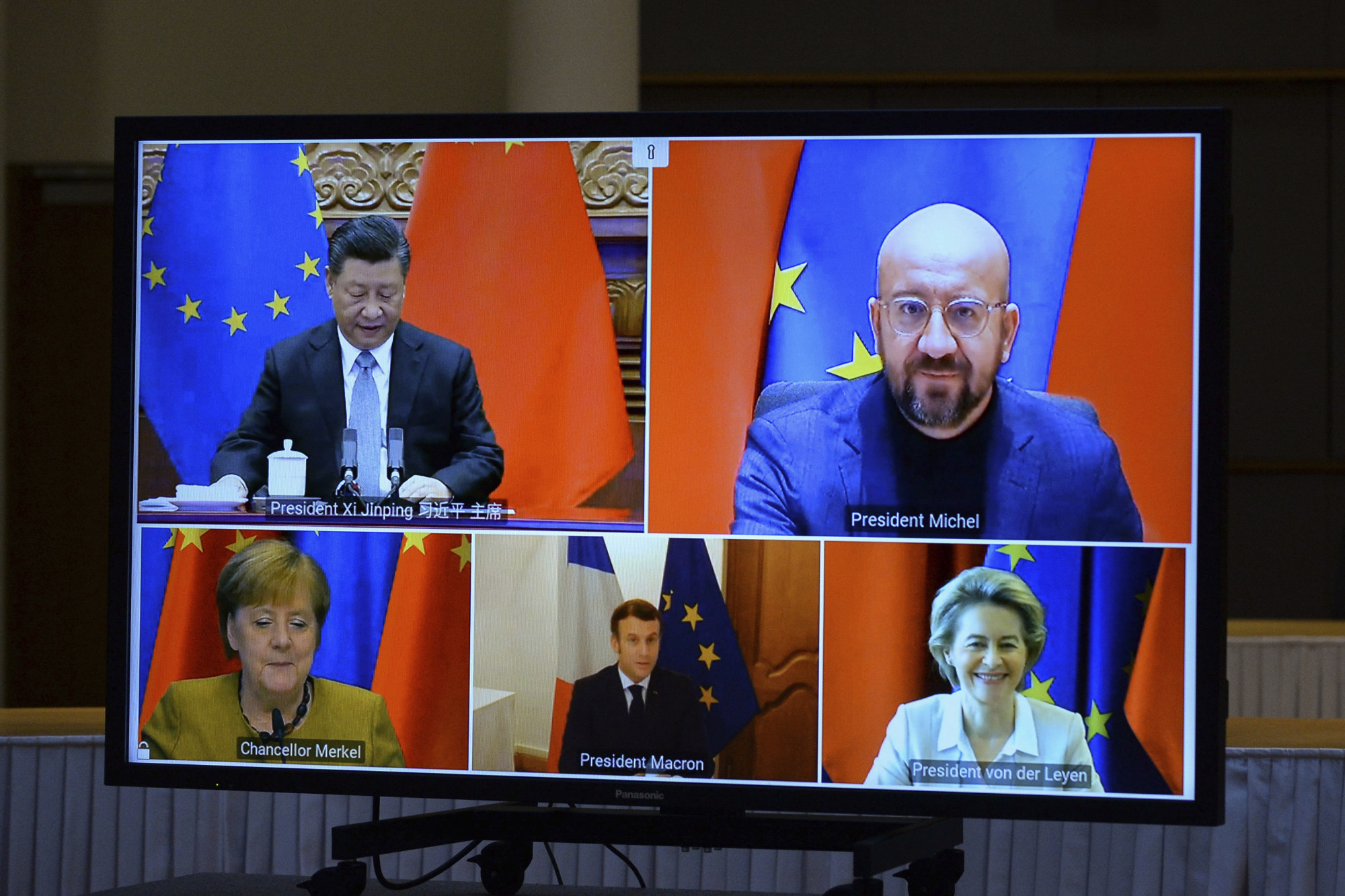 It marks a remarkable turnaround from an online photo opportunity less than 18 months ago, which captured awkwardly smiling European leaders with Chinese President
Xi Jinping
, after giving political blessing to a
bilateral investment agreement
that took more than seven years to negotiate.
The image sparked outrage across European capitals and parliaments, some of whom felt they had not been properly consulted on the Comprehensive Agreement on Investment (CAI), sealed on the last day of Germany's EU presidency.
It also drew fire from Washington, where officials from the incoming Joe Biden administration urged Brussels not to pursue a deal that they saw as an attempt to draw a wedge between Europe and the US.
The CAI was soon frozen, a victim of tit-for-tat sanctions over China's human rights record in
Xinjiang
.
But now, EU officials, looking at the legislative logjam facing the US' China agenda, believe they are leaving their transatlantic allies for dust.
"Two to three years ago, if you went to DC, people would say the Europeans are not ready to have skin in the game," said the official.
"Now they see we are taking action, whether on trade protection, trade contingency, or taking China to the WTO. Whereas in the US there's a lot of talk about what to do with China, but not a tremendous amount of action right now. The Biden administration has not really adjusted the trade stance on China."
None of the tools will mention China by name, and many were instigated with other countries in mind – including the US.
However, hardening attitudes towards Beijing – partly due to its backing of Russia's claims in Ukraine, but also its alleged economic coercion of Lithuania and long-term gripes about its economic behaviour – have brought China directly into the cross hairs.
"In the last year, there has been much more of a China conversation and then a US Section 301 conversation," said the official, referring to Donald Trump's tariffing tool of choice – the initial inspiration for the
EU's anti-coercion instrument
, which is being fast-tracked through the legislative process.
"Does that help? Yes, probably it helps with the passage … the sense of threat is perceived as greater," said the official, speaking on condition of anonymity.
The idea is to equip Europe for a new reality, one in which the rules-based order set by the West is not the only show in town.
"Regulation is good if people follow the rules," the EU's top diplomat, Josep Borrell, said at an event in Brussels on Wednesday.
"If people decide not to follow the rules then regulation is less useful. And more and more we're in a world where some people don't follow the rules and others build their own rules."
In some of the new rules proposed by Brussels, a recently finalised procurement instrument could block Chinese firms from the EU's lucrative procurement market because their home market remains largely closed to European competitors.
A foreign subsidies law, to be ready this year, would hamper the purchase of European businesses by Chinese or other buyers who receive state subsidies, adding to inward investment screening tools the EU has been using to prevent Chinese firms hoovering up strategic assets.
Senior sources confirmed that through its Trade and Technology Council with the United States, Brussels has discussed an outbound investment screening tool that could prohibit some business activity in China, with the early talks focused on the aircraft manufacturing sector.
While officials emphasise that the discussions are nascent, such a tool could theoretically block European firms from entering joint ventures or other arrangements with Chinese partners where there is a risk of forced technology transfer or a perceived national security risk.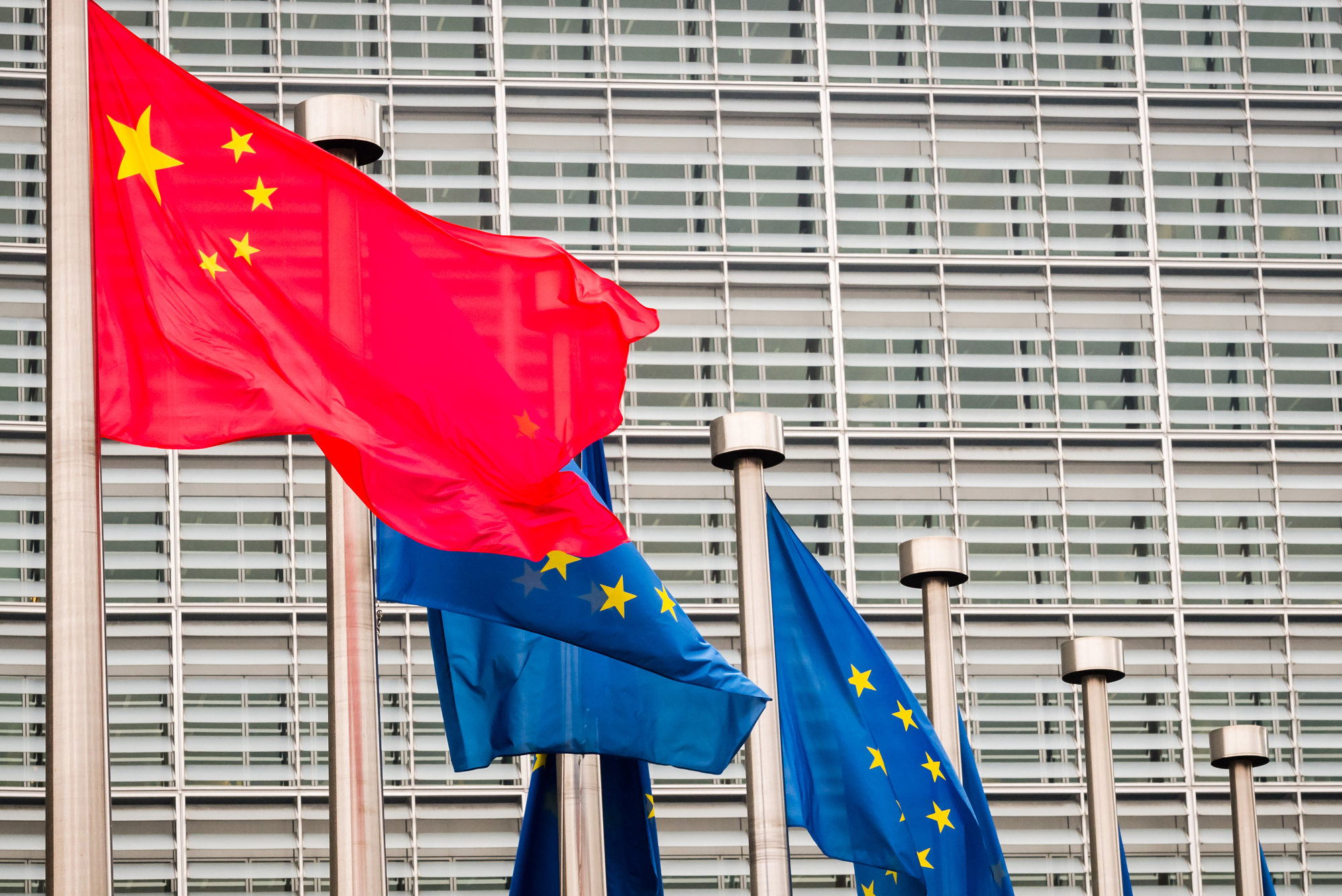 Observers say the US is closely watching the EU's China trade agenda unfold.
"As the US looks for new tools to counter China's unfair trade practices, I sense a growing interest in what Europe is up to in this space, both in terms of lifting some ideas but also coordinating actions taken by Washington and Brussels and potentially others," said Wendy Cutler, vice-president at the Asia Society Policy Institute and a former US trade negotiator.
An anti-coercion instrument, meanwhile, is designed to allow Brussels to hit back when a member state is being bullied.
It has gathered momentum since Beijing's alleged coercion of Lithuania over its hosting of a controversially named Taiwanese diplomatic presence last year, which eviscerated the tiny Baltic state's China exports and left smaller member states wondering if they could be next.
Of all the tools, this one most closely reflects the geopolitical shift in Europe.
"This is an anti-coercion instrument, meant to deter. Deterrence is a term that comes from nuclear strategy, where deterrence is all about: I show you what I am able to do to you, you're going to be deterred from doing something to me. We're now apportioning that to trade policy," said Rem Korteweg, an analyst of Europe's changing relations with global powers at the Clingendael Institute, a Dutch think tank.
Add to this a
ban on goods made using forced labour
, for which a proposal is due in September, and the pace of change has been dizzying – at least on the glacial scale at which the EU usually moves.
"It has been accelerated by the circumstances, but that doesn't really matter. What matters is the acceleration," said Steven Blockmans, director of research at the Centre for European Policy Studies, a Brussels think tank.
The most recent China summit in April felt like a Rubicon moment for EU leaders, who were astonished by top Chinese leaders' perceived intransigence on Russia and unwillingness to seriously discuss economic woes.
Brussels subsequently proposed dates in June for a biennial High-Level Trade and Economic Dialogue, as agreed at the online summit, but there has been no response from Beijing.
A senior EU source said they were unsure whether this was due to the Covid-19 crisis in China, or if there was a lack of political will from Beijing's top leaders.
Either way, there is frustration at China's failure to reply, adding to exasperation over Beijing's refusal to contemplate any dispensation for diplomats travelling during the pandemic, and anger over the arrest and detention of a Chinese citizen working for the EU in the country.
This pile of grievances has helped spur Brussels into action on Taiwan: a bilateral trade summit on Thursday has been
upgraded to ministerial level
, while the European Parliament's trade committee is planning a trip to Taipei in December.
Depending on their political stripes, European trade insiders complain that the agenda is moving too fast or too slow, that it is too hard or too soft, or that it is too focused on China, or not focused enough.
"Suspicion is high but knowledge is low," said one trade source, who worried about the spillover of anger from Russia onto China, and the framing of the war as a battle of democrats versus autocrats.
Some in the hawkish camp, meanwhile, worry that conservatives in the EU's powerful trade department will water down some of the tools, particularly a forced labour ban it actively lobbied against creating.
They will also be concerned by an internal debate over whether to proceed to the panel stage of a WTO case against China over its treatment of Lithuania.
The EU is generally reluctant to progress with cases it is not sure it will win, and some officials are worried that the nature of the coercion – an unofficial boycott that does not fit neatly within WTO rules – makes it risky.
In Geneva, the two parties are discussing individual containers of Lithuanian goods which have been unable to enter China, a senior source said.
There have been occasions on which a container flagged one day has been released soon after, adding ambiguity to a boycott that China has insisted is not official. Meanwhile, China's total blockade has been more porous in recent months, allowing entry to some Lithuanian goods, which EU officials say is further muddying the water.
Having bounced back to around half of last year's monthly average in March, shipments from the Baltic nation to China collapsed again in April, down 92.6 per cent from a year earlier.
Others within the department believe not proceeding would embolden China to coerce other EU states, and infuriate Vilnius.
"We are pressing to proceed to the WTO panel at the very least, and would be frustrated – and more – if they didn't," said a senior Lithuanian official.
A decision will be made in the coming weeks, in what will be an early acid test of whether the EU's ambitious trade plans are matched by the geopolitical will to execute them.