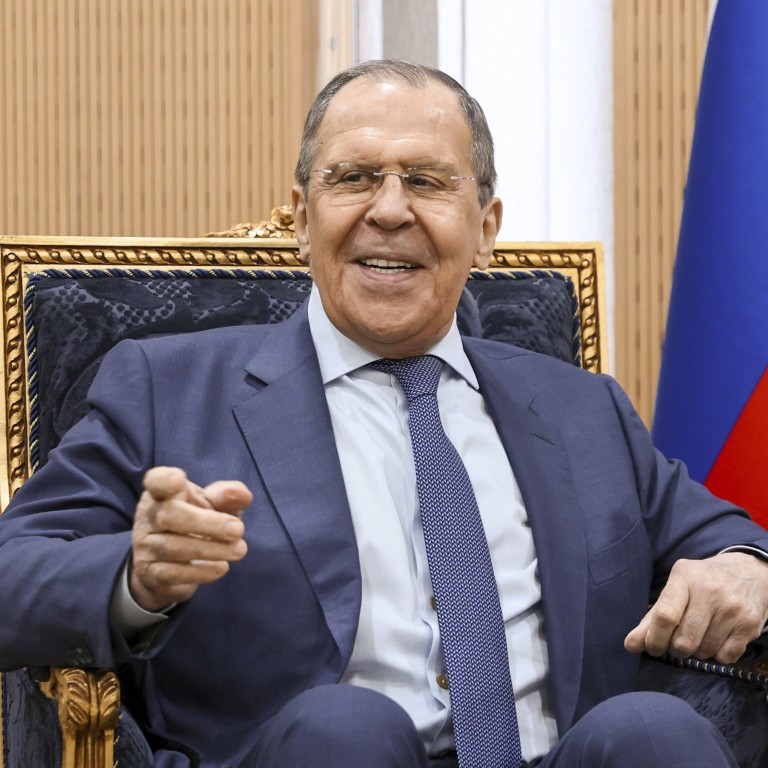 Russia's relationship with China is better than an alliance, says ambassador
Ambassador Andrey Densiov told an online event that their relationship was flexible and had no upper limits
Russia's Foreign Minister Sergey Lavrov said the 'hybrid war' waged against the country after it attacked Ukraine offered new opportunities to work with Beijing
Speaking ahead of the opening of a symbolically important cross-border bridge, Russia's ambassador to China Andrey Denisov and Foreign Minister Sergey Lavrov, said the Ukraine crisis has pushed Moscow and Beijing closer together.
"The relationship between China and Russia is not an alliance in form, but is better than an alliance. This
relationship is flexible
, with no upper limit and restrictions," Denisov said in an online China-Russia relations forum on Wednesday.
The relationship is "not directed at third countries and is not affected by changes in external situations", he said.
Ties between China and Russia are under close scrutiny in the West since
Russia invaded Ukraine
in late February.
Beijing has refused to condemn Russia for invading Ukraine, prompting warnings from the US that Beijing would have to face consequences if it helped Russia to bypass sanctions.
Beijing has said it will continue to trade with Russia, and the US reportedly has not found evidence that Beijing is backing Moscow militarily.
"I believe that the hybrid war waged by the West against Russia has opened up new opportunities to expand pragmatic cooperation between Russia and China, including in the areas of investment and finance," Lavrov said.
The bridge – which spans the Heilong River, known as the Amur in Russia – was first proposed in 1988, ahead of a historic visit to Beijing by Mikhail Gorbachev.
The Soviet leader's visit ended decades of frosty relations, but work on the bridge did not begin until December 2016.
Lavrov said China and Russia would develop their financial infrastructure, increasing the use of local currencies in settlements between the two nations – a move seen as offsetting the impact of Russia being kicked out of the international Swift payments system. Such transactions account for around 25 per cent of the trade between the two nations.
He continued that China and Russia share a similar stance in global affairs and oppose the US dominating the setting of international rules.
Both nations have said no country should fulfil their security needs at the expense of others – a veiled attack on the expansion of Nato.
"We reject illegal unilateral sanctions, which are tools for political pressure," Lavrov said.
Speaking at the same forum, Chinese Foreign Minister Wang Yi also said international and regional security cannot and should not be guaranteed by strengthening military blocs.
"Only by firmly adhering to the concept of win-win, and taking into account the security of other countries when seeking our own security, can we embark on a mutually beneficial and win-win security path," he said.