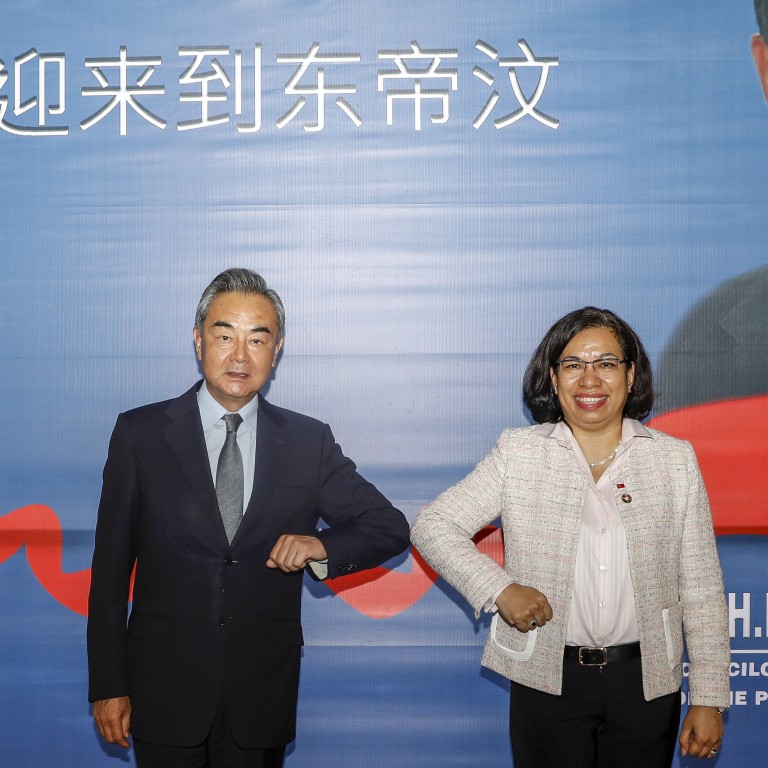 East Timor deals cap Chinese foreign minister's 10-day Pacific blitz
Two countries sign range of economic agreements while Dili tries to balance its relationship with major powers
China to work with East Timor to support central role of the UN, minister says
In the capital Dili, Wang and East Timorese Foreign Minister Adaljiza Magno signed agreements on agriculture, media partnerships and economic and technical cooperation.
The two countries also signed a deal on sending a Chinese medical team to East Timor, and agreed to step up coordination on regional affairs.
Wang said China supported East Timor's participation in the World Trade Organization.
"China is willing to work with developing countries including East Timor to support the central role of the United Nations; defend the international order based on international law; oppose unilateral bullying, a cold war mentality, and bloc politics confrontation; maintain regional peace and stability, and especially prevent chaos from spilling to the region from other areas," a Chinese foreign ministry statement quoted Wang as saying.
Wang's trip also took him to seven Pacific island nations, prompting concern from the United States and Australia about Beijing's widening influence in the region, particularly in the
Solomon Islands where a key security agreement
was reached.
Wang said the Solomon Islands was an independent and sovereign country and had the right to sign bilateral agreements with other countries according to its own needs.
"The bilateral security framework agreement between China and the Solomons was reached through negotiation on an equal basis at the request of the Solomon Islands, according to the needs of the Solomon Islands, and to help the Solomon Islands maintain social stability," Wang said on his previous stop in Papua New Guinea.
There were no deals on military or security matters with East Timor on Friday.
"The bilateral relationship between Timor-Leste and China has been very good, especially in the economic sector," Economic Minister Joaquim Amaral said.
"The close relationship that Timor-Leste and China have built is very important," he said, citing a potential role for Beijing in helping his country join the regional bloc Asean.
East Timor, a former Portuguese colony, became independent from Indonesia in 2002 after 24 years of occupation.
Nobel laureate Jose Ramos-Horta was sworn in as its new president last month and he has set out to grow the country's relationship with Beijing.
But he appeared to balance his country's position in the US-China rivalry in his inauguration speech, pledging to expand ties with Beijing while praising Washington for its role in developing East Timor's infrastructure.
China has marked East Timor as a partner in its Belt and Road Initiative, President Xi Jinping's flagship infrastructure project.
Additional reporting by Agence France-Presse