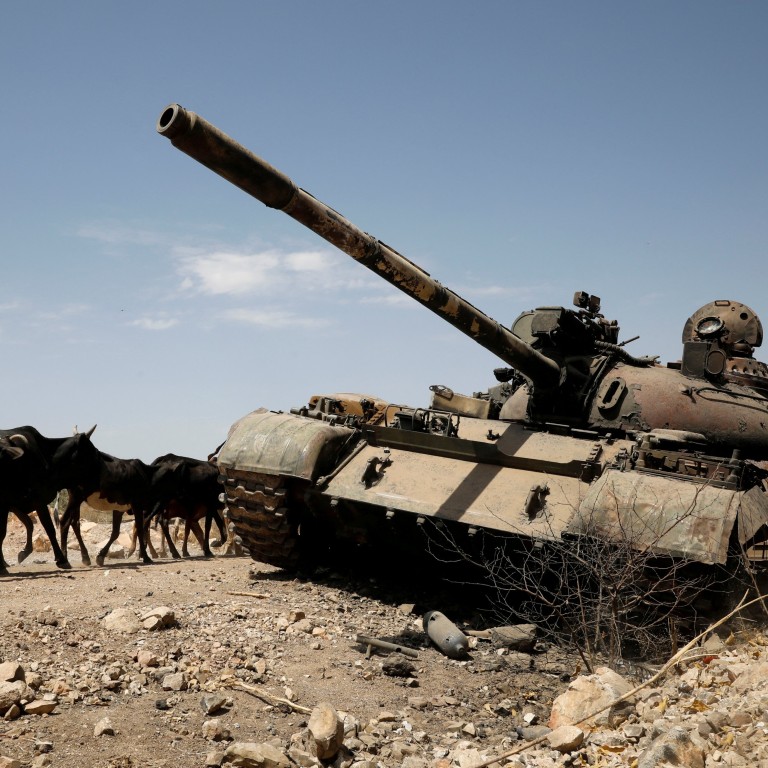 June date set for China-sponsored Horn of Africa peace conference
The talks in Addis Ababa are a departure from Beijing's long-standing policy of non-intervention
Co-hosts Ethiopia and Kenya represent the region's two biggest economies and, along with other participants, have received substantial Chinese investments
China will convene a peace conference in the Ethiopian capital Addis Ababa later this month as it seeks to broker an end to the decades-long conflicts in the
Horn of Africa
.
Although China is yet to make public the agenda, Sudan News Agency reported on Thursday that Khartoum had received an invitation from the Chinese government to attend the Horn of Africa
peace conference
on June 20-21.
Chinese ambassador to Sudan Ma Xinmin, in a meeting with the Sudanese acting undersecretary for the foreign ministry Nadir Yousif Al-Tayeb, said the conference was an "initiative from China to enhance stability, development and good governance in this important region".
The Horn of Africa – which includes Ethiopia, Eritrea, Djibouti, Somalia, Sudan and South Sudan, along with Kenya – has long been wracked by civil wars, Islamist insurgencies and military coups, most recently in Ethiopia, Sudan and Somalia.
In October, Sudan's military seized power, raising instability and putting at risk Chinese investment interests, especially in the petroleum industry.
And in Somalia, a resurgence of the jihadist fundamentalist group al-Shabab has led to terrorist attacks in Kenya, prompting Nairobi to send troops into the neighbouring country in a further threat to regional security.
Ethiopia is engaged in a deadly civil war in the Tigray region, where millions have been displaced. Washington has responded to the conflict with sanctions, a cut in aid and suspension of duty-free access for Ethiopian exports.
Beijing has previously criticised the US for "meddling" in the internal affairs of the Horn countries, which it says are capable of solving the problems without outside interference.
But observers said Beijing's decision to no longer remain a passive onlooker in the conflicts that have killed thousands and displaced millions marked a shift in its long-standing policy of non-intervention, driven by its rising economic power.
China has vast interests in the region, a major destination for development loans through its trillion-dollar
Belt and Road Initiative
, which has helped to build ports, highways, dams and railways across the continent.
Chinese companies are building part of the Grand Ethiopian Renaissance Dam, a project opposed by other Nile users, including Sudan and Egypt, and is making inroads in Eritrea, which joined the belt and road investment plan in November and may start seeing money from China flow to develop its ports and rail networks.
China has also funded a US$4.5 billion rail link between Ethiopia and Djibouti – where it has established its first overseas military base and invested in mega ports and terminals – as well as several other projects in Ethiopia, Kenya and Sudan.
Seifudein Adem, an Ethiopian national and professor of global studies at Doshisha University in Japan, said China was formally entering "uncharted territory" with its decision to play a constructive role in resolving the regional conflicts.
"It has heralded the beginning of the contest between two approaches to conflict resolution: the Euro-American way, which is being tried and tried again, and the Chinese way, which is yet to be tried in the Horn of Africa," he said.
"Whether this is a good thing for Africa remains to be seen. But it is a good thing for China – despite the risks associated with it."
Adem said that by sponsoring the peace conference, China was also using the region as a laboratory for its diplomatic assertiveness before taking the approach to other parts of Africa and beyond.
"But what this conference does is merely formalise and accelerate a process of diplomatic activism, or soft interference in the internal affairs of other countries, that began at least when Hu Jintao was president of China," he said.
"It is a well-known fact that China's principle of non-interference in the internal affairs of other countries has been a principle that was hardly practised in any case."
Beijing flagged its interest in a peace conference in February, appointing Xue Bing as its envoy to the Horn of Africa with a mission to help broker an end to the conflicts.
Xue met leaders in Kenya, Eritrea, Ethiopia, Uganda, South Sudan, Djibouti and Somalia in March, during a visit to the region to monitor the situation ahead of the conference.
Aaron Tesfaye, a political-science professor at William Paterson University in New Jersey, said the peace conference was a demonstration of China's relative economic power, shifts in its perception of threats and interests abroad, and an attempt to play a more defined role in global governance.
"Beijing's willingness to hold a peace conference in Addis Ababa demonstrates its changing behaviour in terms of the long-held policy of non-intervention which is evolving as its engagement with Africa deepens," he said.
Tesfaye, who is also a senior fellow at the Afro-Sino Centre of International Relations in Ghana, said the move showed that "China has recalibrated its political role in Africa, through a profound learning experience from engagements in South Sudan, Mali, etc and throws new light into Sino-African connections".
David Shinn, a professor at George Washington University's Elliott School of International Affairs and a former US ambassador to Ethiopia, said he did not expect much to come out of the peace conference.
"The issues are numerous and complex, and the contending parties have shown little willingness to compromise. China is a good listener, but in the past has shown minimal interest in taking those strong measures that are often required to resolve conflict," he said.
The African Union headquarters in Addis Ababa is seen as a neutral location for the conference, in a complex designed, built and paid for by China.
"It is therefore a fitting site for China to 'showcase' its role on the continent and for Xue to make a splash," said John Calabrese, head of the Middle East-Asia Project at American University.
Apart from the "performative" aspect of the diplomatic endeavour, Calabrese said it was important to note that conference co-hosts Ethiopia and Kenya represented the Horn's two biggest economies and, along with the other participants, had received substantial investments from and owed significant debts to China.
"These efforts are no doubt intended to increase China's visibility and burnish its image as a constructive 'public goods' leader on the international stage – and by doing so, differentiate itself from the US, Europe, and perhaps even Russia," he said.
Calabrese pointed out that "the most pressing issue in the Horn is the potential impending humanitarian calamity. The drought is having a devastating impact on agricultural output."
He said the Russia-Ukraine war had caused grain prices to soar and disrupted global supply chains. "Millions are at risk of severe malnutrition, if not an outright region-wide famine."