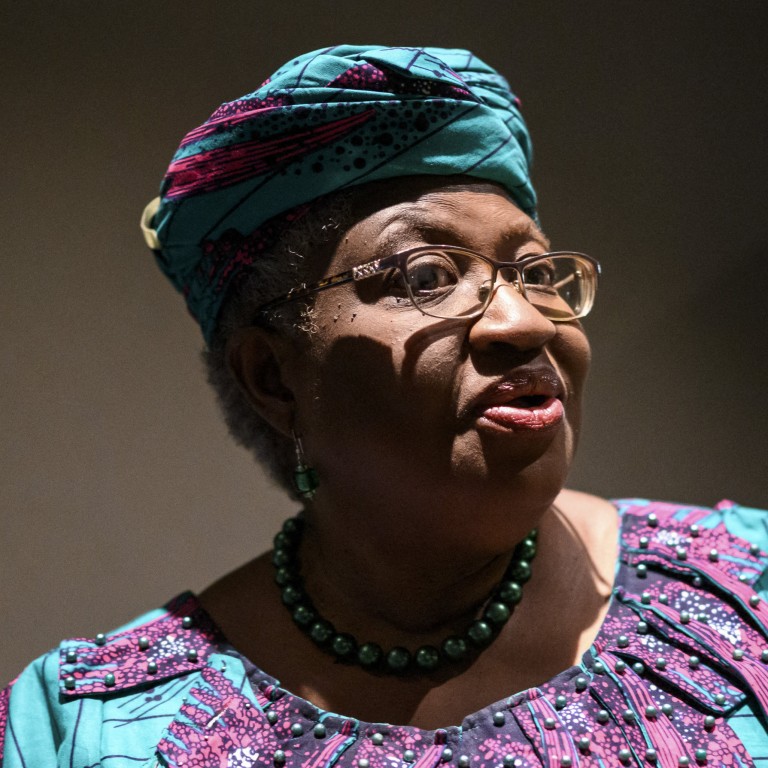 Exclusive
China's positions crucial in crunch talks as WTO chief eyes deals on fishing and vaccines
Ngozi Okonjo-Iweala says it is 'within the realm of the possible' that deals are reached at World Trade Organization's MC12 next week
On subsidies, she restates her view that targeting China in efforts to reform the WTO will fail
China will be at the heart of crunch talks on fishing subsidies and intellectual property waivers for
Covid-19 vaccines
next week at the first
World Trade Organization
ministerial summit held in five years.
WTO chief
Ngozi Okonjo-Iweala
says it is "within the realm of the possible" that deals will be reached, with the beleaguered Geneva institution in desperate need of wins.
"It's moving along – they're very tough negotiations, but I think that we're within the realm of the possible that we could do that," the Nigerian told the South China Morning Post on Wednesday, referring to talks that would allow poorer countries to manufacture coronavirus vaccines without being sued by the developers.
"At end of the day it will require the ministers to close, and the political will to close, one or two remaining issues. But it's within the possible," added Okonjo-Iweala, who admitted that the job had been "trickier and harder" than she expected, but that "progress has been good".
The 164 members' trade ministers will meet for the WTO's 12th ministerial conference (MC12) in the shadow of the
Russian war on Ukraine
, with food and energy crises stemming from Russia's aggression at the top of the agenda.
Key Western members have revoked Moscow's basic WTO trading privileges and refused to sit down with Russian counterparts, adding new layers of complexity to already tough talks.
"I am not saying that at MC12 there will not be some Russia-Ukraine tension. I'm sure there will be. But again, I think we will find ways to work it out. There has not been this sort of divisions into blocs, at least not within the WTO – we are fortunate that kind of regional blocs has not really happened," she said.
A deal on vaccines partly hinges on whether China commits to not using its status as a developing country at the WTO to manufacture vaccines free from
intellectual property
rights.
At meetings in Geneva, Beijing has indicated it is willing to waive those rights, but trust is low among Western members because of China's chequered history in the field of intellectual property rights protection.
China self-identifies as a developing country at the WTO, and could technically benefit from the vaccine deal. Achieving a deal may rest on whether Beijing can convince other members it will not draw down these benefits.
On
fisheries
, insiders said a deal was there to be struck, but Western grievances about the alleged use of
forced labour on Chinese fishing fleets
might need to be "part of the set of final political decisions made", said a source familiar with the talks.
A provision in the draft text would require members to declare any subsidies granted to vessels that have been proven to use forced labour, sources said. China vehemently opposes the clause, while the US insists on its inclusion.
China's status as a developing country could cause problems here too.
It is the world's largest subsidiser of fisheries, spending nearly three times as much as the second biggest subsidiser, the European Union, according to a 2019 paper in the journal Science Direct. But as a developing country, it could be permitted to continue using subsidies.
"I believe China has been negotiating in good faith and things are being worked out. Both the US and China are very constructive, and have been very constructive members in the negotiations," Okonjo-Iweala said.
However, thorny issues such as Chinese industrial subsidies and the restoration of the final court of appeal will have to wait.
The appeal court collapsed
after the US refused to nominate new judges in protest over what it saw as the WTO's inability to deal with China's economic model. Okonjo-Iweala said there were "encouraging signs" of the US speaking with other members behind the scenes, but no resolution was close.
On subsidies, she reiterated her view that targeting China in efforts to reform the WTO would fail.
"We need to find ways to engage China. Obviously, any member who feels particularly targeted will react in a manner that may not be constructive," she said.
"The best way to engage is to find what … they will respond to, and I think most members … can be pushed back to the table about an issue if they can see objective information, they will react better."
Senior EU sources expressed frustration at the limitations of the WTO in dealing with issues such as Chinese subsidies, saying they saw "big spillovers from some of the Chinese non-market policies and practices" across the global economy.
The lack of clear WTO rules governing unofficial boycotts is making EU trade officials think twice about whether they can win a case.
Asked whether the WTO was cut out to deal with such cases, Okonjo-Iweala suggested members should try to resolve them bilaterally, rather than bringing them to court.
"[In the past] there has been too much recourse to the dispute settlement mechanism right away, and before members tried to find alternative methodologies," she said, adding that she could not comment directly on Lithuania and China.