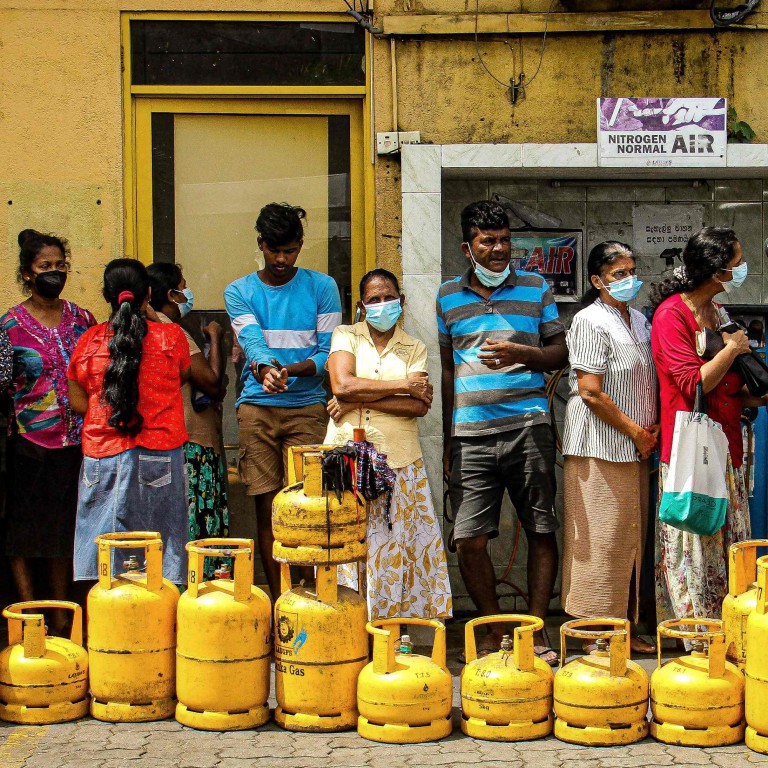 China diplomat outlines complicated causes of Sri Lanka's debt crisis
In a meeting with the Sri Lankan envoy to Beijing, the foreign ministry's head of Asian affairs points to the developed world's fiscal policies and sanctions
China has pledged further help on top of its emergency humanitarian funding but remains tight lipped on hoped-for loan and credit line
The fiscal policies and sanctions of developed countries are behind Sri Lanka's
debt crisis
, a senior Chinese diplomat said in a meeting with the South Asian nation's envoy to Beijing
Palitha Kohona
on Thursday.
The foreign ministry's head of Asian affairs Liu Jinsong said the reasons developing countries such as
Sri Lanka
had fallen into debt difficulties were "very complicated".
"One of the background [issues] is that some developed countries have implemented quantitative easing policies for a long time," he said, according to a ministry statement.
"The interest rate hikes and [shrinking] balance sheets have caused drastic change to the international financial situation, and shock waves to developing nations."
Liu said global supply and industrial chains had been further affected by the "unilateral sanctions and tariff barriers of some big nations, and the build up of small circle blocs".
"This has exacerbated the soaring prices of commodities such as energy and food, and caused economic and financial problems in developing countries including Sri Lanka," he said.
Sri Lanka is in an unprecedented debt crisis, leading to mass protests across the country and the resignation of top officials, including Basil Rajapaksa, former finance minister and the younger brother of Sri Lanka's president.
For months, Sri Lankans have endured severe shortages of food, fuel and medicines, power outages and other difficulties because of an acute foreign currency shortage preventing the country from repaying its debts and buying desperately needed imported goods.
Sri Lanka is nearly bankrupt. The government last month said it was suspending nearly US$7 billion in foreign debt repayments due this year, out of about US$25 billion due by 2026. Sri Lanka's total foreign debt stands at US$51 billion.
Prime Minister Ranil Wickremesinghe has said Sri Lanka needs about US$6 billion to pay for vital imports and stay afloat for the next six months, while the United Nations has launched an appeal for US$47.2 million in emergency aid.
"If we don't act now, many families will be unable to meet their basic food needs," the UN resident coordinator in Sri Lanka, Hanaa Singer-Hamdy, said.
"Sri Lanka's once-strong healthcare system is now in jeopardy, livelihoods are suffering and the most vulnerable are facing the greatest impact. Now is the time for the international community to show solidarity with the people of Sri Lanka."
Speaking to the South China Morning Post in April, the Sri Lankan envoy Kohona said his country's immediate need was to meet its debt repayments. "And our crying need is to finance certain imports, like petroleum, gas and other items like that. No economy can last for too long without petroleum and gas, and without electricity."
Sri Lanka's tourism industry – which supported 10 to 15 per cent of its economy - had been hit hard by the Covid-19 pandemic, he said in the interview. The Ukraine war exacerbated the crisis, with Russia – the world's third largest buyer of Sri Lankan tea – unable to pay after it was suspended from the Swift global payments system.
The conflict in Ukraine has also created a number of food supply crises, including millions of tonnes of Ukrainian grain unable to be exported.
Critics have blamed China for creating a debt burden on developing countries with its trillion-dollar Belt and Road Initiative, which includes a 99-year lease of Sri Lanka's Hambantota port as part of a controversial debt-for-equity swap scheme.
China has pledged further help on top of its 500 million yuan (US$74.7 million) emergency humanitarian funding for Sri Lanka, but remains tight lipped on whether it will provide a requested loan and credit line.
Additional reporting by Associated Press