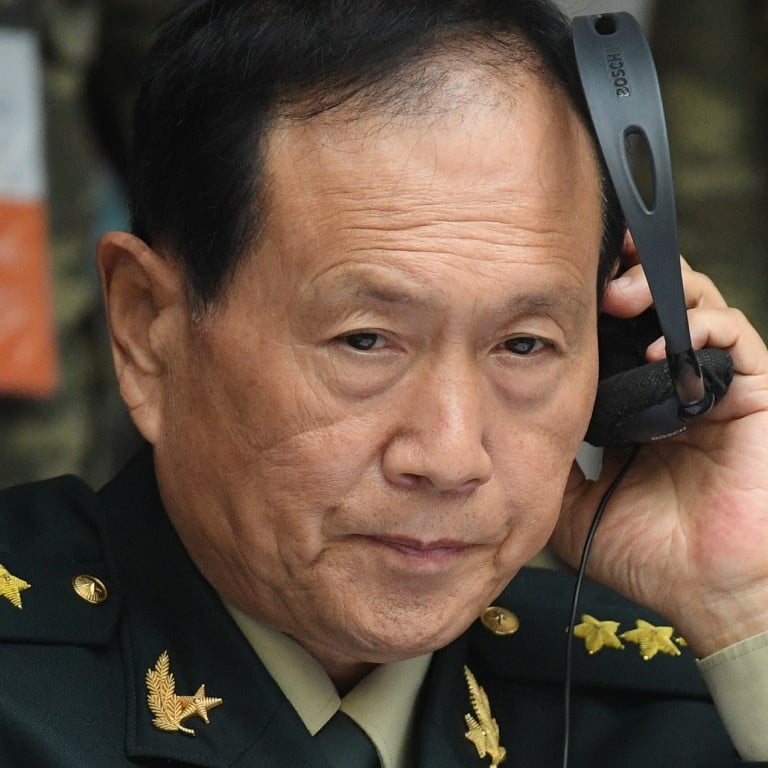 China, US defence chiefs square off on Taiwan, Ukraine in first face-to-face talks
Lloyd Austin urged Beijing to refrain from destabilising actions, while Wei Fenghe said the PLA would 'fight at all costs' to defend Chinese sovereignty
Both sides called for more communication and – despite the tussle over Taiwan – Beijing described the meeting as 'candid and constructive'
The Chinese and US defence chiefs squared off over
Taiwan
and Ukraine during their first face-to-face meeting on Friday, but Beijing described the talks as "constructive".
Both sides called for more communication after Chinese Defence Minister General Wei Fenghe met his US counterpart Lloyd Austin, as Beijing and Washington remain at odds over a wide range of issues.
"The two ministers exchanged views on bilateral military ties,
Taiwan
, the
South China Sea
, the
Ukraine crisis
and other issues, which could be seen as a candid and constructive strategic dialogue," Chinese defence ministry spokesman Wu Qian said after the talks, on the sidelines of the
Shangri-La Dialogue
in Singapore.
A senior US defence official said the tussle over Taiwan took up much of the meeting. The Pentagon said in a statement afterwards that Austin told Wei the US was committed to its one-China policy, and called on Beijing to refrain from further destabilising actions towards Taiwan.
Beijing claims the self-ruled island as its own and has not ruled out the use of force to bring it under mainland control.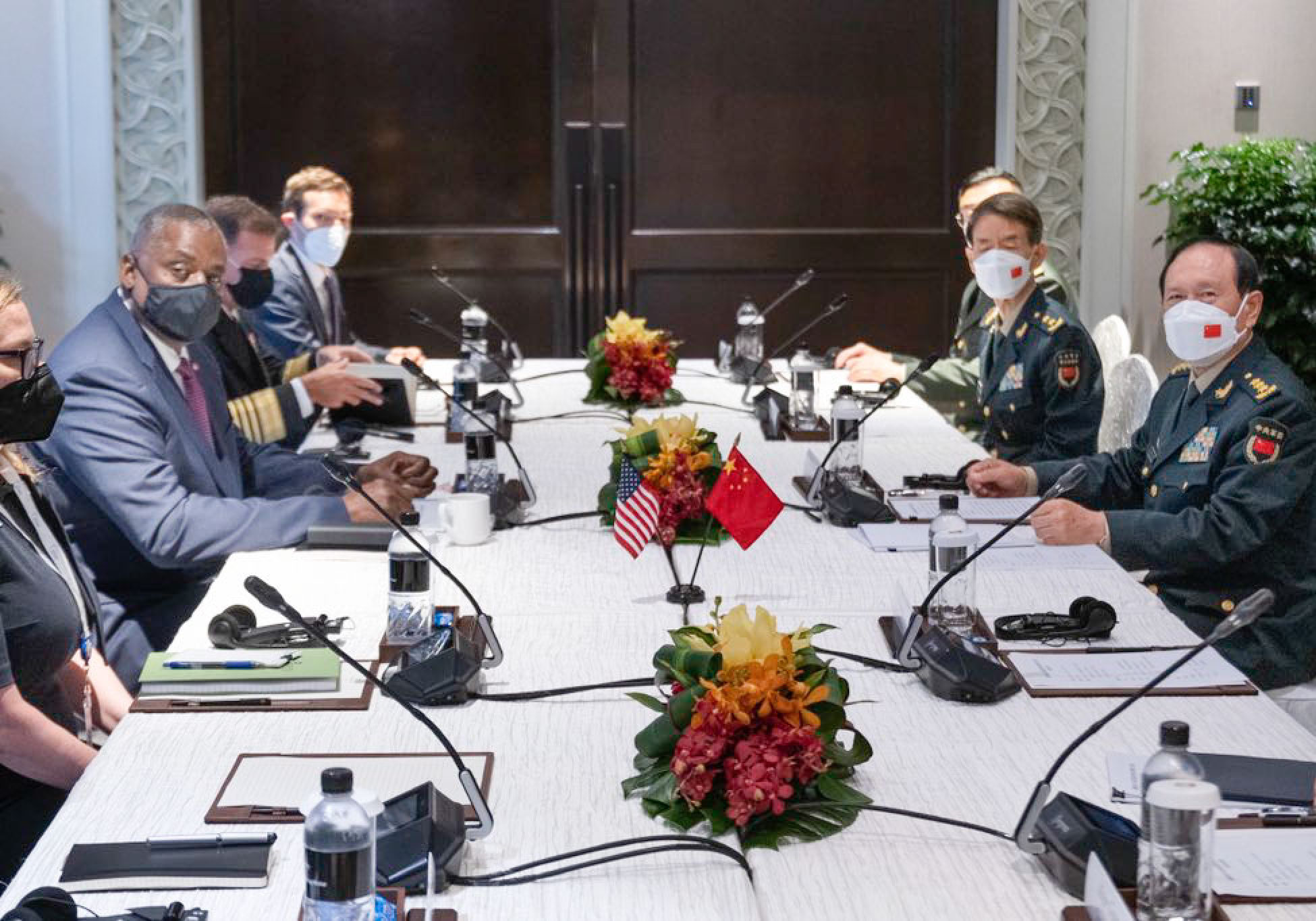 Wei warned Washington against using the war in Ukraine to play up the Taiwan issue, the Chinese defence ministry spokesman said.
"No one can divide Taiwan from mainland China. The PLA will fight at all costs to defend the country's territory sovereignty and integrity," Wei said. "We will take countermeasures if someone wants to make an issue out of the Ukraine war by linking the Taiwan issue to the ongoing crisis, because it would undermine China's interests."
And he denied Washington's claim that Beijing had changed the status quo of the Taiwan Strait through military intimidation of the island, saying "Taiwan independence and foreign forces" were the reason for any change, according to Wu.
The US official said the two defence chiefs also discussed Ukraine, with Austin saying Chinese material support to Russia for a full-scale invasion of Ukraine would be "deeply destabilising".
Wu said China had not provided military aid to Russia.
A Chinese defence ministry statement also quoted Wei as saying that Washington should not "smear and contain China" or interfere in its "internal affairs".
The United States is seeking to use the three-day security conference to push back against growing Chinese influence in the region, as it tries to boost ties with Asian allies as part of its Indo-Pacific strategy.
But in Friday's talks, both sides also stressed the need for more communication.
The Pentagon statement said Austin underscored the importance of the PLA engaging in substantive dialogue on improving crisis communications and reducing strategic risk.
Wei said communication was needed to improve mutual strategic trust and prevent disputes from becoming conflicts. "A stable relationship between the two militaries is crucial to the development of the bilateral relations between the two nations. The two militaries should avoid confrontation," he was quoted as saying in the Chinese ministry statement.
US magazine Foreign Policy reported on Thursday that the US was looking for better lines of communication between Austin and Wei and increased engagement between General Mark Milley, chairman of the Joint Chiefs of Staff, and his Chinese counterpart and between the US Indo-Pacific Command chief and Chinese regional commanders.
The meeting – which ran for 30 minutes longer than scheduled – was the first time Wei and Austin have spoken in person. Their talks have been limited since Austin took office, reportedly because of a protocol disagreement when
he asked to speak with Xu Qiliang
, a vice-chairman of China's Central Military Commission.
Wei had a
phone conversation
with Austin in April, when he warned the US not to underestimate China's determination or ability to defend its national interests and dignity.
Friday's talks come after Beijing was angered by US President
Joe Biden's comment
last month that Washington would defend Taiwan militarily if it came under mainland Chinese attack – a comment the State Department later walked back. The Biden administration has also described China as a "pacing threat" and the nations' ties in terms of competition.
Yun Sun, China programme director at the Washington-based Stimson Centre, said Beijing was finding it difficult to reconcile US efforts to compete with talk of "guard rails" to prevent an all-out conflict.
"Neither country wants to engage in a direct military confrontation because the stakes are extremely high," said Yun, speaking at an event at the Singapore summit. "The cost is also extremely high and also because I think neither country is ready."
Yun said despite Biden's vow to intervene militarily and defend Taiwan in the event of an attack, apparently moving away from "strategic ambiguity" on the issue, there was still uncertainty over what that would look like.
With parallels being drawn between Taiwan's situation and that of Ukraine, Yun noted that Beijing would be closely watching how the war in Ukraine was being fought.
"For China, the bigger crime than waging a war is to wage a war and not win it," she said. "And there's a vastly prevalent observation in China about the Russian war in Ukraine – that Russia was so poorly prepared."
Additional reporting by Bloomberg and Reuters