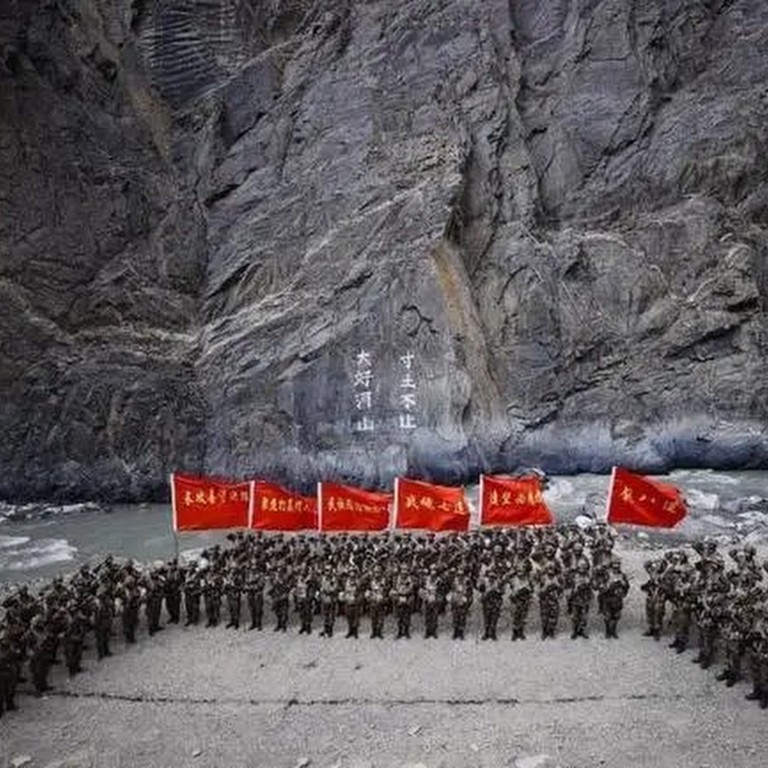 China-India border: state media marks second anniversary of Galwan Valley clash in lead-up to new talks
CCTV military channel publishes three-minute video salute to four dead PLA soldiers on social media, drawing 4.36 million views on Weibo by noon on Thursday
2020 border clash left at least 20 Indians dead, New Delhi expects to hold 16th round of talks with Beijing soon to 'resolve the remaining issues along the LAC'
Chinese state media marked the second anniversary of the
deadly Galwan Valley clash
with India on Wednesday as the two militaries prepare to hold the next round of talks aimed at a full disengagement at their
disputed border
.
A nearly three-minute video of comrades-in-arms tearfully sharing memories of 18-year-old Chen Xiangrong, one of the
four soldiers China confirmed were killed
in the conflict two years ago, was published by the military channel of state broadcaster CCTV on its Weibo microblog on Wednesday.
The video excerpt from a five-episode documentary, Motherland Engraved, that was first released in February, included an interview with Chen's comrade-in-arms who took a photo of a smiling Chen at a bonfire party.
"Every time I took a photo of him, he smiled at me," said Chen Wei, the 23-year-old photographer, "and he asked me, could you take a photo for me?"
"Why didn't I take more photos of him?" said Chen Wei, who is not related to Chen Xiangrong.
By noon on Thursday, the video had been viewed 4.36 million times on Weibo and was reposted by other state media outlets including People's Daily.
The anniversary came as the two militaries are expected to meet again for talks to resolve the border disputes. On May 31, India's Ministry of External Affairs said in a statement the two sides had agreed to hold the 16th round of military talks soon to "resolve the remaining issues along the LAC [Line of Actual Control] at the earliest" to create conditions for bilateral relations to return to normal.
The Himalayan border clash in 2020 also left
at least 20 Indians dead
and was the deadliest encounter between the two Asian neighbours in more than 40 years. The two sides blamed each other for "trespassing" across the unmarked 3,488km (2,170-mile) border.
Also on Wednesday, the People's Liberation Army's Western Theatre Command, which is responsible for border security along the contested frontier with India, released a post on its WeChat account to honour the four soldiers.
"[Our] heroes have left us, for two full years, but we always remember, and we must remember," read the post, featuring photos of flowers at the gravestones of the four soldiers.
The bloody clash at Galwan Valley triggered the worst military stand-off between China and India and plunged bilateral ties to a historic low that continues today. Soldiers remain locked in tense confrontation at some friction points along the LAC in the Indian Himalayan region of Ladakh, despite full disengagement at certain hotspots.
Meanwhile, both sides have engaged in a flurry of road, garrison and airstrip
construction
at the border.
According to CCTV, the PLA has continued to step up drills near the Himalayan border in an apparent effort to improve its high-altitude battle capacity.
They include manoeuvres by forces in the Xinjiang military district who recently launched a live-fire drill at an elevation of 5,000 metres in the Karakoram Mountains, where soldiers using anti-aircraft machine guns and high-precision sniper rifles were tested.
Earlier, the Tibet military district carried out "a multi-type, all-elements, cross-day-and-night long-range manoeuvre" at altitudes around 4,500 metres, as part of a "comprehensive test of its long-range mobile combat capability".