Brics
Get more with myNEWS
A personalised news feed of stories that matter to you
Learn more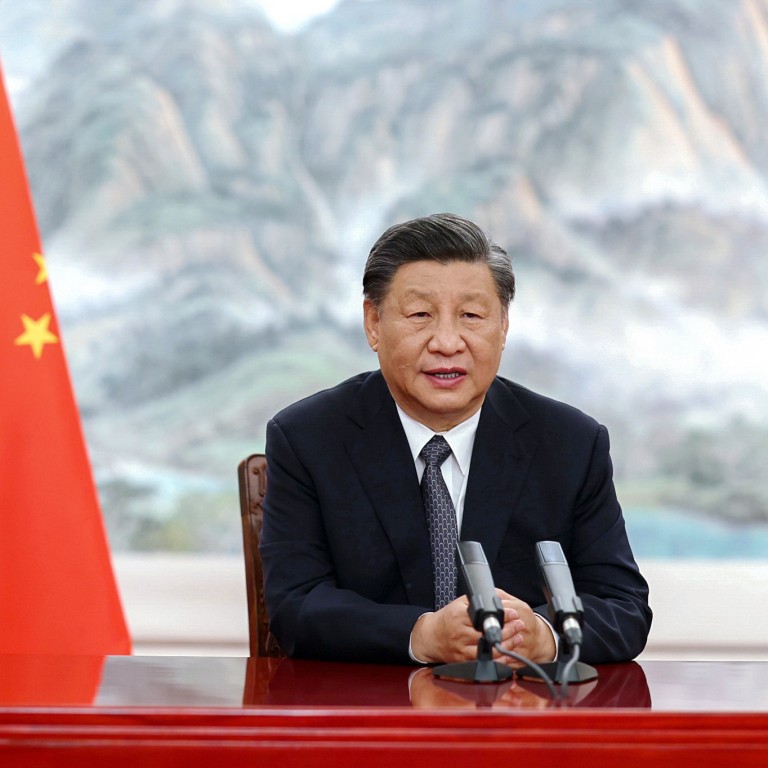 At BRICS forum, China's Xi Jinping takes aim at West over Russia sanctions
Sanctions politicise and weaponise the economy, Chinese president says in video address
Vladimir Putin blames measure for rising unemployment and shortages
"It has been proven again that sanctions are boomerangs and double-edged swords that politicise, instrumentalise and weaponise the world economy," he said in a video address at the start of the
BRICS
Business Forum in Beijing on Wednesday.
"The crisis in Ukraine has again sounded an alarm bell to the world: obsessing over one's position of strength, expanding military alliances and seeking security for oneself at the expense of the security of other countries will only lead to a security dilemma," he said, without naming the targets of his criticism.
"Those using their leading position in the international financial and monetary system to impose sanctions recklessly will only end up harming others and themselves and make people across the world suffer."
China has refused to sanction Russia but it has also said it has not given military support to Moscow since the war began on February 24.
Xi's speech was followed by video addresses by other BRICS country leaders, including Russian President Vladimir Putin, speaking for the second time at a multilateral summit hosted outside Russia since his country invaded Ukraine.
Putin addressed leaders of several former Soviet republics at the Eurasian Economic Forum in May.
In his speech, Xi criticised what he called hegemony, bloc-based politics and rivalry for sowing discord and causing wars.
The description of sanctions echoed the
Global Security Initiative
he proposed in April, which includes some concepts of regional security – such as "indivisible security" – endorsed by Moscow.
"Indivisible security" is the idea that the security of one country cannot be isolated from that of its neighbours. Russia sees Nato's expansion to Ukraine as a threat to its security and cited it as a justification for its assault.
Putin joined Xi to condemn sanctions, saying Russian and Chinese entrepreneurs were forced to grow their businesses in a challenging environment where "Western partners neglected the basic principles of a market economy, free trade and the inviolability of private property".
He said the sanctions had also led to higher unemployment and shortages of raw materials, components and food.
But the UN's Food and Agriculture Organization has said Russian blockades of seaports are responsible for stopping an estimated 25 million tonnes of grain from leaving Ukraine.
Ukraine and Russia accounted for about 30 per cent of the world's wheat exports and 15 per cent of global maize exports from 2017 to 2021, according to the International Grains Council.
Putin said that amid sanctions, trade and investment between Russia and other BRICS countries had increased. Negotiations were under way to open Indian chain stores in Russia and increase the share of Chinese cars and hardware in the Russian market, he said.
None of the other BRICS countries – Brazil, India, China and South Africa – have supported international sanctions against Russia.
Indian Prime Minister Narendra Modi, who has tried to maintain ties with both Washington and Moscow, steered clear of sanctions in his address.
At the end of his speech, Xi said China would increase its regulation of macroeconomic policies to try to achieve its annual economic and social development goals and minimise the impact of the Covid-19 pandemic.
Xi also promised a new "developmental blueprint for China" at the Communist Party's national congress later this year, when he is expected to gain a third term as the party's leader.
"China will continue to raise the level of openness to the outside world, build a new system of a higher level open economy, and continue to build an international business environment that is market-oriented and based on the rule of law," he said.
China is one of the last strongholds in the world of the zero-Covid policy, which has weighed on its economy.