Brics
Get more with myNEWS
A personalised news feed of stories that matter to you
Learn more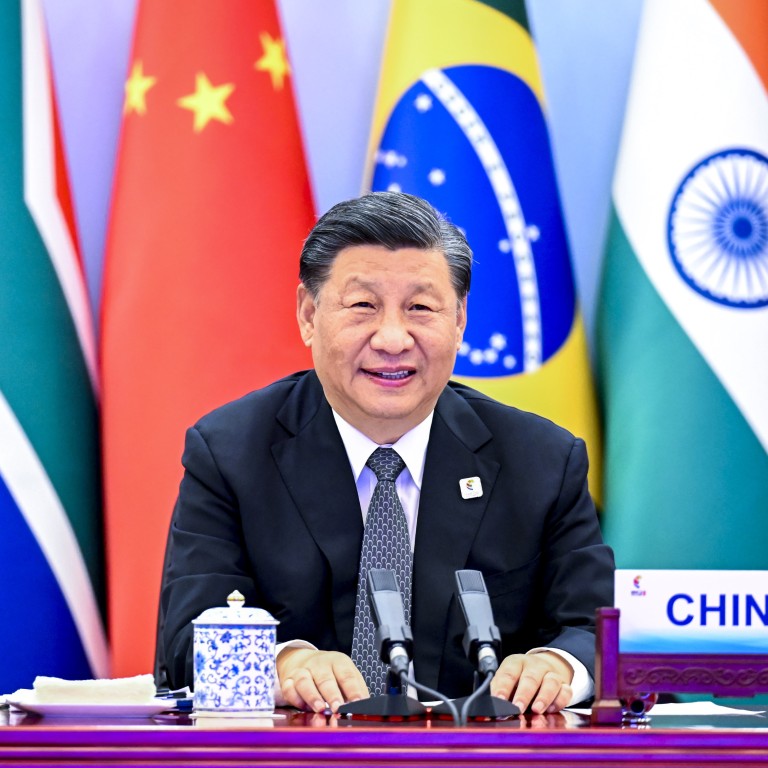 Chinese-hosted BRICS summit swerves controversy over Ukraine and Taiwan
Analysts said India's refusal to sign up to Russia and China's anti-US agenda had derailed Beijing's efforts to establish a common front on contentious matters
The participants backed calls for peace talks to end the Ukraine war and rejected calls for Russia to be expelled from the G20 over its aggression
Leaders from the
BRICS countries
have called for peace talks to end Russia's war on Ukraine and reforms to the Western-dominated global governance to help with the Covid-19 crisis and global economic recovery at a virtual meeting hosted by Beijing.
In a watered-down joint statement on Thursday, the five nations – Brazil, Russia, India, China and South Africa – largely avoided setting out a common stance on contentious issues such as Russia's invasion, sanctions, the South China Sea and Taiwan.
However, some Western countries have called for Russia to be expelled from the Group of 20 and the document said: "G20 shall remain intact and respond to current global challenges."
Beijing attached great importance to the hosting of this year's BRICS summit and hoped to use the meeting to rally support for Moscow and Beijing's governance model ahead of next week's G7 and Nato summits, where Western leaders are expected to take a tough line on China.
In another worrying development from China's perspective, leaders from Japan and South Korea have for the first time ever been invited to attend the Nato gathering.
In his opening speech to the meeting on Thursday, Chinese President Xi Jinping, without naming any country, urged the BRICS nations to "support each other on issues concerning core interests, practice true multilateralism … reject hegemony, bullying and division".
He portrayed the world as being overshadowed by "the dark clouds of cold war mentality and power politics", according to a statement on the Chinese foreign ministry's website.
"Some countries attempt to expand military alliances to seek absolute security, stoke bloc-based confrontation by coercing other countries into picking sides, and pursue unilateral dominance at the expense of others' rights and interests," he said in a thinly veiled swipe at Washington and Nato. "If such dangerous trends are allowed to continue, the world will witness even more turbulence and insecurity."
The Chinese leader has also used the event to take aim at the sweeping economic sanctions the West has imposed against Russia.
State media reported that on Wednesday he told the BRICS business forum: "Politicising, instrumentalising and weaponising the world economy using a dominant position in the global financial system to wantonly impose sanctions will only hurt others as well as hurting oneself, leaving people around the world suffering."
On Friday, Xi gave a video address to the High-level Dialogue on Global Development, where he said China was going to upgrade its South-South Cooperation Assistance Fund to expand its global development initiatives beyond funding projects in developing countries.
He also promised to inject an additional US$1 billion on top of the existing US$3 billion in the fund and said China would also invest more in another fund that sets aside resources for UN-led projects in the developing world.
However, analysts said India's long-running border disputes with China and Prime Minister Narendra Modi's refusal to follow Russia and China's anti-US agenda appeared to have derailed Beijing's efforts.
"The split between China and India over border tensions has left the BRICS largely a talking shop even before the Ukraine crisis when it comes to substantial cooperation rather than empty words," said Shi Yinhong, an expert on international affairs at Beijing's Renmin University.
Indian officials said before the meeting that they would make sure "any joint statement out of the summit is neutral and prevent attempts by China and Russia to use the summit to score a propaganda victory against the US and its allies," according to Bloomberg.
The more than 7,300-word joint statement, issued late on Thursday night and officially called the Beijing Declaration, covered a wide range of topics, including global economic hardship, the prolonged Covid-19 pandemic, Ukraine, Afghanistan and North Korea. But it offered few solutions, according to Shi.
"It is heavy on principles and slogans, but has failed to touch on or offer solutions to those dangerous flashpoints of our time such as the Ukraine war, tensions in the South China Sea and over Taiwan, Syria and chaos in the Middle East," he said.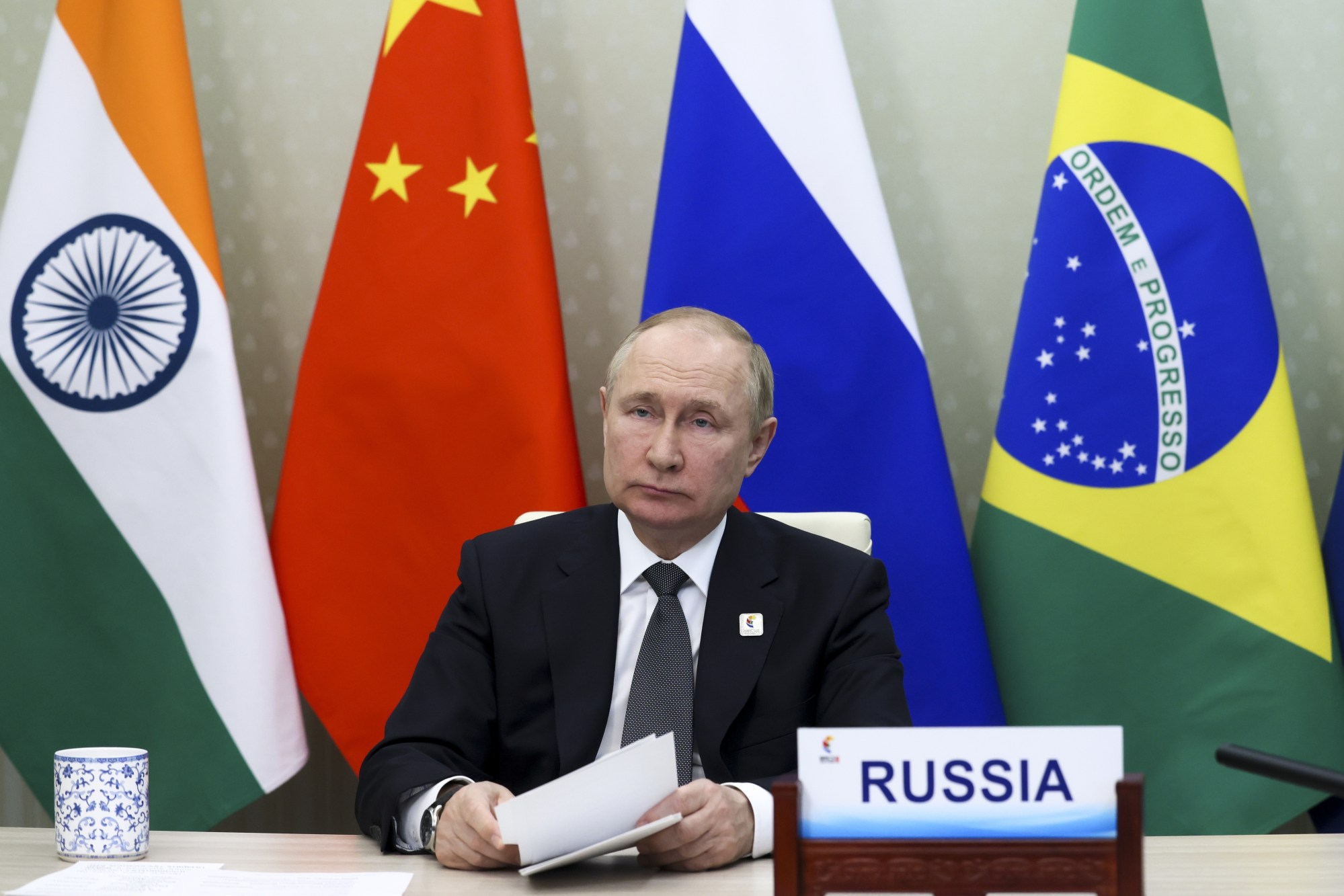 The virtual event brought together Xi, Modi, Russian President Vladimir Putin, South Africa's Cyril Ramaphosa and Brazilian leader Jair Bolsonaro. For Putin, it was the second multilateral meeting outside his country he participated in since he invaded Ukraine in February.
Although all the BRICS countries have avoided condemning Russia's aggression and spoken out against Western sanctions against Moscow, India has moved closer to the US since the deadly military clash with Chinese troops in eastern Ladakh in June 2020.
India is also part of the Quad grouping
, which last month issued a statement strongly opposing any "coercive, provocative or unilateral actions that seek to change the status quo and increase tensions" in the Indo-Pacific region against the backdrop of China's growing political ambitions in the region.
Ni Lexiong, a Shanghai-based military analyst, described India's balancing act between the China-Russia axis and the West as "a smart, calculated move" adding that, unlike China, it prevented itself from getting dragged into Russia's potential quagmire in Ukraine.
"China has tried to strengthen and
expand the BRICS
to help Russia, counterbalance the West and offset international pressure, but such efforts seem to hinge on whether it can get India on board since New Delhi stands to benefit from the rivalry between the West and China," he said.
Shi also expressed concerns about China's tacit support for Russia, which has shown little sign of changing despite the fact that it has increasingly become an area of contention between Beijing and the US-led Western world.
"Although China does not support Russia's war on Ukraine, it is hard to believe that China will not become even more pro-Russia," he said.
Additional reporting by Jack Lau