Nato
Get more with myNEWS
A personalised news feed of stories that matter to you
Learn more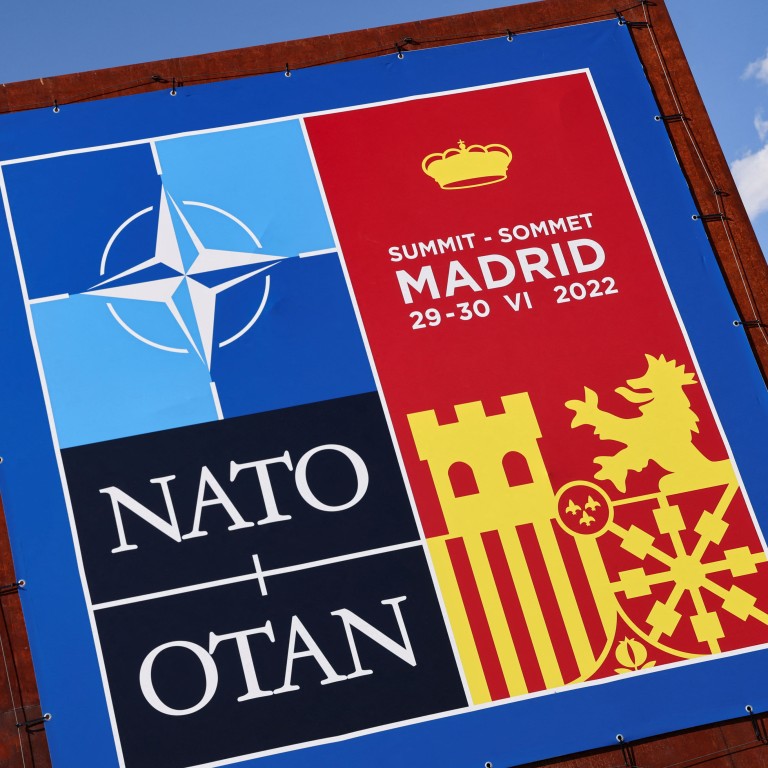 China, Nato and how the Ukraine war is spilling over into the Asia-Pacific
Indo-Pacific partners are joining the bloc's summit for the first time as the US seeks to counter China's influence
But Beijing says Nato should focus less on making enemies and try not to 'mess up Asia'
The summit in the Spanish capital on Tuesday will be the first to include Nato's regional partners – Australia, Japan, New Zealand and South Korea.
There will also be a summit between the leaders of South Korea, the United States, and Japan on Wednesday.
The Nato summit is significant for China because it is expected to be identified for the first time in the bloc's new strategic concept, laying out Nato's security and military path.
Bloomberg reported on Monday that the bloc was set to label China a "systemic challenge" and highlight Beijing's deepening partnership with Russia.
Chinese foreign ministry spokesman Zhao Lijian said on Tuesday that Nato had become "a tool for individual countries to maintain their hegemony".
"What Nato should do is to give up the cold war mentality, zero-sum game, and the practice of making enemies, and not try to mess up Asia and the whole world after messing up Europe," Zhao said.
For the US, the summit is part of a broader push to align democratic allies and "like-minded countries".
In the Asia-Pacific, Washington is seeking to counter Beijing's influence as
Russia's invasion of Ukraine
raises fears of an attack on Taiwan – and to do that it needs the support of its regional allies.
Tokyo has reaffirmed its security alliance with Washington and Seoul could be next.
Zhu Feng, director of the Institute of International Relations at Nanjing University, said South Korean President Yoon Suk-yeol was "very likely to enhance security cooperation with the US, just as Japan has done" as the US and Nato tried to unite all democratic countries in Asia to contain a rising China.
"That's one of the negative spillover effects caused by the Ukraine war," Zhu said.
He said Yoon was moving in that direction, pushed by a lack of progress on denuclearisation of the Korean peninsula and North-South confrontations.
"The meeting of the US, Japan and South Korea is meant to send an important message to the world – that all the so-called democratic countries are joining together to counter Russia and a rising China," Zhu said.
"To Russia, it's a Nato eastward expansion [in central and northern Europe], but for China, it's definitely a further security eastward to the Asia-Pacific region."
Hu Jiping, vice-president of the China Institutes of Contemporary International Relations, said Japan had stood with Nato in condemning Russia's invasion of Ukraine and, as part of a "strategic exchange", had been encouraging Nato to take part in the security affairs in Asia.
"[Japanese Prime Minister Fumio] Kishida said Asia and Europe were integrated in security and he intended to link them together. The aim is to counter the so-called security threat from China," Hu said.
"The mechanism of the Japan-US alliance is not enough for him, and he believes that Japan must also win over European countries. The ties are shared values and so-called democracy."
He said differences between China and Europe in recent years over human rights issues also made it more likely for Nato to work closer with nations in the Asia-Pacific.
Europe and China are at odds over alleged human rights violations in Hong Kong, Xinjiang, and over China's retaliation at Lithuania for improving relations with Taiwan. Calls for Europe to deem China as a rival are mounting.
But some European leaders have warned against treating China the same as Russia.
Belgian Prime Minister Alexander De Croo said turning "our backs to China" was the last thing Europe should do, while Dutch Prime Minister Mark Rutte said cutting ties with China would not "help anyone in Hong Kong or the Uygurs".