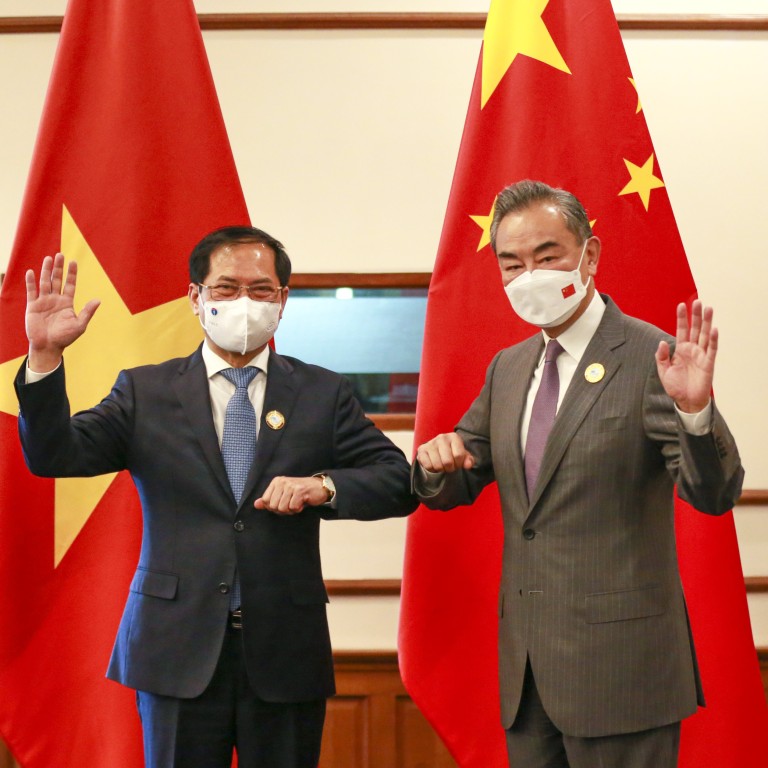 China and Vietnam vow to talk more but South China Sea tensions – and others – remain
Foreign ministers from both countries met on the sidelines of a Mekong River cooperation meeting in Myanmar
Both parties agreed they should properly handle conflict over the South China Sea and Vietnam's Bui Thanh Son sought improvements in travel and trade
Senior diplomats from China and
Vietnam
have vowed to hold more high-level talks and to view their bilateral relationship as a diplomatic priority as Beijing faces heightened US efforts to boost ties with its regional alliance.
Chinese Foreign Minister Wang Yi and his Vietnamese counterpart, Bui Thanh Son, met on the sidelines of a Mekong River cooperation meeting in
Myanmar
on Monday.
"Global challenges have emerged one after another. As socialist friendly neighbours, important forces in emerging markets and developing countries, China and Vietnam share highly consistent common strategic interests," a Chinese foreign ministry statement quoted Wang as saying.
"China is implementing a high-quality opening up, which will bring more dividends to Vietnam and create better conditions for bilateral cooperation. China and Vietnam should share opportunities, seek common development, maintain stability and create prosperity."
Son was quoted as saying that Vietnam always regarded relations with China as its top diplomatic priority and was willing to maintain high-level talks and achieve a "breakthrough" in cooperation.
But Son also put forward conditions for improving China-Vietnam relations. A report by Vietnam News Agency said Son demanded that China create favourable conditions for the export of Vietnamese products and resume commercial flights between the two nations which have been affected by tighter border controls brought on by the Covid-19 pandemic.
Son also called for better transport interconnection in border areas to make travel easier.
Both sides also said they should properly handle conflict and differences relating to the
South China Sea
and should advance maritime cooperation. They agreed to use the 20th anniversary of the signing of the Declaration on the Conduct of Parties in the South China Sea this year to promote further talks to resolve disputes.
Beijing has warned Nato against expanding into the Asia-Pacific, and warned regional countries against joining the bloc, saying such moves would only create chaos and conflict.
The US has vowed to work with its regional allies to counter illegal fishing and boost the defence of those countries to counterbalance China.
Observers said Vietnam could benefit from the China-US rivalry. For China, maintaining ties with its communist neighbour could help offset US influence, at least on the ideology front, while other Southeast Asian nations, such as the Philippines, risk joining the US or not being influential in the region.
Vietnam can try to walk a fine line between China and the US. Ties between Hanoi and Washington are improving, with Hanoi taking part in the US-led Indo-Pacific Economic Framework, but Vietnamese Prime Minister Pham Minh Chinh has also said his nation will not enter an alliance to confront Beijing.
"Western perceptions and strategies towards China and Russia will help Vietnam expand its strategic space and enrich Vietnam's strategic choices," said Zhang Mingliang, a Southeast Asian affairs expert at Jinan University.
He said US policies towards China would bring some benefits to Vietnam, including lending it more support to counter China's claims to the South China Sea.
"Vietnam needs to choose under the premise of avoiding provoking China and stabilising relations with China."
Additional reporting by Laura Zhou