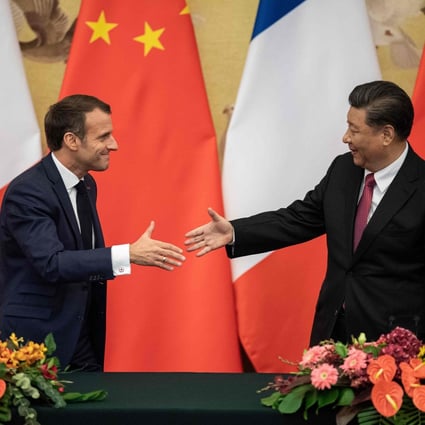 French President Emmanuel Macron (left) shakes hands with Chinese President Xi Jinping following a ceremony in Beijing in 2019. China's zero-Covid policy has prevented Western European leaders from visiting the country for nearly three years. Photo: AFP
exclusive |

China asks European leaders to meet Xi in November. But will they accept?
The trips would mark a return to Beijing for Western European leaders following almost three years of a zero-Covid policy that has prevented in-person diplomacy
The proposed date would likely be right after the 20th party congress, expected to be held in October.
French President Emmanuel Macron (left) shakes hands with Chinese President Xi Jinping following a ceremony in Beijing in 2019. China's zero-Covid policy has prevented Western European leaders from visiting the country for nearly three years. Photo: AFP