Taiwan
Get more with myNEWS
A personalised news feed of stories that matter to you
Learn more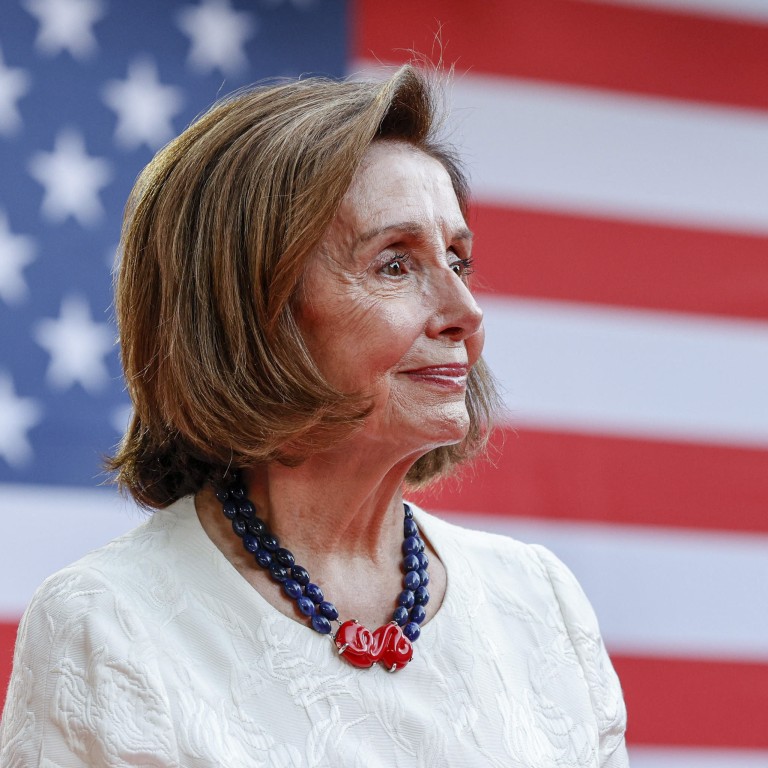 Beijing warns US will 'bear all consequences' if House Speaker Nancy Pelosi visits Taiwan in August
An earlier plan to visit the self-ruled island in April was cancelled after Pelosi tested positive to Covid-19
Financial Times reports divisions in the US administration over whether Pelosi should visit Taiwan as part of her Hawaii and Asia visit
Beijing has warned that the United States will "bear all consequences" and face "forceful measures" from Beijing if US House Speaker Nancy Pelosi visits
Taiwan
as reported.
A Financial Times report on Tuesday said Pelosi would take a delegation to Taiwan next month. It would be the first visit by a US speaker of the house to the self-ruled island in 25 years.
Pelosi would be the most senior US lawmaker to visit the island since one of her predecessors as speaker, Republican Newt Gingrich, travelled there in 1997.
The lawmaker and her delegation is expected to visit Japan, Singapore, Indonesia and Malaysia. Pelosi will also spend time in Hawaii at the headquarters of the US Indo-Pacific Command. But the report said it was still possible the trip could be called off.
Speaking in Beijing, Chinese foreign ministry spokesman Zhao Lijian called on the US not to arrange Pelosi's visit to Taiwan, which he said would "seriously undermine China's sovereignty and territorial integrity".
"If the US stubbornly sticks to this, China will definitely take resolute and forceful measures to firmly defend its national sovereignty and territorial integrity," he said.
"The United States must be fully responsible for all the consequences caused by this."
Taiwanese foreign ministry spokeswoman Joanne Ou said the ministry had not received any information about Pelosi's visit.
"The foreign ministry and its representative offices in the US have actively promoted exchanges through invitations of personnel from various US sectors. If there is any related development [about Pelosi's visit], we will announce it at an appropriate time," she said.
"The US must not underestimate the firm determination of the Chinese people to defend territorial sovereignty, and must not make subversive mistakes that ruin peace across the Taiwan Strait," Wang was quoted by Xinhua as saying in the talks with Blinken.
Other Chinese diplomatic observers said in April that Beijing would likely impose sanctions against Pelosi, step up military exercises over Taiwan and suspend cooperation on climate change with the US.
Pelosi's office would not confirm if she was planning to visit Taiwan or Asia.
"We won't have a blind eye on China's threat to Taiwan," Beer said. "Europe was late for Hong Kong. We won't be late for Taiwan. There is no room for Chinese aggression in democratic Taiwan. For the moment, we witness war in Europe. We do not want to witness war in Asia. And so now it's the moment to stand firm on the side of Taiwan."
Pelosi, as House Speaker, is the third-most senior American official in the US.
Zhang Baohui, a political science professor at Lingnan University in Hong Kong, said China was "extremely dissatisfied, of course, because the trip would make her the more senior US official to visit Taiwan".
A visit by Pelosi would signal a fundamental breakthrough in US-Taiwan ties because it would expand their exchange from a narrow set of issues to diplomacy and military, Zhang said, unlike official visits during the Donald Trump administration.
But Zhang said Pelosi's visit would not affect a potential summit between Xi Jinping and Joe Biden. "China might be angry but it knows that the trajectory of US-China relations is decided by the US," Zhang said.
"As the rising power, China is still motivated to, as far as possible, maintain friendly ties, expand cooperation and stabilise the relationship."
Additional reporting by Jack Lau