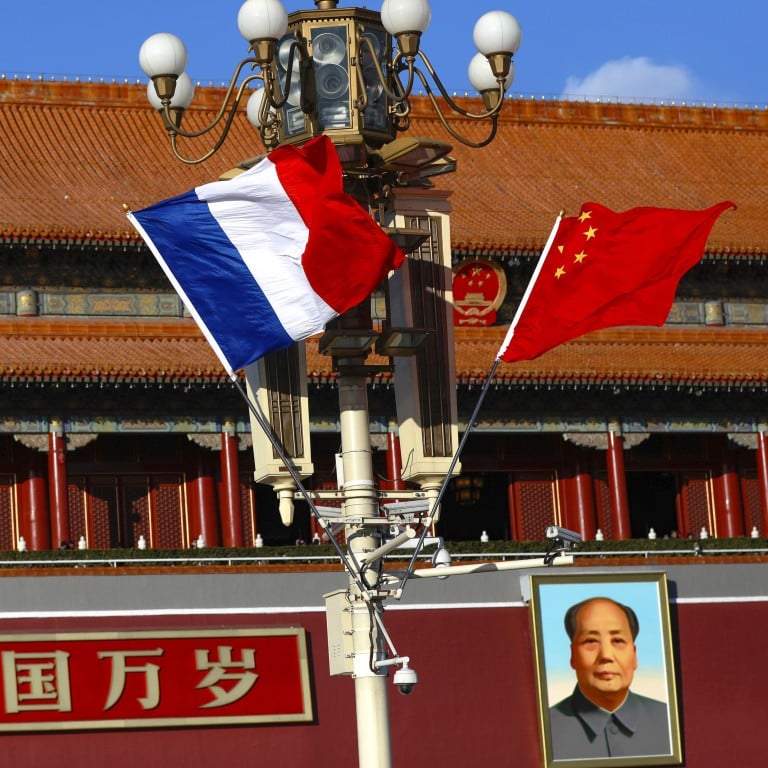 China praises Ukraine mediator Macron as Beijing hopes to renew EU ties
In a call with the French president's diplomatic counsellor, Chinese Foreign Minister Wang Yi says mediation efforts are appreciated
The comments come as Brussels and Beijing hold high-level trade talks
China has called on France to help get its ties with Europe on a healthy track, with Foreign Minister Wang Yi affirming President
Emmanuel Macron's
role as a mediator on the
war in Ukraine.
In a phone call with Macron's diplomatic counsellor Emmanuel Bonne on Monday, Wang said China's relations with France had been boosted by the president's re-election in April.
Relations between
China and the EU
have been overshadowed by a series of disputes on a number of issues, including alleged human rights violations in Xinjiang and Hong Kong, the EU's closer ties with Taiwan – regarded by Beijing as a breakaway province – and China-US rivalry in the region.
But Brussels and Beijing have maintained a dialogue, with
high-level trade talks
between the two sides taking place on Tuesday.
In his phone call with Bonne, Wang said relations between China and France had made a good start following
Macron's re-election
.
"China is willing to work with France to push for a more energetic development for the China-France comprehensive strategic partnership," Wang said, according to a Chinese foreign ministry statement.
"As one of the major nations of the EU, China hopes France can play a positive role in facilitating the healthy development of China-EU relations."
Wang said China appreciated Macron's mediation efforts in the Ukraine war, and believes France will continue to play a unique role as a major European country in restoring peace for the region.
"China is willing to strengthen coordination with France and make due contributions to maintaining peace, stability and development," he said.
In a separate phone call with his Hungarian counterpart Peter Szijjarto on Wednesday, Wang said the lessons from the Ukraine crisis were "profound and worth well learning for all sides".
"In the long run, the parties should discuss building a balanced, effective and sustainable European security framework, so as to realise lasting peace and security."
Wang said that the Ukraine crisis had seriously affected Europe, and its negative spillover effect had affected the whole world.
The Ukraine war has further exposed the divisions between Beijing and the EU, with concerns in Europe that China's ties to Russia – which the two nations described as having "no limit" – means Chinese support for the Russian invasion.
At the same time, Beijing has been irked by comparisons between Ukraine and Taiwan, lashing moves to boost the self-ruled island and US alliances in the Indo-Pacific over concerns of Chinese military aggression. China has repeatedly warned against the expansion of Nato to Asia, saying it will only trigger more conflicts.
Ding Chun, a European affairs expert at Fudan University in Shanghai, said it was important for China and the EU to have a frank discussion, not only on the war in Ukraine but also inflation, the global energy crisis and economic development.
"This is helpful to the development of bilateral relations, especially now that the global political and economic situation is relatively chaotic," he said.