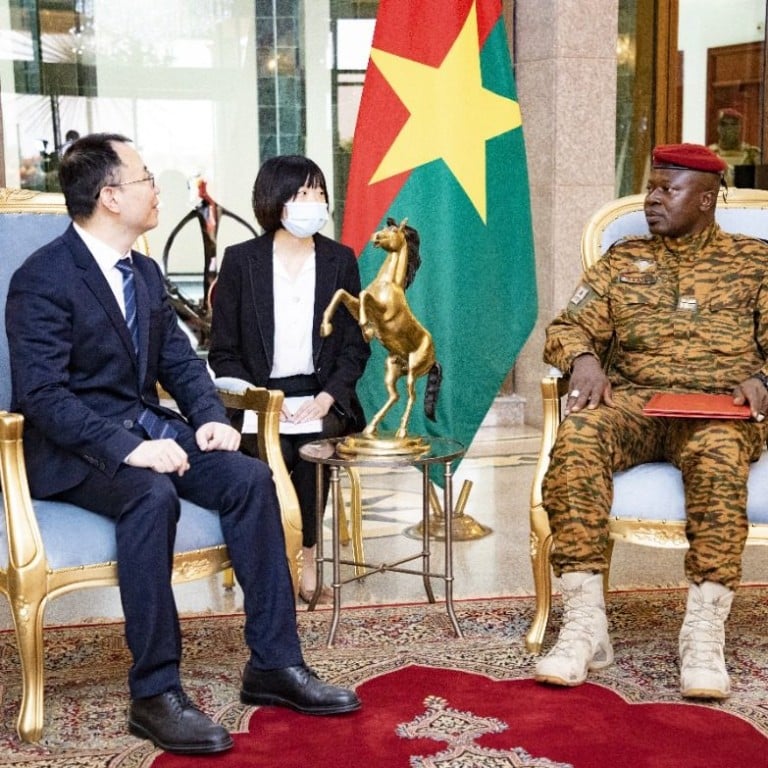 China-Africa relations: Beijing's ambassador to Burkina Faso works to make up ground on delayed projects
Lu Shan is the second Chinese ambassador to Burkina Faso since the country switched its diplomatic allegiance from Taipei to Beijing in 2018
Realisation of projects by China is difficult in Burkina Faso because nation is influenced by Westerners who preferred Taiwan, says activist
When Lu Shan arrived in Ouagadougou in May as the new Chinese ambassador to
Burkina Faso
, his agenda hinted at the importance of assessing Chinese-funded projects in the country and showing interest in what might be holding them up.
Among Lu's first stops on June 9 was to meet Chinese experts and medical teams in charge of various projects that China is funding to learn the status of these works and any obstacles and to inquire about Covid-19 prevention measures, security and living conditions.
While Lu may be ambitious in his goals on bilateral ties, he has an uphill battle to deliver on the promises Beijing made to Burkina Faso, observers say.
To convince Ouagadougou to drop Taipei in favour of Beijing, China promised various projects but many face delays because of Covid-19 restrictions and security challenges. Beijing is now under growing pressure to complete the projects it promised Burkina Faso when it re-established diplomatic relations with the West African nation.
When he met Chinese teams last month, Lu encouraged the workers "to promote the deepening and practical cooperation of our aided technology in Burkina Faso", according to an embassy statement. Further, he urged them to monitor the local security situation to ensure the health and safety of project personnel.
Lu has since met top Burkinabè officials, including on Thursday when he presented his credentials to interim president Paul-Henri Sandaogo Damiba, the head of the military junta.
During the meeting, Lu said China supported Burkina Faso's efforts in countering terrorism, responding to humanitarian crises and improving people's livelihood. He said Beijing was "willing to work with Burkina Faso to push for new and greater development of the friendly cooperative relations between the two countries".
Lu, who was deputy director general of the Department of European Affairs at the Ministry of Foreign Affairs, was previously mainly engaged in promoting cooperation between China and some European countries.
Lu arrived in Burkina Faso while the country was facing security challenges after mutinous soldiers
overthrew the government
of Roch Marc Christian Kaboré in January. The coup was the result of growing anger at the government over its failure to rein in attacks by militants linked to al-Qaeda and Islamic State that killed thousands and displaced millions.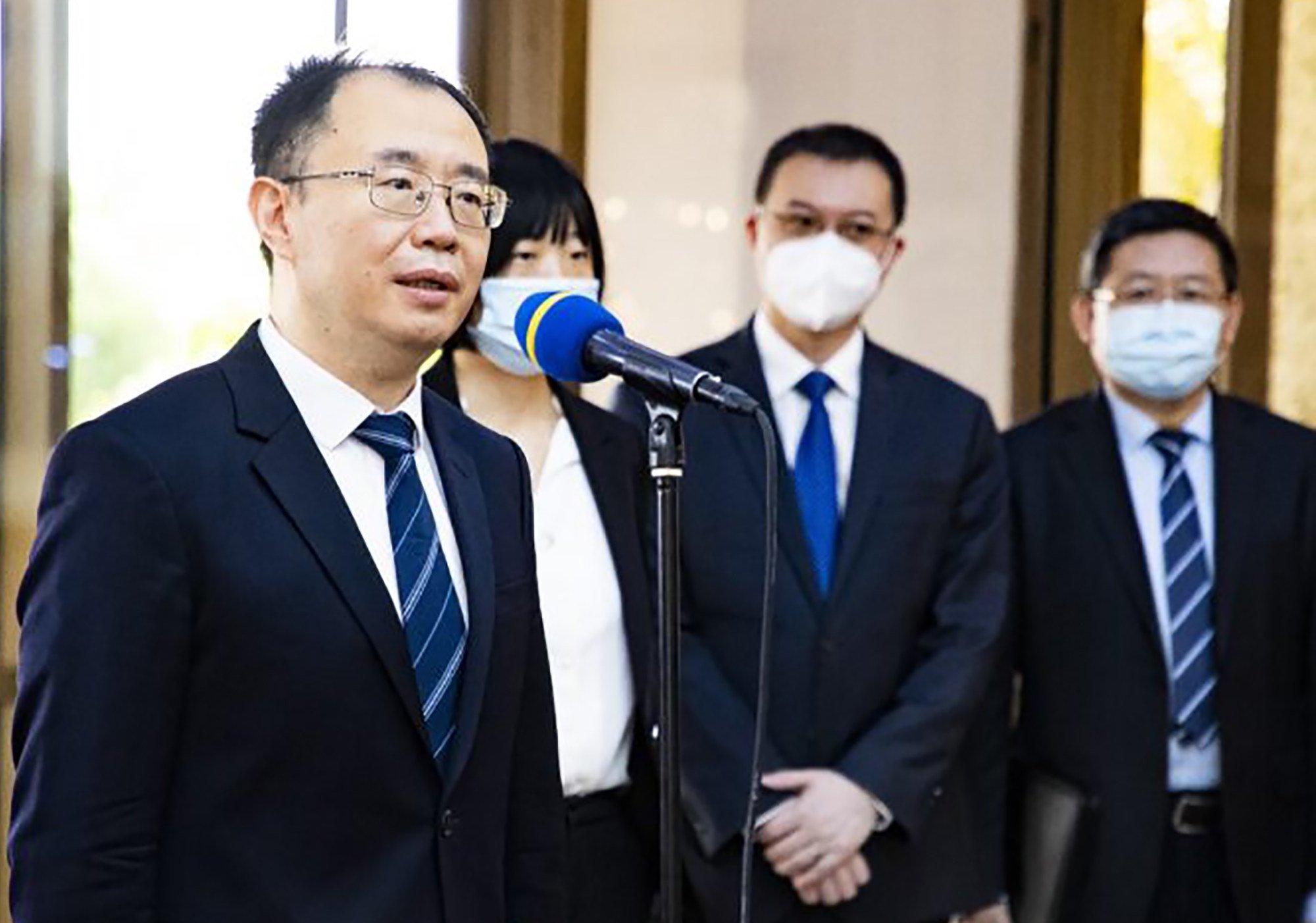 Lu's work will be particularly difficult when it comes to protecting Chinese citizens and interests in Burkina Faso, say observers.
Folashade Soule, a senior research associate at the University of Oxford engaged in field research in Burkina Faso, said there had recently been political tension between Burkinabè military leaders and China.
Soule, an expert on China-Africa relations, said Taiwan was considered a better security partner than Beijing by the Burkinabè military while Beijing was considered by the country's policymakers at the Ministry of Foreign Affairs a better partner to finance infrastructure.
In 2018, when Beijing was lobbying for Burkina Faso to end its diplomatic relations with Taiwan, it had promised to fund many projects related to security, including urban security and other infrastructure projects. Yet these were slow to get up and running, Soule said.
"Now that the military holds the power following the coup in January 2022, they have been putting pressure on the Chinese to keep their promise and deliver faster, especially in a context of growing insecurity in Burkina Faso," she said.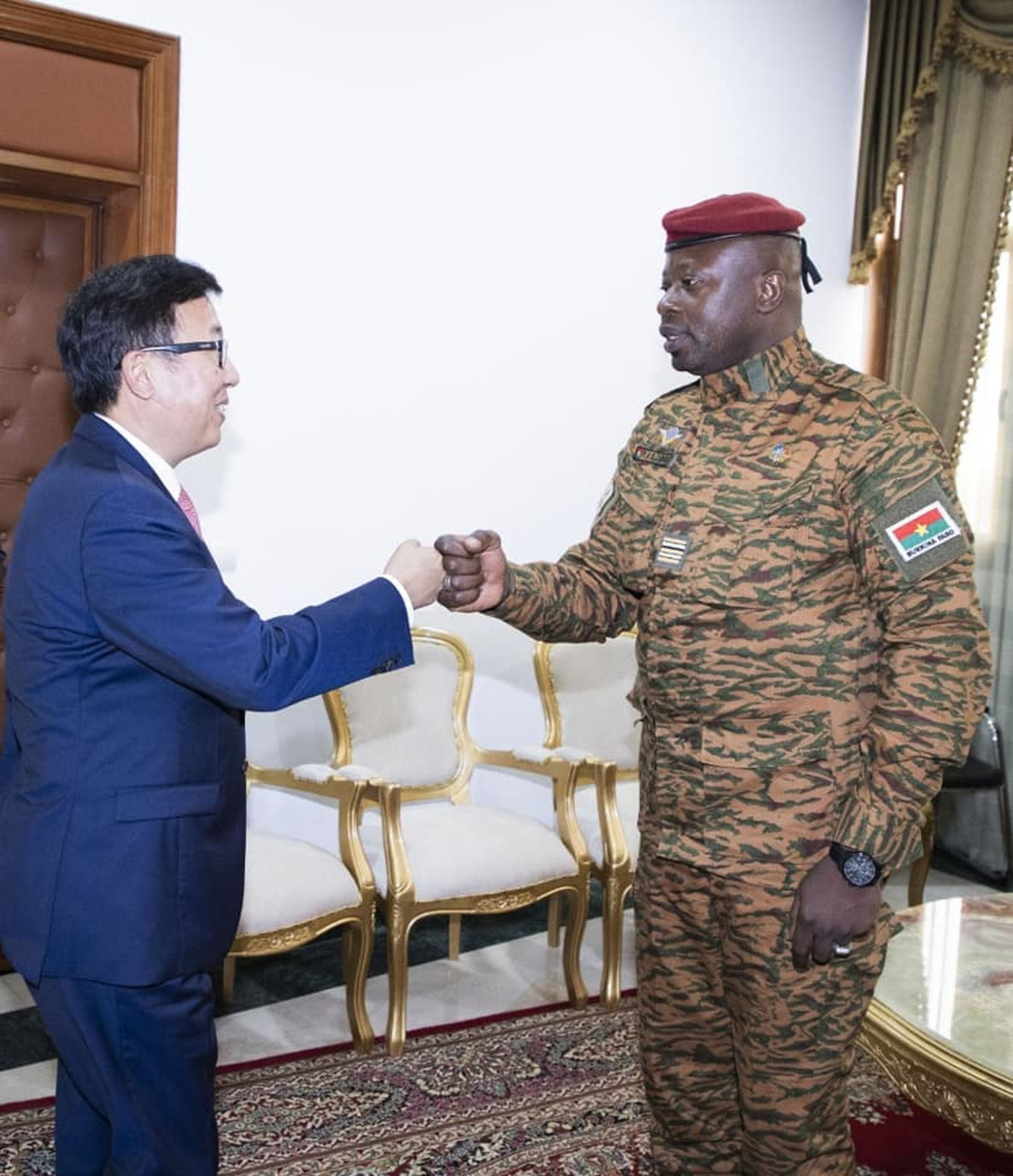 Soule said the
recent visit to Burkina Faso by Wu Peng
, director general of the Chinese foreign ministry's African affairs department, could be analysed "as a way to appease the junta", with the visit taking place while China was exploring a bigger role as a security provider in the Sahel region.
On his visit to Burkina Faso on June 27, Wu met interim president Damiba and the Minister of Foreign Affairs, Olivia Rouamba. Damiba said the interim government had China as the top priority among its partners and it hoped Beijing would continue to support Burkina Faso to safeguard security and stability and realise economic development.
Wu said, "China is ready to work with Burkina Faso to strengthen mutual support on issues concerning each other's core interests".
On the security situation, Wu called on "concerned parties to resolve the dispute through peaceful dialogue, maintain the country's stability and solidarity while considering the fundamental interests of Burkina Faso and its people".
David Shinn, a professor at George Washington University's Elliott School of International Affairs in Washington and a former US ambassador to Burkina Faso, said "the top priority for ambassador Lu is protecting Chinese nationals living in Burkina Faso and current Chinese interests there".
In January, the Chinese embassy in Ouagadougou said there were about 500 Chinese citizens in the West African country.
Shinn said the next priority was to adapt "Chinese policy to a challenging and fast-moving political situation in an effort to build good relations with Burkina Faso while not overcommitting in an era of diminishing resources".
He said when he served as US ambassador to Burkina Faso in the late 1980s, Ouagadougou recognised China but Beijing was not particularly active in the country.
"I believe that is one of the main reasons that Ouagadougou switched diplomatic recognition to Taiwan in 1994. When Burkina Faso re-established relations with Beijing in 2018, it almost certainly made promises that then ran up against political instability and terrorist attacks in the country," Shinn said.
"China probably concluded this is not a good time to invest heavily in Burkina Faso. It is no surprise that Ouagadougou is pressuring Beijing to meet its commitments, but I do not foresee Burkina Faso switching diplomatic recognition back to Taiwan."
Siaka Coulibaly, a democracy, human rights and environmental activist, said it was understandable that China was committed to completing projects that Taiwan had initiated in Burkina Faso.
He said the projects, in general, were not solely dependent on the Chinese side. Above all, the Burkinabè government must formulate the projects so that they could be financed by China, he said.
"We must, for example, ask the Burkinabè government about the Bobo Dioulasso Hospital projects and the military security equipment that China wanted to carry out in Burkina Faso," he said.
Coulibaly said "the realisation of projects by China is difficult in Burkina Faso because this country is very much influenced by Westerners who preferred Taiwan. This is one of the reasons China has difficulties in carrying out projects in Burkina Faso".
He said this geopolitical factor must be taken into account when assessing the state of cooperation between China and Burkina Faso, he said.
Some of the projects being implemented by China include the Smart Burkina project, which is funded through an Exim Bank of China loan of US$94 million and carried out by Huawei Technologies Co and China International Telecommunication Construction Corporation.
Soule said Smart Burkina aimed to improve Burkina Faso's communication infrastructure by installing a 650km (400-mile) optical fibre network and surveillance cameras in the capital Ouagadougou and Bobo Dioulasso, the country's economic capital and second most populous city.
"It was initially a Taiwanese project that China took over and rebranded and then brought in Huawei and provided additional funds. Implementation hasn't been as fast as expected," Soule said.
Tim Zajontz, research fellow at the Centre for International and Comparative Politics at Stellenbosch University, South Africa, said highest on the agenda of the incoming ambassador would be the challenging security environment, with attacks and territorial advances by jihadist groups increasing since the military ousted president Kaboré in January.
"Not only will the Chinese embassy monitor the situation closely to protect Chinese nationals and businesses in the country, Burkina Faso is also a crucial testing ground for Beijing's intensifying bilateral security cooperation on the continent," Zajontz said.
He said Chinese firms had set up surveillance infrastructure in Ouagadougou and Bobo Dioulasso, while Burkinabe army personnel were being trained in Chinese military schools.
"It seems likely that Lu Shan will oversee the stepping up of military cooperation, complemented by an increase in Chinese assistance to remedy the severe humanitarian costs of the protracted conflict," he said. "Burkina Faso's volatile security situation, and the regionalised conflicts in the Sahel more generally, are increasingly affected by competing geopolitical competition among China, Russia and Western powers."
Zajontz, who is also a lecturer in international relations at the University of Freiburg, Germany, said considering the unsteady history of Ouagadougou-Beijing relations, the Chinese government was keen to be perceived as a reliable and credible partner.
The Smart Burkina project "has been the symbolic flagship to demonstrate to the Burkinabe people that the country's partnership with China promises a hypermodern future", he said.
"Of course, the political realities in the country look less rosy and Chinese long-term economic engagement in Burkina Faso crucially depends on the military's ability to improve security beyond the capital."
Health cooperation between Burkina Faso and China includes projects such as building a university hospital centre in Bobo-Dioulasso and refurbishing sections of the Yalgado Ouédraogo university hospital centre in Ouagadougou.
Beijing has trained medical teams on how to mitigate and manage Covid-19 and provided 72 scholarships for Burkinabe military students and officials in Chinese military schools.