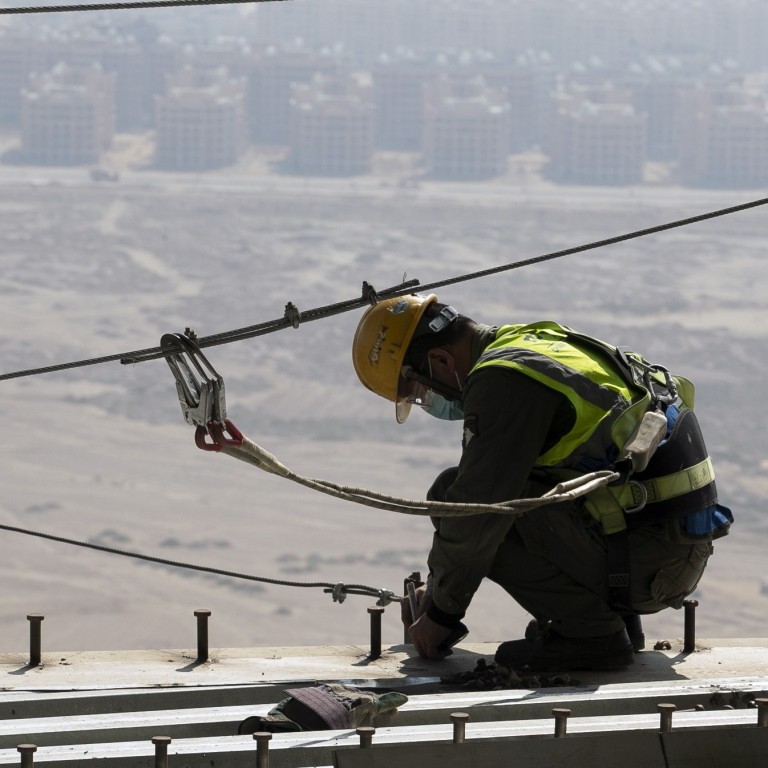 Chinese spending on belt and road projects remained low in first six months, report says
Total financing and investment was US$28.4 billion from January to June, down 40 per cent from 2019
There was no Chinese spending in Russia, Sri Lanka and Egypt in this period, according to Fudan University's GFDC
Chinese financing and investment under its
Belt and Road Initiative
remained at low levels in the first half of the year, and there was no spending at all in Russia, Sri Lanka and Egypt, a new study has found.
Total financing and investment stood at US$28.4 billion in the first six months, down slightly from US$29.4 billion a year earlier, according to a report by Fudan University's Green Finance and Development Centre (GFDC) in Shanghai, released on Sunday. It was 40 per cent lower than the same period in 2019.
It comes amid warnings from observers that a deepening
US-China
feud in combination with an economic downturn at home – worsened by Beijing's tough response to
Covid-19
outbreaks – will add to pressure on its belt and road foreign policy and investment strategy.
The study also cast doubt over the initiative's prospects. "For the rest of 2022, despite continued lockdowns, particularly in China, with the continued uncertainty of Covid-19, and continued issues of sovereign debt, as well as the
Ukraine war
, further recovery of [belt and road] investments requires caution," the report said.
It said investment and spending under the programme would be unlikely to return to 2019 levels.
China has spent US$932 billion on President Xi Jinping's signature project since it began in 2013 and it now involves 147 countries, according to the report.
Middle Eastern nations received 57 per cent of the Chinese investment this year, with Saudi Arabia the single largest recipient at about US$5.5 billion, which mostly went to gas and other energy projects.
Southeast Asian nations saw their share of Chinese investment drop, from nearly 49 per cent two years ago to about 10 per cent this year.
Russia's invasion of Ukraine and political unrest in many parts of the world have made Chinese state-owned enterprises hesitant to proceed with investment projects, according to the report.
It said Russia, Sri Lanka and Egypt were among the worst-hit countries, with Chinese investment falling 100 per cent in the first half this year. The strategically located China-Pakistan Economic Corridor also saw a 56 per cent decline in investment, largely due to the deteriorating security situation in Afghanistan.
Russia was the top recipient of Chinese foreign aid between 2000 and 2014, followed by Pakistan, according to data compiled by AidData, a US research lab at the College of William and Mary.
Meanwhile, the GFDC report said Chinese investments in technology and public health grew significantly – by 300 per cent and more than 200 per cent, respectively, in the first six months.
Described by some as the "Health Silk Road", China's efforts to boost its global influence through the international pandemic response have been hampered by its stringent Covid-19 controls, supply chain disruptions and a backlash against the zero-tolerance approach.
However, a Chinese developer won a bid to build a thermal power plant in Indonesia in February, and there are still 11.2 gigawatts of capacity that have secured financing though construction is yet to start, the report said. China has continued to support other fossil fuel projects in belt and road nations, with oil and gas accounting for almost 80 per cent of its international energy investments and 66 per cent of its construction contracts.
Last week, the US State Department said the use of forced labour was the "hidden cost" of China's Belt and Road Initiative, in its "Trafficking in Persons Report". Washington has dialled up its criticism of the Chinese scheme in recent months while President Joe Biden last month unveiled a Group of 7-backed global infrastructure project to offer "high-standard and quality investments" for low- and middle-income nations.