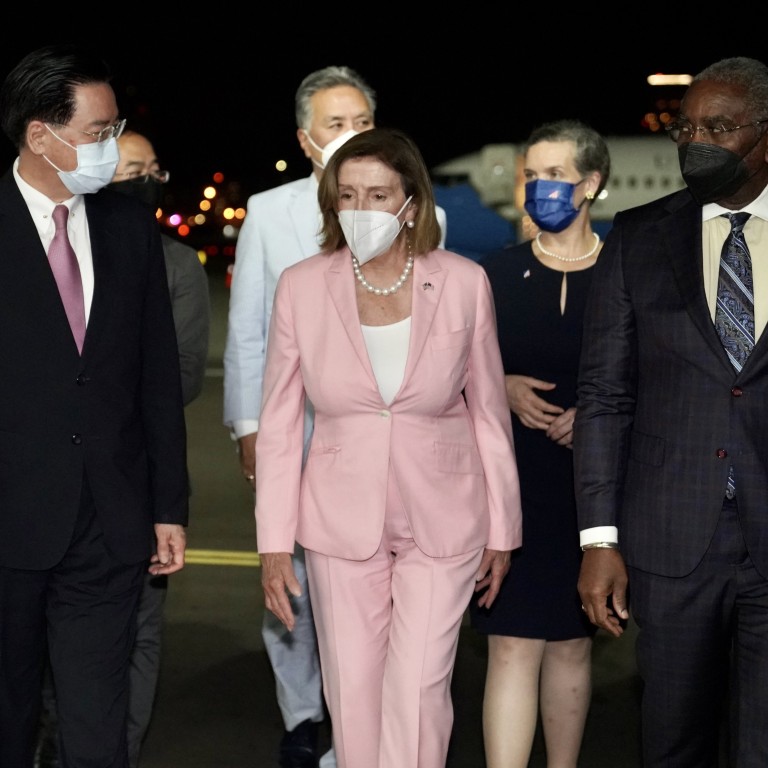 US House Speaker Nancy Pelosi arrives in Taiwan, defying Beijing's warnings
Visit 'honours America's unwavering commitment to supporting Taiwan's vibrant democracy', says Pelosi, America's third-ranking official
Beijing responds by announcing that live ammunition military drills will take place around the island from Thursday until Sunday
This story has been made freely available as a public service to our readers. Please consider supporting SCMP's journalism by
subscribing
.
Leading a Democratic congressional delegation, Pelosi – an outspoken critic of Beijing and staunch supporter of Taiwan – arrived in Taipei unannounced, in contrast to her high-profile visits to other destinations in her trip through Asia.
Pelosi and her group were expected to meet Taiwanese President
Tsai Ing-wen
and other senior officials on Wednesday.
Beijing
denounced the trip
immediately after Pelosi's plane landed, claiming it violated the
one-China policy
Washington had committed to uphold and that US President
Joe Biden
had "the responsibility to stop such visit".
"The United States, for its part, has been attempting to use Taiwan to contain China. It constantly distorts, obscures and hollows out the one-China principle, steps up its official exchanges with Taiwan, and emboldens 'Taiwan independence' separatist activities," Beijing's foreign ministry said.
"These moves, like playing with fire, are extremely dangerous. Those who play with fire will perish by it," the ministry added.
The Chinese government also announced a series of
live ammunition military drills
that would take place around Taiwan in the coming days, declaring the sea and airspace in the designated areas off limits during the period.
The White House responded to Beijing's reaction by asserting that Washington had not changed its position on Taiwan.
"It's concerning to see [the Chinese government] react in the way they've reacted," National Security Council spokesman John Kirby told reporters. "There's no need for that. There's no justification to turn this into a crisis."
"We've been very clear that nothing has changed about our one-China policy, which is guided, of course, by the
Taiwan Relations Act
, three joint US-[China]
communiques
and the six assurances," he said. "We've said that we oppose any unilateral changes to the status quo from either side. We said we do not support Taiwan independence."
The six assurances refer to commitments Washington made to Taipei in 1982 to disregard Beijing's opposition to US arms sales to the island.
Flight SPAR19 carrying the House speaker and her delegation left Kuala Lumpur at 3.42pm Tuesday and headed east towards Borneo before taking a detour around the Philippines, skirting the
South China Sea
en route to Taiwan, according to tracking website Flightradar24.
Citing sources, American political analyst Josh Rogin said the route was "designed to minimise the security risks".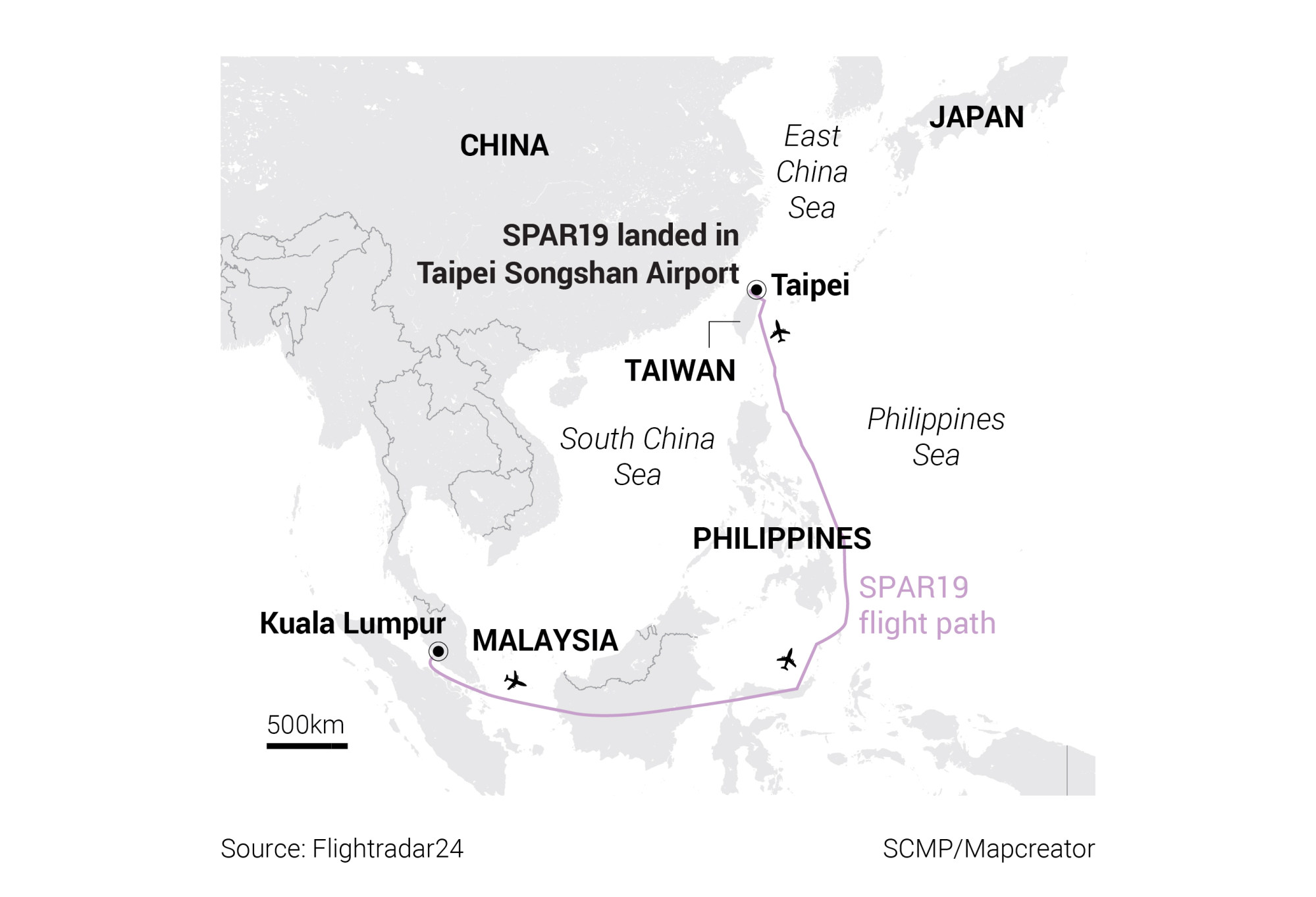 Flightradar24 showed the plane entering Taiwan's air identification zone from the southwestern side at around 10pm. Minutes later, the Chinese army
dispatched
an unknown number of Su-35 multi-role fighter jets across the Taiwan Strait. Their intended mission was unclear.
The plane landed at Taipei Songshan Airport at 10:45pm. Dressed in pink, Pelosi stepped out of the US Air Force Boeing C-40 and was warmly received by Taiwan officials.
The House speaker was greeted by the island's foreign minister, Joseph Wu, and the US representative to Taiwan, Sandra Oudkirk, before being whisked away to her hotel, where a group of well wishers had been waiting to welcome her.
Earlier, dozens of pro-unification supporters protested outside the hotel, saying her visit would only bring disaster to the island.
Soon after her arrival, Pelosi took to the social media platform
Twitter
.
"Our delegation's visit to Taiwan honours America's unwavering commitment to supporting Taiwan's vibrant democracy," she said. "Our discussions with Taiwan leadership reaffirm our support for our partner and promote our shared interests, including advancing a free and open
Indo-Pacific region
."
How forcefully mainland
China's military
responds "will depend in part on how Speaker Pelosi handles the visit", Bonnie Glaser, Asia director at the Washington-based German Marshall Fund, said at a briefing in Washington just before Pelosi's arrival.
"Will she do things publicly or privately? Is she going to have a press briefing where she tells the world what she's talked about in Taiwan? Will there be some footage of her meeting with President Tsai? I think all of those will have some impact on how the Chinese react at this point," Glaser said.
"But I am confident that their reaction will be beyond what they did in 1996, firing missiles around the Taiwan Strait," she added.
In a joint newsletter to The New York Times published on Friday, Glaser and Zack Cooper, a senior fellow at the American Enterprise Institute, called the trip too risky.
"Ms Pelosi and her advisers may think this would have a stabilising effect: many in Washington believe that strong demonstrations of US commitment to Taiwan will dissuade China from risking a military adventure," they said.
"But at this moment, a visit by Ms Pelosi to Taiwan could instead provoke a forceful Chinese response."
Pelosi's visit to Taipei comes just days after
a virtual summit
between Biden and Xi during which the mainland leader warned the US against "playing with fire" over the Taiwan issue.
Both Pelosi's office and the island's authorities remained silent about the visit until after her arrival in Taipei, although the Financial Times reported almost two weeks ago that she was planning a visit.
But as the date of her reported trip approached, both Washington and Beijing took steps to shape the narrative around it.
On Monday, US Secretary of State Antony Blinken said the trip would be entirely Pelosi's decision, and called on China to "act responsibly and not to engage in any escalation going forward".
Speaking to the press on the sidelines of a Shanghai Cooperation Organisation summit in the Uzbek capital Tashkent, Chinese Foreign Minister Wang Yi slammed Washington for "betraying its own promise on Taiwan" and "despicable" conduct over Pelosi's visit.
"[This] would only further bankrupt the credibility of the US as a state," he said on Tuesday, according to the ministry website.
"Certain US politicians are playing with fire on the Taiwan issue for their own private interests. They stand as enemies of 1.4 billion Chinese people," he said.
"The US bullying is known to the world and the world will see more clearly that the US is the largest destroyer of peace."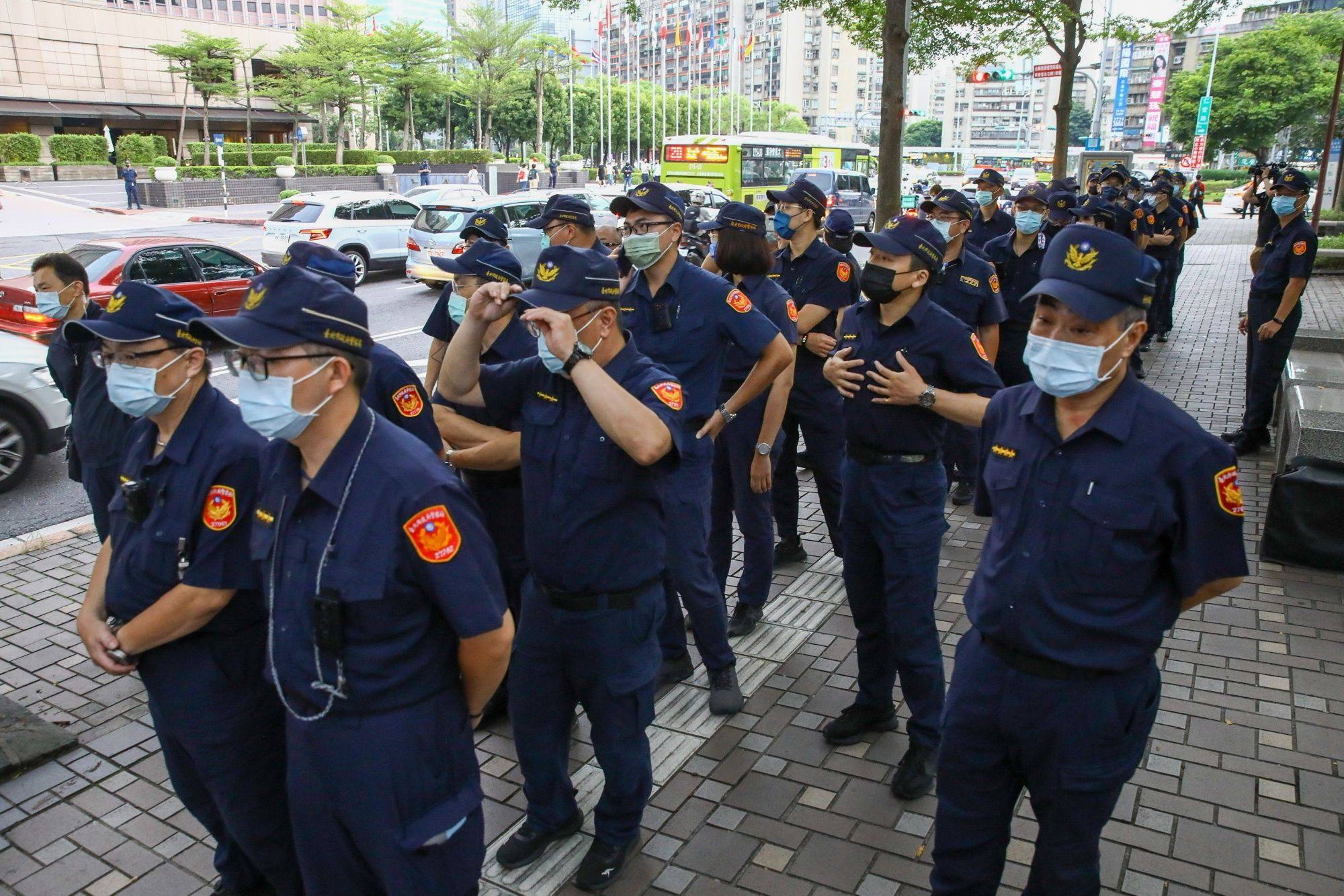 Hua Chunying, a spokeswoman for the Chinese foreign ministry, said Beijing has been "closely watching" Pelosi's trip to Asia, and said it was nothing less than an official act.
"That the US House speaker, as the No 3 person in the US government, visits Taiwan on a US military plane, is no unofficial act," she said during Tuesday's regular press briefing in the Chinese capital.
"The collusion between Taiwan and the US comes first and China's legitimate defence will follow later," Hua added. "Any countermeasure taken by the Chinese side is just and necessary, and it's an inalienable right of a sovereign state."
Beijing, which sees Taiwan as part of its own territory and has never renounced the use of force to return it to its control, warned repeatedly against her visit and vowed to take "forceful measures" if she visited.
Major Western countries, including the US, acknowledge the one-China principle and do not recognise Taiwan as a sovereign state. But Washington opposes any attempt by Beijing to unite Taiwan by force.
Beijing sees the visit as a serious violation of its one-China principle, especially because Pelosi is second in line to the presidency and the most senior US politician to visit Taiwan since her predecessor Newt Gingrich in 1997.
The US maintains no formal diplomatic relations with Taiwan, and Beijing has repeatedly warned Washington not to have official contact with Taipei or supply it with weapons.
There had been some debate in the United States over whether Pelosi should be making the trip – some lawmakers had urged her to proceed – given Beijing's warning that the US would "bear all consequences" and face "forceful measures".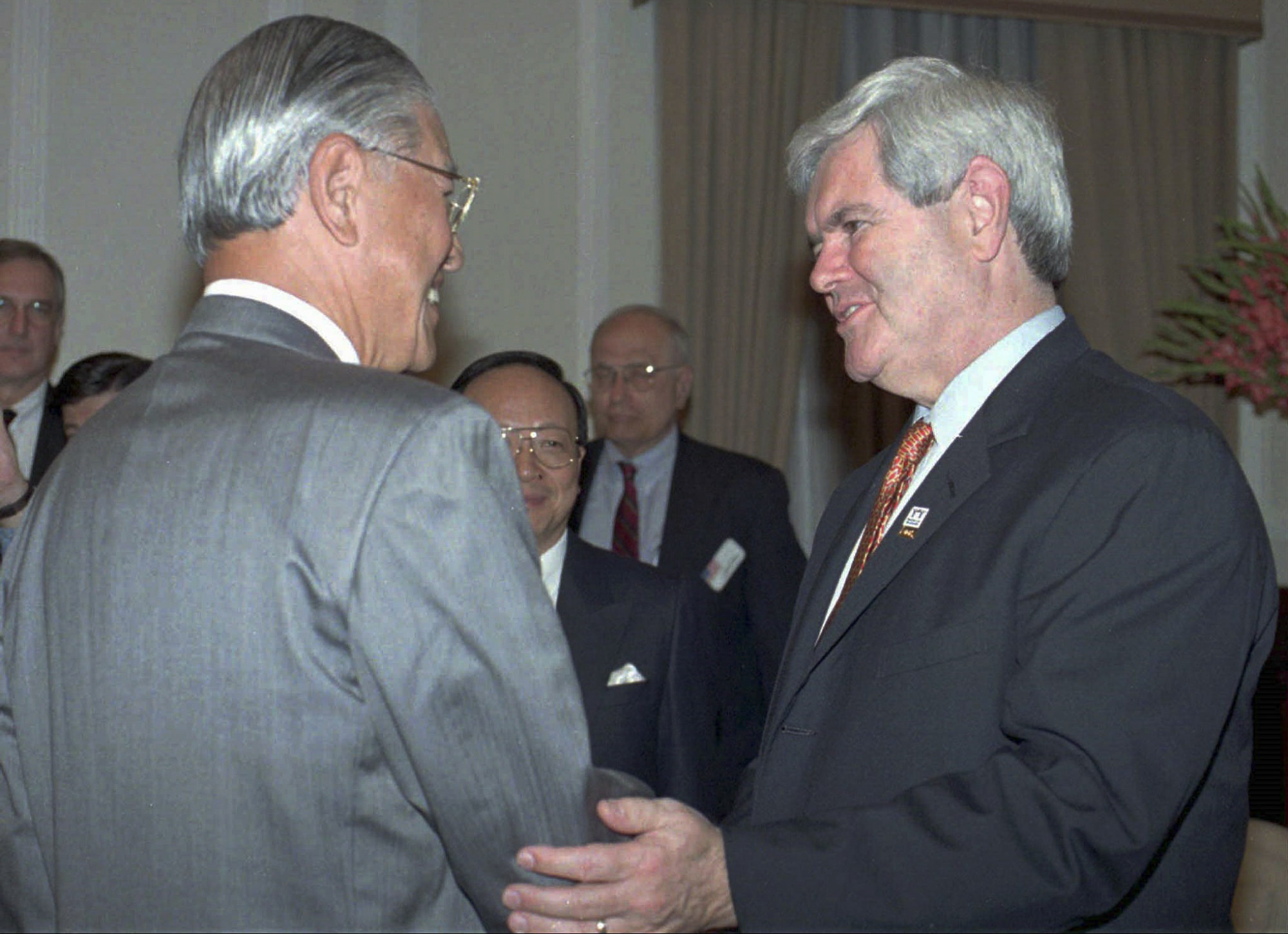 M Taylor Fravel, who directs the Security Studies Programme at MIT, agreed that Beijing's military response would exceed what was seen in 1996.
"Although we have yet to see the scope/scale of the exercises, they could mark the start of a Fourth Taiwan Strait Crisis," Fravel said in an emailed response to questions.
"The exercises will include joint air and sea operations north, southwest and southeast of the Taiwan, as well as conventional missile tests into a target area east of Taiwan, which suggests that missiles could overfly Taiwan itself " Fravel added.
The last such crisis began with a visit to the US by Taiwan's then-president, Lee Teng-hui, in 1995. In response, the mainland Chinese military launched a series of missile tests off the northern Taiwanese coast. Earlier conflicts in the strait occurred in 1954 and 1958.
Some observers in Taiwan also noted the island would have to contend with the security and political impact of the visit.
"The House speaker's visit definitely would seriously provoke Beijing, which has already threatened to take forceful measures if she goes ahead," said Wang Kung-yi, director of the Taiwan International Strategic Study Society, a think tank in Taipei.
However, the Tsai government had no choice but to deal with the consequences, he said, adding that keeping the president's meeting with Pelosi low-key could help reduce Beijing's anger.
Additional reporting by Kinling Lo and Laura Brickman in Washington