Taiwan
Get more with myNEWS
A personalised news feed of stories that matter to you
Learn more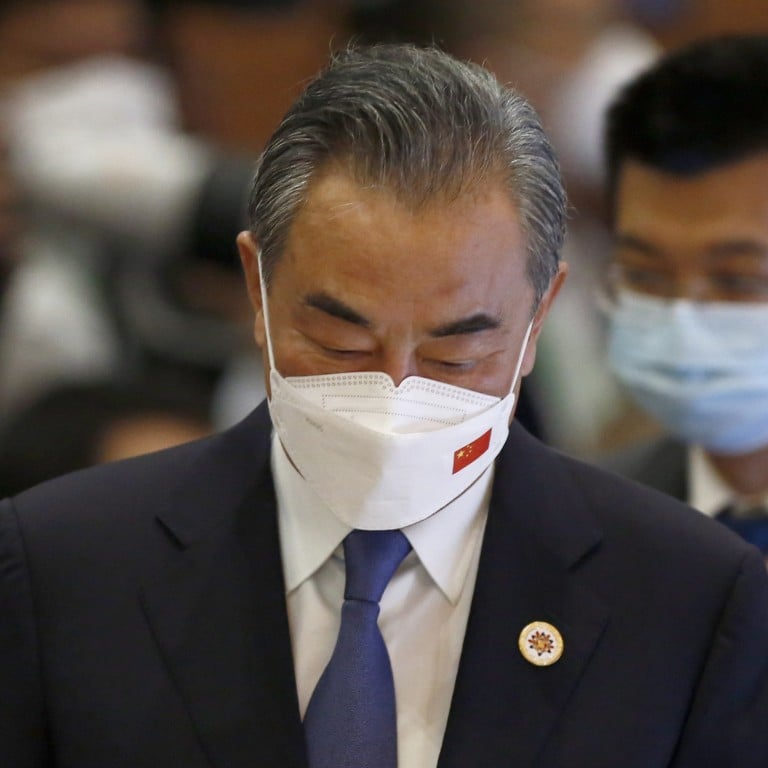 Chinese Foreign Minister Wang Yi walks out of Asean events after US and Japan hit out at Taiwan drills
Wang is reported to have walked out of events attended by US and Japanese diplomats as Beijing faced criticism over its response to Nancy Pelosi's Taiwan visit
China's foreign ministry did not confirm the reports but hit out at Tokyo's 'bad behaviour' over the issue
Chinese Foreign Minister Wang Yi staged two walkouts at a Southeast Asian foreign ministers' meeting as Beijing pushed back at criticism of its
military exercises around Taiwan
following US House Speaker Nancy Pelosi's visit to the island.
Citing anonymous sources present, Reuters reported that on Thursday Wang walked out of an evening gala for foreign ministers in Phnom Penh, where diplomats from the Association of Southeast Asian Nations, the United States, Japan, South Korea and Russia are meeting.
Wang and his Russian counterpart Sergey Lavrov then staged another walkout at a meeting in the Cambodian capital on Friday when it was the turn of Japanese Foreign Minister Yoshimasa Hayashi to speak, according to Kyodo, which cited diplomatic sources.
Beijing regards Taiwan as part of its territory, to be retaken by force if necessary, and considers any official endorsement of its government as legitimising its international standing.
When asked about Wang's reported walkouts, Hua Chunying, a spokeswoman for China's foreign ministry, said she was not aware of the situation but hit out at Japan's behaviour.
"Your leaders have been behaving very badly on Taiwan recently and have caused great dissatisfaction among the Chinese people," she told a Japanese reporter during a press briefing on Friday.
She added that since Japan had colonised Taiwan for a long period, it should be even more careful since Tokyo bore "serious historical guilt".
She also referred to "very bad" comments by Japanese Prime Minister Fumio Kishida during his meeting with Pelosi on Friday, when the two agreed to "jointly work to ensure peace and stability in the Taiwan Strait".
Kishida also condemned China's firing of ballistic missiles during military drills around Taiwan, calling them a "serious problem that impacts our national security and the safety of our citizens".
Tokyo said five Chinese missiles appeared to have fallen in the country's exclusive economic zone, including four believed to have flown over Taiwan's main island.
On Wednesday Hayashi and other foreign ministers from the Group of 7 along with the EU high representative signed a statement saying they were "concerned by recent and announced threatening actions by the People's Republic of China, particularly live-fire exercises and economic coercion, which risk unnecessary escalation".
Beijing reacted strongly to that statement, and summoned European and Japanese diplomats on Thursday to protest.
Wang Yiwei, an international relations professor at Renmin University, said the Asean walkout highlighted Beijing's anger that the G7 statement only blamed China and made no mention of Pelosi's visit to Taiwan, which Beijing regards as provocative.
"China, Russia and many other countries are very vigilant on any attempts by the US and its allies to use platforms like the G7 to circumvent the United Nations."
"There are UN resolutions on major international decisions, especially on Taiwan. If the UN is bypassed, then the international order will simply collapse into chaos."
John Lim Chuan-tiong, a former researcher at Taiwan's Academia Sinica, said China and Russia were "walking closer" together in the face of pressure from the West and he expected more similar joint protests by the two countries in future.
"Now we need to see if Beijing will double down on its stance on the Ukraine war after Moscow has expressed support for Beijing's stance and action on Taiwan," Lim added.
"We can expect more walkouts in future multilateral meetings as the two divided camps are quickly forming – one led by the US and its G7 partners, the other one by China, Russia and their allies."
Henry Chan, senior visiting research fellow at the Cambodia Institute for Cooperation and Peace in Phnom Penh, said Beijing had sent a clear message: "We are willing to risk everything [to defend our sovereignty]. There is no room for negotiation."