Taiwan
Get more with myNEWS
A personalised news feed of stories that matter to you
Learn more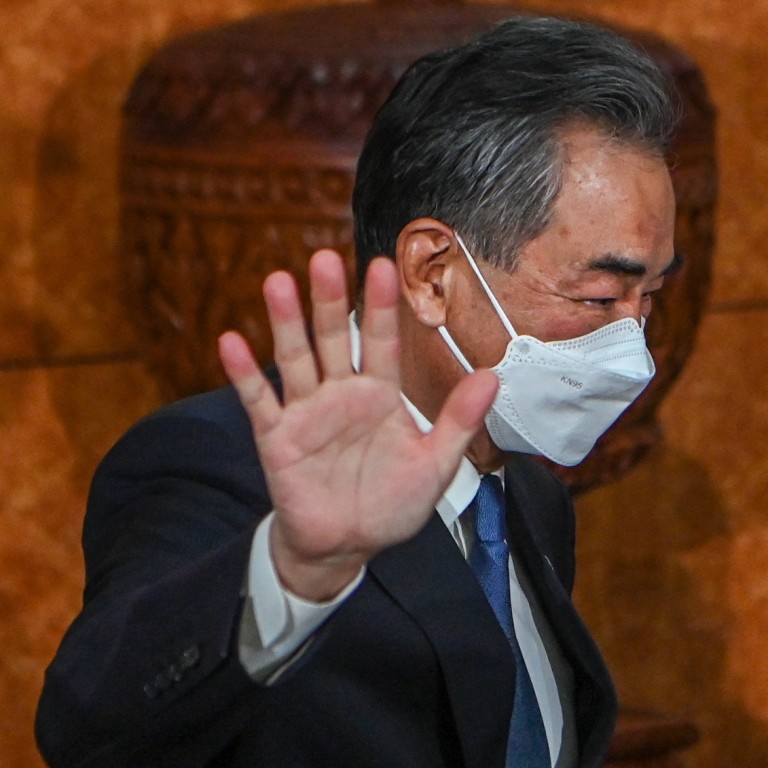 After raging at US and Japan over Pelosi's Taiwan visit, China faces dilemma: escalate further or court its neighbours?
Beijing's angry response, including military drills encircling Taiwan and diplomatic walkouts, risk alienating other countries, observers warn
Southeast Asian countries have urged all sides to show restraint and have warned that miscalculations risk further inflaming the situation
China's response to
Nancy Pelosi's Taiwan visit
– including a display of military force and angry attacks on Japan and the United States – has upped the ante diplomatically, but now faces a dilemma over whether to escalate things further or work to keep its other neighbours onside.
China's Foreign Minister Wang Yi
also staged two walkouts
at a regional gathering of foreign ministers in Cambodia – a rarely used diplomatic tactic – to register Beijing's rage at being accused of a "gross overreaction".
Unlike Japan, South Korea has largely refrained from commenting on the Taiwan question and Pelosi's visit to the island, despite Yoon's pro-Washington stance.
Wang also held talks with New Zealand Foreign Minister Nanaia Mahuta in Cambodia.
Sourabh Gupta, a senior fellow at the Institute for China-America Studies in Washington, pointed to a dilemma for Beijing when it was trying to balance the need to step up military deterrence against Taiwan without scaring its Asian neighbours away.
"The strongest card that China has on the Taiwan question is the sentiment of its Asian peers. Nobody in Asia wants to see a non-peaceful solution to the Taiwan question, including one implemented by Beijing.
"But equally, almost nobody in Asia wants to see the geopolitics of the Asia-Pacific stranded in the Taiwan Strait, especially in this age of the Russia-Ukraine conflict," he said.
"Having made its bitter denunciations, China's wisest approach going forward would be to send emissaries to every major and minor Asian capital and restate its one-China principle and the US violation of the spirit of its own one-China Policy. But I think Chinese diplomacy is too arrogant to choose this course of action."
Aside from his walkouts, Wang also cancelled planned talks with the Japanese Foreign Minister Yoshimasa Hayashi in Cambodia and, despite expectations that he would meet US Secretary of State Antony Blinken, a meeting never went ahead as both sides insisted it had not been on the agenda.
While it was not the first time that Beijing has called in G7 envoys for a dressing-down over diplomatic disputes, observers believe it is rare for China to bring those tensions into the open with such a ferocity.
Koh King Kee, president of the Centre for New Inclusive Asia, a think tank in Malaysia, said Wang's cancellation of his first face-to-face meeting with his Japanese counterpart is unlikely "to result in self-isolation or diplomatic disadvantage to Beijing".
He added: "China will focus its response to Pelosi's Taiwan visit by punishing Taiwan and protesting against the US. It will not want to unnecessarily antagonise other US allies over Pelosi's visit to avoid potential negative impact on trade relations with these countries."
The Association of Southeast Asian Nations issued a joint statement on Thursday, urging all sides to de-escalate tension over Taiwan while warning of the risk of "miscalculation, serious confrontation, open conflicts and unpredictable consequences among major powers".
While Asean nations refused to take sides, they nonetheless reaffirmed their support for the one-China principle after Pelosi's Asia tour, which also included stops in Singapore and Malaysia.
Nick Bisley, a professor of international relations at La Trobe University in Australia, said China's comprehensive and "very significant" response to the Pelosi visit has "unsettled the region".
He said: "The question is just how far the US and others are prepared to push China back and this is where the risk is greatest. If the US feels that it really needs to be seen to be pushing China back then things could escalate rapidly and in very dangerous ways."
Lu Xiang, a specialist in US-China relations at the Chinese Academy of Social Sciences, said the response from Beijing showed restraint and consideration for the security interests of China's Asian neighbours.
"The Taiwan Strait and the South China Sea is an essential travel passage, hence the drills will be over shortly," Lu said, "I believe Beijing will try its best to minimise the impact experienced by other countries, including [the effect on] commercial flights."
Li Mingjiang, an associate professor at the S Rajaratnam School of International Studies in Singapore, predicted Beijing would gradually tune things down because stability was its top priority ahead of a major leadership reshuffle this autumn.
"After venting its anger through military exercises, economic sanctions [and diplomatic battles], Beijing would need to climb down from escalating tensions, which is in line with China's overall interests.