Taiwan
Get more with myNEWS
A personalised news feed of stories that matter to you
Learn more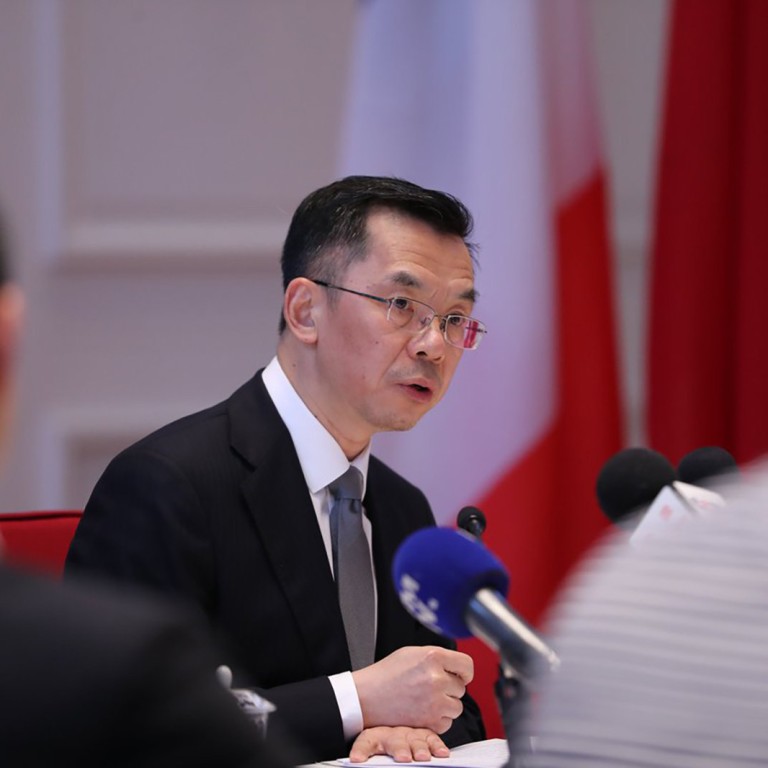 Chinese envoy to France Lu Shaye doubles down on Taiwan 're-education' aims
Tsai government has 'indoctrinated and intoxicated' Taiwanese population with anti-Chinese education, Lu tells French station
Comments show 'Taiwanese democracy must be respected', says deputy from French president's party, although Paris' overall reaction has been muted
China's ambassador to France has doubled down on comments that Taiwanese people will need to be "re-educated" if the island is reunified with mainland China, drawing fresh criticism from French commentators and politicians.
In an interview with French broadcaster LCI that focused on the fallout from US House Speaker Nancy Pelosi's controversial visit to Taiwan,
Chinese envoy Lu Shaye
said re-education would be required because the government in Taipei had "indoctrinated and intoxicated" the population with anti-Chinese education.
"Why do I say 're-educate'? Because the authorities of
Taiwan
have made an education of 'desinicisation' on its population, which is effectively indoctrinated and intoxicated. It must be re-educated to eliminate separatist thought and secessionist theory," Lu said.
In a second interview broadcast over the weekend with broadcaster Europe 1, he claimed that 20 years ago a majority of Taiwanese were pro-reunification, but the island's two-term President Tsai Ing-wen, backed up by American support, had poisoned the popular mood towards Beijing.
A recent six-monthly study by the National Chengchi University's Election Study Centre in Taipei found just 1.3 per cent of respondents wanted to reunify with the mainland "as soon as possible". However, just 5.1 per cent wanted formal independence at the earliest opportunity.
"I think that behind the government of Tsai Ing-wen are Americans. With this education and propaganda, public opinion in Taiwan has changed significantly. It is said that now most Taiwanese are for independence. I think this is a dangerous trend," Lu said, according to a transcript of the second interview published by the Chinese embassy in Paris.
He was clarifying views broadcast in another French television interview last week, during which he said: "After reunification [with Taiwan], we will do a re-education."
"I'm sure that as long as they are re-educated, the Taiwanese public will once again become patriots."
Anne Genetet, a deputy from President Emmanuel Macron's En Marche party and representing French citizens in Singapore, said Lu's comments showed "Taiwanese democracy must be respected".
"To choose one's destiny freely is neither to be indoctrinated, nor to be intoxicated, nor to have a separatist thought. It's called sustaining a democracy," she wrote on Twitter in response to the interview.
However, the direct response from the French government thus far has been muted – a broad trend across the EU, where only the foreign minister of Lithuania has spoken publicly in support of Pelosi's visit last week.
In a speech on Friday, top European Union diplomat Josep Borrell made his first public remarks on the situation, describing the PLA's firing of ballistic missiles over Taiwan and into Japan's exclusive economic zone as "highly worrying developments that lead to destabilisation and risk escalation".
The highest-profile European defence of Beijing's claims on Taiwan came from Jean-Luc Melenchon, a leftist opponent of Macron in French elections earlier this year.
"Whatever the scope and level of criticism that may be levelled at the Chinese government, we must refuse to condone war on China to satisfy US views on Taiwan. If I had been elected, I would have held this reasoning with the US government," Melenchon wrote on his personal blog.
"I would describe the reception as being mild, if not completely indifferent," Chimits said.
"One illustration is the absence of a broad reaction to Melenchon. There were indeed some reactions among members of the left alliance, but not much traction from a broader audience, which is particularly telling, considering Melenchon is still behaving and being perceived as one of the two leading opposition leaders."