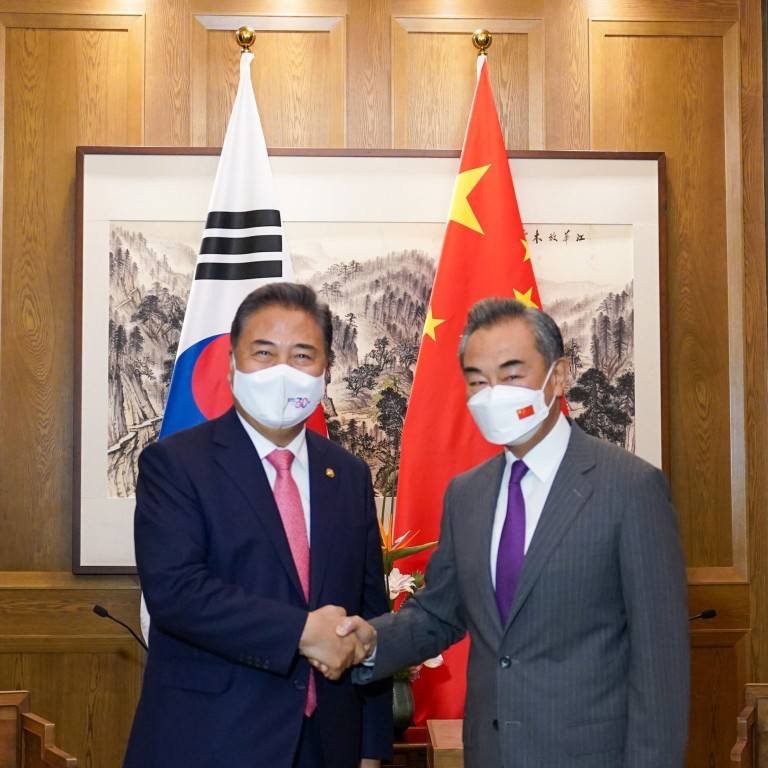 China, South Korea make supply chain pledge as Seoul eyes US chip alliance
Meeting between foreign ministers is the first high-level visit by a South Korean official to China since South Korean President Yoon Suk-yeol took office in May
The vow comes amid concerns that Seoul may risk business ties with Beijing by joining 'Chip 4' group with US, Taiwan and Japan
China and South Korea vowed to strengthen ties and maintain
stable supply chains
amid the growing rivalry between Beijing and Washington.
The pledge was made on Tuesday when Chinese Foreign Minister Wang Yi met his South Korean counterpart Park Jin in the eastern Chinese city of Qingdao.
"Globalisation has encountered adverse currents, and some countries have politicised the economy … undermining the stability of global production and supply chains," Wang was quoted as saying in a Chinese foreign ministry statement.
"
China and South Korea
should jointly resist such acts that violate the laws of the market, and jointly maintain the security and stability of production and supply chains in the two countries and the world."
The South Korean foreign ministry said the countries agreed to increase high-level communication on supply chain issues, climate change cooperation and cultural exchanges.
Both Beijing and Washington have stepped up efforts to consolidate their own diplomatic alliance networks after US House Speaker Nancy Pelosi defied Beijing's warnings and visited Taiwan, a self-ruled island that mainland China considers as part of its territory to be taken back under its control, by force if necessary.
"The Chinese side is willing to work with South Korea to adhere to the positioning of the strategic partnership of cooperation determined by the two sides and promote the healthy and stable development of China-South Korea relations," Wang said.
South Korea has been trying to tread carefully between the US – its treaty ally – and China, the top destination for South Korea's exports. Last year, 60 per cent of chips produced in South Korea were sold to China.
There have been growing concerns that South Korea may risk its business ties with China by joining the alliance, which Beijing could view as part of Washington's containment efforts to exclude China from the semiconductor value chain.
South Korean officials have repeatedly said the chip alliance was not aimed at China. On Monday, Yoon also tried to play down concerns about possible sanctions from China and said his government would make national interests a top priority when considering Seoul's participation in the partnership.
Beijing has considered the anti-missile system a threat to its national interests and has long opposed THAAD deployment.
When Seoul first agreed to deploy the system in 2016, Beijing imposed unofficial sanctions, including bans on Chinese tour groups to South Korea, which had a devastating effect on the country's tourism, cosmetics and entertainment industries.
Ties between the countries only improved in recent years, partly because of their respective disagreements with former US president Donald Trump's "America first" policy.