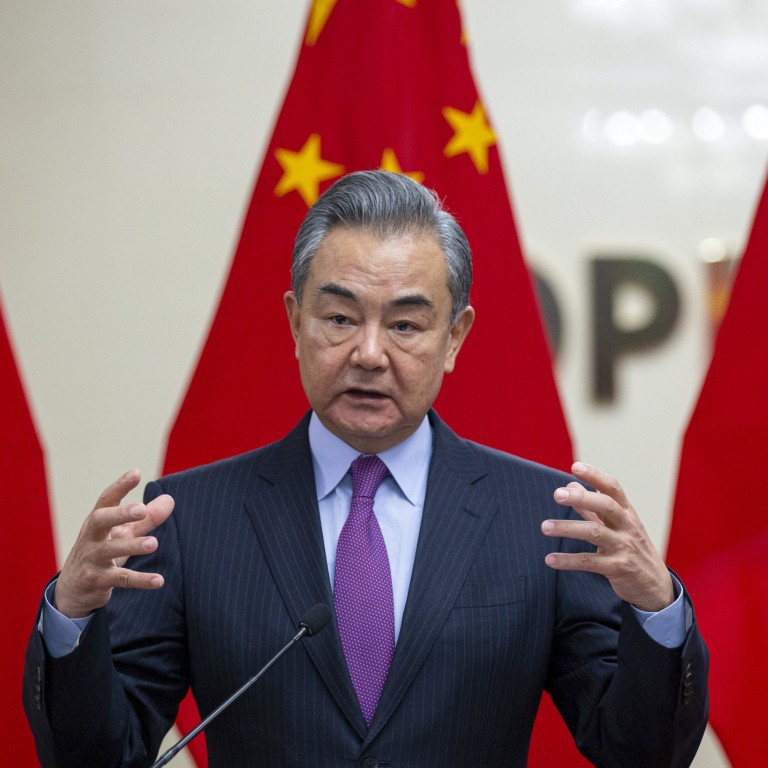 China backs African Union bid to join the Group of 20
Xi Jinping to go to Bali for G20 summit in November, raising prospect of talks with Joe Biden
Chinese foreign minister tells African counterparts Beijing will keep giving military, economic, food and anti-pandemic aid
Beijing will support the African Union in its decades-long quest to join
the G20
, Chinese Foreign Minister Wang Yi said on Thursday, as China vies with other powers for influence on the continent.
South Africa is the only representative of the continent in the Group of 20 despite the African Union pushing for inclusion since its creation in 1999.
Indonesian President Joko Widodo said last month he would invite the African bloc, representing 55 countries and 1.4 billion people, to the G20 summit in Bali in November to help the continent's bid.
The G20 comprises 19 countries and the European Union. European Council president Charles Michel also voiced his support last month for the AU's bid for the G20.
Xi could meet US President Joe Biden, who is also expected to attend the gathering.
If so, it would be the first in-person meeting for the two leaders since Biden took office last year.
Beijing and Washington are at odds on everything from Taiwan, Xinjiang, Hong Kong to Russia's invasion of Ukraine.
While the Biden administration has moved to expand its global alliances to counter China's rise, Beijing has responded by focusing on shoring up ties with developing countries in Africa, Asia, and the South Pacific.
A seat for the African Union at G20 is believed to be in Beijing's interests in rallying support to counterbalance the US-led West.
Speaking at a virtual meeting with his African counterparts, Wang hailed African support for Beijing's "one-China principle" and described their ties as "a pillar force" in defending the rights and interests of developing countries.
"In the face of the various forms of hegemonic and bullying practices, China and Africa have stood with each other shoulder to shoulder," he said.
In a veiled swipe at US Secretary of State Antony Blinken's trip to Africa early this month, he also tried to present Beijing as an alternative to Washington and defend his country's expanding presence there.
"What Africa wishes for is a favourable and amicable cooperation environment, not the zero-sum cold war mentality. What Africa would welcome is mutually beneficial cooperation for the greater well-being of the people, not major-country rivalry for geopolitical gains," he said.
He also said China would continue to provide military, economic, food and anti-pandemic aid to the continent, in a bid to follow up on the financial support Xi promised at a China-Africa virtual summit late last year.
According to Wang, Beijing will write off 23 interest-free loans to 17 African countries that were due last year, and give food assistance to those nations this year.
He also vowed to advance "high-quality cooperation" over Beijing's Belt and Road Initiative, which has been hit hard by China's economic slowdown and the deepening US-China feud.
Meanwhile, Chinese foreign ministry spokesman Wang Wenbin also lashed out at Blinken's Africa trip on Thursday, calling the US diplomat's allegation of "Chinese debt trap" a lie to deflect their own responsibility and blame.
During a trip to South Africa, Rwanda and the Democratic Republic of the Congo, Blinken unveiled a new US strategy for sub- Saharan Africa and insisted Washington's "commitment to a stronger partnership with Africa is not about trying to outdo anyone else".
Wang said: "When certain politicians and media in the US and some other Western countries hype up the so-called Chinese debt trap despite those facts, their real aim is to create a narrative trap to sow discord between China and other developing countries, impede their cooperation and disrupt the growth of developing countries.
"But the developing countries and people with insight from the rest of the international community will not fall for this."