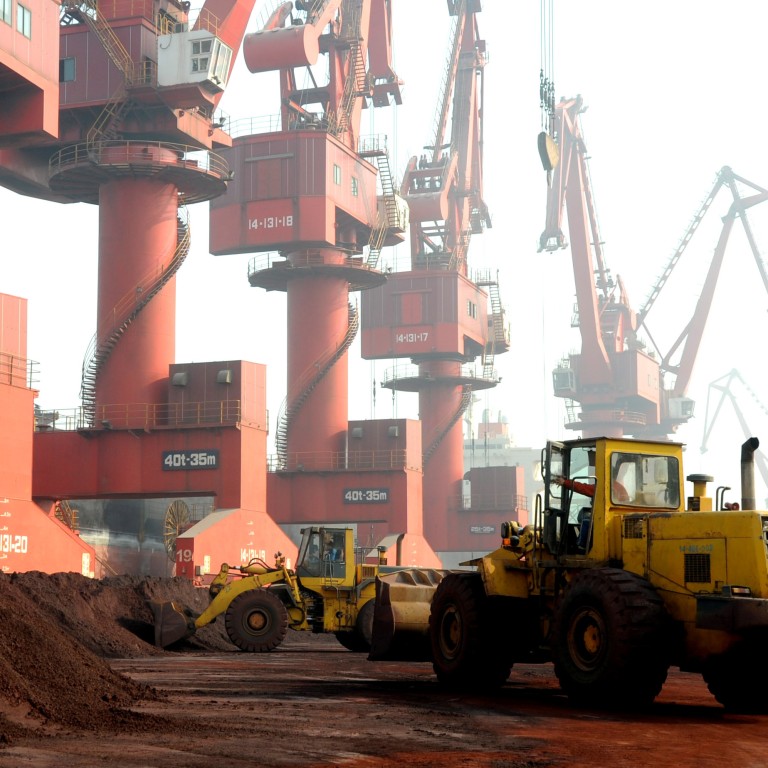 Critical minerals – the next front line in the China-US rivalry?
China should shore up its supply chains in essential resources as the US seeks to cut dependence, experts suggest
Washington has long been aware of its vulnerabilities but Beijing has not come up with a way to assess supply risks
Beijing should forge alliances with "friendly" suppliers of critical minerals as the United States and its allies seek to reshape global supply chains to cut
dependence on China
, two Chinese resources experts say.
In an article in prominent journal
Science & Technology Review
earlier this month, the experts said such alliances could also give China and its
Belt and Road Initiative
trade partners a greater say in international trade negotiations over those minerals.
"The focus should be on controlling the risk of shortages of key minerals, building a global trade network for key minerals that is conducive to China's resource security, and achieving a rational, efficient and secure allocation of key minerals," they wrote.
"At the same time, China should focus … on strengthening cooperation with other mineral resource supplying countries, form international resource alliances, and speak out together in international trade negotiations to ensure the security of supply of key minerals to China and friendly countries."
The authors – Zhao Shen from Jiangxi University of Science and Technology and Wang Peng from the Ganjiang Innovation Academy at the Chinese Academy of Sciences in Jiangxi – are based in Ganzhou, the resource-rich region home to state-owned China Rare Earth Group.
The proposal is part of an assessment of US policies on supplies of essential minerals over the decades.
It comes amid a US drive to strengthen its alliances with Western democracies to counter China on a range of fronts, from the military to technology.
Zhao and Wang said that drive reflected Washington's shift in focus "from being solely oriented towards security of supply to meeting political and diplomatic needs".
China is a major player in mineral processing. It is the leading supplier for 16 minerals essential to cutting-edge technologies as well as 25 other minerals the US needs, according to the US Geological Survey.
However, China's ability to leverage the strategic value of these critical minerals had been limited because "the US and its Western allies have dominated the global mineral resource management system", Zhao and Wang said.
Under the international system, China has to price purchases of most minerals against benchmarks like those set by the London Metal Exchange. At the same time, transactions are usually carried out in US dollars, giving the US unique influence over prices.
They said the dependence of these countries on Chinese supplies prompted them to identify China as the major source of security risks in the area.
"And since taking office, US President Joe Biden has resumed an 'alliance-centred strategy' to further squeeze China in the global mineral governance system," they said.
The US has been wary of its vulnerability in critical mineral supplies since at least the 1930s and has established a complex assessment system for supply risks.
But China has yet to do the same.
This, the authors warned, could also risk China's economic development, particularly when the world's second-biggest economy is pushing to advance its technological expertise and reinforce its dominance as a global manufacturing power.
"China's demand for many critical minerals is growing and its dependence on foreign supplies of critical materials is also increasing, which means critical mineral supply disruption has also become a threat to Chinese economic development," Zhao and Wang said.
The authors did not specify which resources China relied on from overseas but the Hebei Department of Natural Resources said in April that the country was dependent on imports of iron ore, copper concentrate and bauxite.
Australia, a US ally, is the world's largest producer of iron ore while South American countries like Peru and Chile own some of the world's largest copper mines. Politically unstable Guinea has the world's largest reserves of bauxite, which is used to produce aluminium.
As its strategic rivalry with China grows, the US stepped up efforts to expand domestic mineral supply chains to try to break its dependence on China.
Last week, the White House said that it was seeking public feedback on a US$675 million Critical Materials Research Programme.
Once passed, the programme is expected to increase US investment in these supply chains, including basic research in materials science and geoscience, and commercialisation of new technologies.