UN human rights chief Michelle Bachelet 'trying hard' to publish Xinjiang report before leaving office but can't offer guarantees
Bachelet, who visited China in May, says she has received 'substantial input' from Beijing, which will need to be carefully reviewed before publication
China is accused of extensive abuses against Uygurs and other mainly Muslim minority groups in the far-western region
Bachelet confirmed that she had received "substantial input" from Beijing on the long-awaited report, but could not guarantee it would be published before her tenure ends on August 31.
"We're working on the report. I had fully intended for it to be released before the end of my mandate, and will try," she said in Geneva on Thursday.
"Now we have received substantial input from the [Chinese] government that we will need to carefully review, as we do every time with any report with any countries."
The closely guarded United Nations Human Rights Council report on Xinjiang has been in the works for many months, but its publication has been repeatedly delayed
despite intense pressure
from Uygur rights activists, the United States and European governments to publish its findings.
China has been accused of detaining up to a million Uygurs and other mainly Muslim minorities in re-education camps and using forced labour, accusations Beijing has strongly denied, saying its policies in the region are designed to combat terrorism and extremism.
"Following my visit to China, the report continued to be reviewed and finalised because we need to also look at what we have seen in China, it has to be reflected in the report. So I would say that is the situation, we're trying very hard to do what I promised," Bachelet said.
Bachelet prioritised a trip to China in May at the expense of publishing the report then, she said, adding that she wanted to "engage with senior officials on human rights issues, to be able to convey directly" allegations of abuses to top Chinese officials.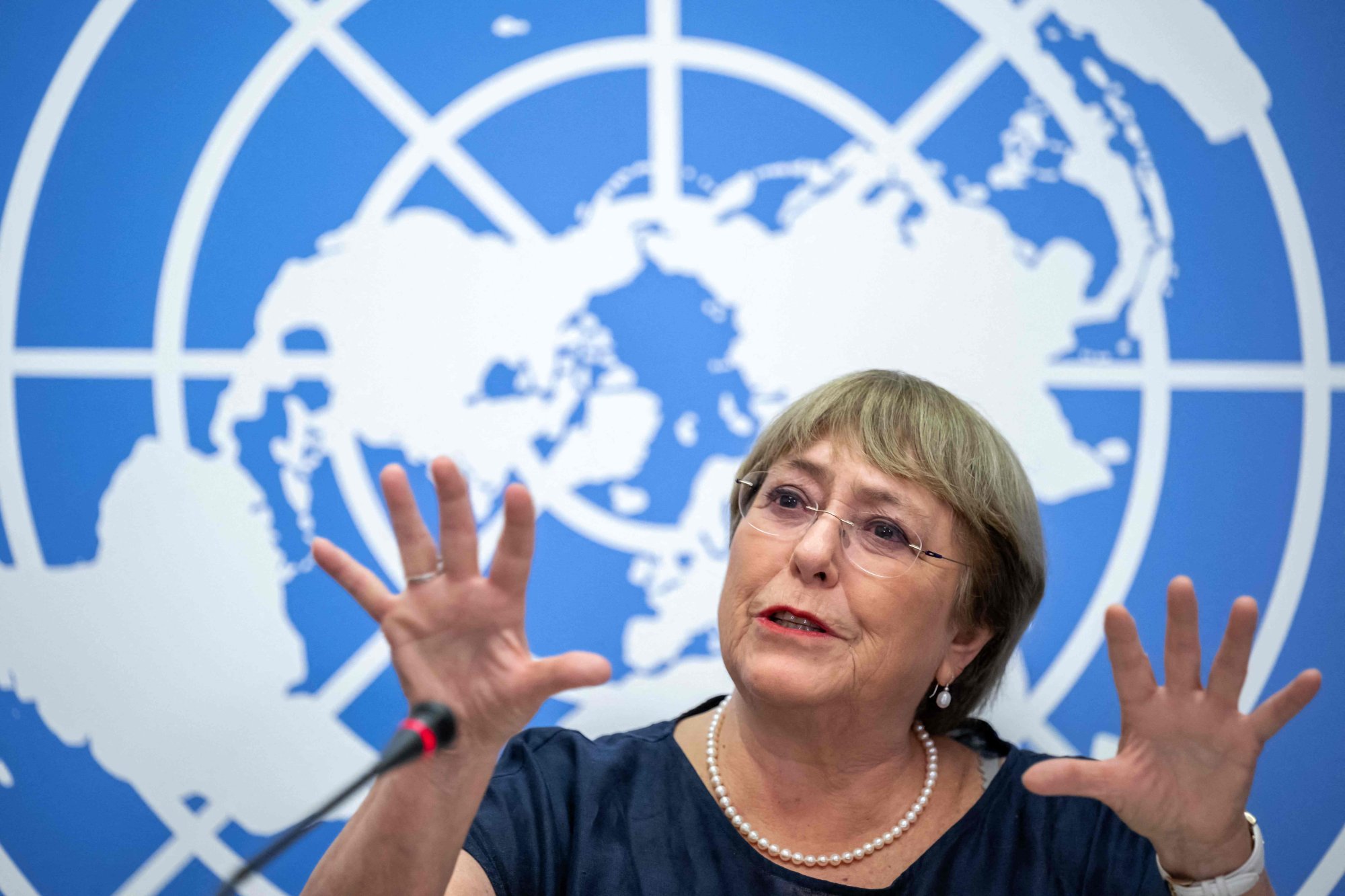 "As I have said before, the issues are serious. In my meeting with high-level national officials and regional authorities in Xinjiang, I raised concern about human rights violations, including reports of arbitrary detention and treatment in institutions.
"And the report looks in-depth at these and other serious human rights violations concerning the Uygurs and other predominantly Muslim minorities," she said.
Bachelet, the former president of Chile who took the UN's top human rights job in September 2018, confirmed that she has faced "tremendous pressure" over the report.
She also confirmed that she received a letter from China and "40 or something" other countries asking for the report to be withheld.
The letter, seen by the Post, "strongly urged" Bachelet not to publish the assessment, which it said "will intensify politicisation and bloc confrontation in the area of human rights".
"I did receive a letter, yes, with a number of states. And that's why I said that I have been receiving pressure from countries who want to publish or not publish. You cannot imagine the numbers of letters, meetings, asking for the publication, huge numbers," Bachelet said.
She said that neither side would sway her plans, which would be "guided by human rights methodology and facts on the ground".
The UN's special rapporteur on contemporary forms of slavery, Tomoya Obokata, said that evidence pointed to forced labour "among Uygur, Kazakh and other ethnic minorities in sectors such as agriculture and manufacturing".
The Chinese government rejected the rapporteur's findings, accusing Obokata of "abusing his authority" to "malignly smear and denigrate China and serve as a political tool for anti-China forces".