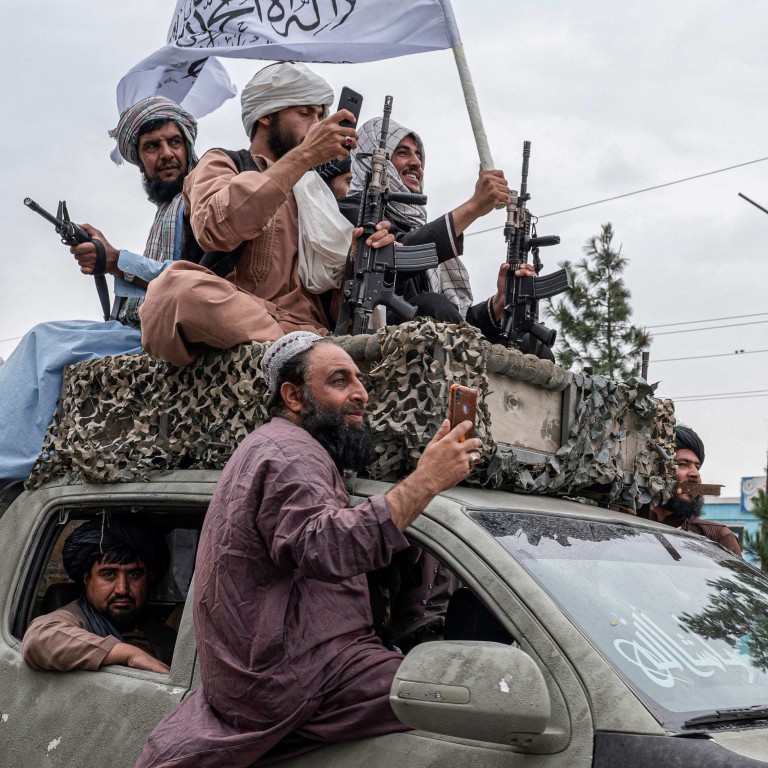 Chinese businesses make headway in Afghanistan despite Beijing's cautious approach to Taliban
Officials visit 10-storey China Town 'to listen to the needs of the Chinese merchants'
Government has approved development of Sino-Afghan industrial estate on outskirts of Kabul
When the Taliban retook control of Kabul a year ago following the
withdrawal of US troops
from Afghanistan, Yu Minghui was one of the very few Chinese businessmen who decided to stay put.
Since then, Yu has had to embrace changes enforced by the country's new rulers, deal with officials who have replaced those in the previous US-backed government, and renegotiate projects that have been in the works for years.
As part of
crippling sanctions
imposed on the Taliban by the United States, US$9.5 billion in Afghan assets were frozen. That has led to restrictions on bank withdrawals, with Afghans allowed to withdraw no more than US$400 a week from their accounts.
But Yu's decision seems to have paid off. Four steel processing lines his factory installed last year are in operation, and local security officials visit China Town, a 10-storey building that he runs, from time to time "to listen to the needs of the Chinese merchants".
"The Taliban is not just saying that they are supportive; they are actually supporting our work," said Yu, who has been in business in Afghanistan since 2001 and also heads the China Arab Economic and Trade Promotion Committee. "There are not many foreign investors here, and these officials know who can be trusted."
That trust was demonstrated in late April when, after months of renegotiations, the Taliban government approved a joint project to develop a US$216 million industrial estate on the outskirts of Kabul. The first Sino-Afghan infrastructure project since the Taliban returned to power, it is expected to host up to 150 factories.
Yu said he was betting on the future of Afghanistan, which has been plagued by war since 1978.
"The country is lagging behind, and the ruined cities needed rebuilding," he said. "That requires everything from engineers and money to skills, and I think China has the advantages."
Like the rest of the world, Beijing has not formally recognised the Taliban government, though Chinese diplomats, including ambassador Wang Yu, frequently meet senior Taliban officials in Kabul. Representatives from state-owned companies have also visited the Taliban's embassy in Beijing, which was opened earlier this year, to discuss investment opportunities and reconstruction plans.
Zhu Yongbiao, a professor at the Centre for Afghanistan Studies at Lanzhou University in Gansu province, said the cautious approach reflected Beijing's concerns about political uncertainty in Afghanistan.
"A multilateral approach is more stable," Zhu said. "Meanwhile, neighbours usually share common concerns such as security and terrorism, which are not the same as those of the US and Europe."
The Taliban hopes Chinese investment can turn Afghanistan's rich and untapped natural resources into revenue to salvage the country's collapsing economy. According to official figures, Afghanistan has reserves of more than 2.2 billion tonnes of iron ore, 30 million tonnes of copper and 1.4 million tonnes of rare earth minerals.
But Zhu said China's need for Afghan minerals had been exaggerated.
"Meanwhile, China has been wary of the lessons learned by the US and the Soviet Union and has been very cautious when assessing possible risks," Zhu said, adding that could also explain why the Chinese embassy in Kabul had repeatedly warned against "blind investment" in the country.
Still, China's economic influence in Afghanistan is steadily expanding – it is the country's third-largest trading partner after Pakistan and Iran – and after the US' chaotic pull-out, China has sent several rounds of humanitarian and financial assistance to Afghanistan.
Aynak, the biggest copper mining project in Afghanistan, was awarded to China's state-owned China Metallurgical Group in 2007 but no progress has been made since then.
Dealing with an interlocutor such as the Taliban was never easy, said Raffaello Pantucci, a senior fellow at the S. Rajaratnam School of International Studies in Singapore.
"It is not clear how cohesive they are, nor how much they control the whole country," he said. "As a result, China is dealing with a counterparty who is nominally in charge, but the limits of this power are hard to gauge and therefore it is hard to know how much they are able or unable to deliver, or how much they are not doing something because they do not want to. This is, I suspect, China's biggest frustration."
Pantucci said Beijing might be "a bit frustrated" over the slow progress the Taliban government had made, including its failure to create an inclusive government. Still, it was left with few choices and had to "adapt to dealing with the hand it has been dealt".
There could also be growing "paranoia" in Beijing that Afghanistan might "become a place where great power conflict and clashes with India and the US come into play", he added.
Since ending the long US military mission in Afghanistan, the Biden administration has yet to announce a new Afghanistan policy.
But according to The Washington Post, US officials are now working with Islamic organisations and allies including Qatar and the United Arab Emirates to employ the few tools available to them, including sanctions, travel bans and the promise of potential diplomatic recognition, to encourage the Taliban government to prevent terrorist attacks, help US-linked Afghans emigrate and return an American hostage.
Days after the reopening of the Indian embassy in Kabul, Indian Defence Minister Rajnath Singh called last week for Afghanistan's sovereignty, independence, territorial integrity and national unity to be respected and for outsiders to refrain from interfering in its internal affairs.
India, which opposed the Taliban and supported the US-backed government that it overthrew, evacuated its embassy staff after the Taliban entered Kabul last August.
Speaking with India Today TV, Abdul Qahar Balkhi, a spokesman for the Taliban's foreign ministry, also invited India to play a role in rebuilding Afghanistan.
Yu, the Chinese businessman in Kabul, said India was an example of how ideology was irrelevant to the Taliban when it came to attracting foreign investment for reconstruction.
"For us, it is all about doing business," he said, "and for the [Taliban] government, it's all about what you have done in the country, no matter if you are a company from China, Japan, India or Türkiye."
Additional reporting by Jack Lau and Zhao Ziwen