Taiwan
Get more with myNEWS
A personalised news feed of stories that matter to you
Learn more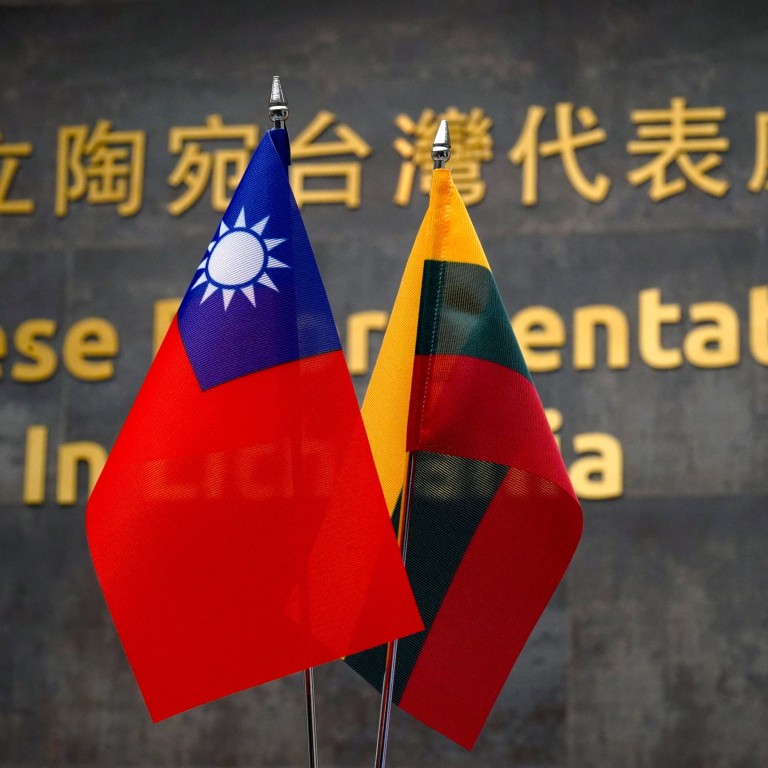 Lithuania set to open Taiwan representative office and risk further anger from Beijing
The Baltic state has previously indicated the mission would open on Monday and named its first envoy to the island
Last year's opening of a Taiwanese representative office in Vilnius was seen by Beijing as a major violation of its sovereignty
Lithuania is expected to open its first-ever representative office in Taiwan this week amid growing tensions with Beijing.
The Lithuanian Trade Representative Office in Taipei is set to start operations this Monday, Lithuanian vice-minister for the economy and innovation Jovita Neliupsience told Baltic News Service last month.
Taiwan was tight-lipped over when exactly the office would open, but its foreign ministry confirmed that Lukauskas would be Lithuania's first representative to the island.
"Lithuania Prime Minister Ingrida Simonyte said on September 4 that the Lithuanian economic and trade office was expected to open in September, to which we reiterate our utmost welcome and offer the country whatever assistance is necessary relating to the opening of the office," Joanne Ou, a spokeswoman for Taiwan's foreign ministry, said on Friday.
She said the opening represented Lithuania's keen desire to build friendly economic and trade relations with Taiwan. "We are looking forward to closely working with Representative Lukauskas," she said.
Ou said Lukauskas had travelled to Taiwan in June as part of a delegation led by Neliupsiene. During his stay, he had first-hand information about what would be best for bilateral exchanges between Taipei and Vilnius, she said.
Ou said that since Taiwan opened its representative office in Vilnius in November, the two sides had been developing substantive ties.
"Taiwan and Lithuania are solid partners sharing the values of freedom and democracy … and we will accelerate our pace in promoting trade, the economy, agriculture, medicine and health, education, technology and the cultivation of talents in key industries," she said.
The Lithuanian economy ministry has previously said the office in Taipei will help develop the country's economic representation in Southeast Asia and accelerate the implementation of joint projects with Taiwan.
It said: "Taiwan is included in Lithuania's priority markets for innovation cooperation, exports and foreign direct investment. In the first half of this year, exports of goods and services of Lithuanian origin to Taipei increased by one-third and have already reached €11.5 million [currently US$11.55 million]."
The ministry said it was clear that Lithuanian businesses were discovering a new market in this part of Asia.
Bilateral agreements have been signed in the semiconductor, laser and biotechnology sectors and increased scientific cooperation is planned. The ministry said the turnover of goods between the two sides in the first half of the year amounted to €90.6 million, an increase of 92.6 per cent compared with the same period in 2021
"The fact that our delegate is working in Taipei for the first time will not only help diversify Lithuania's economic representation in the Asian region but also promote mutual technological cooperation," Economy and Innovation Minister Ausrine Armonaite said.
On Tuesday, Taiwan's Export-Import Bank and Lithuania's Investment and Business Guarantees Ltd signed an agreement to guarantee loans to Lithuanian importers of Taiwanese products.
The office opening is expected to anger Beijing, which sees Taiwan as part of its territory and has not renounced the use of force to bring it under its control.
Lithuania, in common with most countries, does not officially recognise Taiwan as an independent state and Beijing regards its decision last year to swap representative offices with the island as a serious violation of its sovereignty.
Beijing downgraded diplomatic relations with Vilnius last year after the opening of the representative office, which used the name Taiwan rather than Taipei.