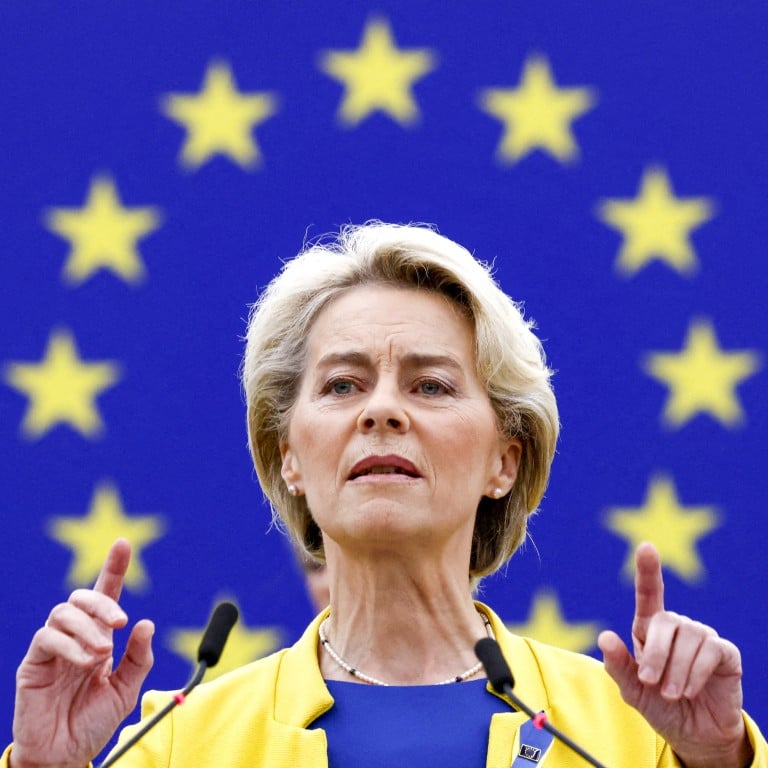 EU to tackle China's dominance of minerals to avoid 'mistakes of the past'
Comments by European Commission President Ursula von der Leyen come as bloc attempts to wean itself off Russian oil and gas
Proposal targets China's control over rare earth and lithium sectors with help from 'like-minded partners'
European Commission President Ursula von der Leyen proposed new
critical minerals legislation
on Wednesday in a bid to tackle China's dominance in the rare earth and lithium sectors.
Von der Leyen said Europe needed to avoid getting "stuck in the kind of dependence we now see with oil and gas", referring to the bloc's efforts to
decouple from Russian energy exports
.
"We need to learn from the mistakes of the past," she told the European Parliament. Von der Leyen noted that China controls the global processing industry, with almost 90 per cent of
rare earths
and 60 per cent of
lithium
processed in the country.
She did not offer specific details but said the EU would identify "strategic projects all along the supply chain" – including extracting, refining, processing and recycling – to accrue strategic reserves in sectors "where supply is at risk".
EU internal market chief Thierry Breton said in a LinkedIn post on Wednesday that the legislation would focus on supply chain monitoring and stress testing, strategic stockpiling, and the establishment of a European sovereignty fund.
Breton said China's 2010 move to block rare earth shipments to Japan over a territorial dispute showed that the "supply of raw materials has become a real geopolitical tool". He also said the EU faced a "green policy paradox" in the potential replacement of gas pumped from Russia with solar panels made in China.
The speech was dominated by Russia's invasion of Ukraine and the ensuing energy and cost of living crises in Europe.
She announced plans for a cap on energy companies' profits and to further pivot from Russia to "reliable suppliers" such as the United States, Norway and Algeria.
Von der Leyen broadly framed the EU as being engaged in a global battle of values, with the world's democracies facing off against authoritarian rivals.
She added that this ideological rivalry requires a "rethink of our foreign policy agenda".
"This is the time to invest in the power of our democracies. This work begins with a core group of our like-minded partners, our friends in every single democratic nation on the globe. We see the world with the same eyes, we share the same values and we should mobilise our collective power to shape global goals," von der Leyen said.
Brussels's plans to counter China's economic influence would focus on ratifying trade deals with "like-minded partners" such as Chile, Mexico and New Zealand and concluding pacts with India and Australia, some of which are producers of vital minerals.
"We need new partnerships geographically. These raw materials are not just located in one place on earth," von der Leyen said.
She also took aim at Beijing's efforts to disseminate disinformation in Europe and announced plans to crack down on "foreign autocrats targeting our own countries" through the funding of academic institutions.
She used the example of Amsterdam's Vrije Universiteit, which in January was forced to stop receiving funding from Chinese institutions after being accused of publishing "disinformation" regarding China's alleged persecution of Uygurs in Xinjiang.
To combat this, she announced a "defence of democracy pact" that would help the EU "better shield ourselves from malign interference".
"It will bring covert foreign influence and shady funding to light. We will not allow any autocracy's Trojan horses to attack our democracies from within," she added.