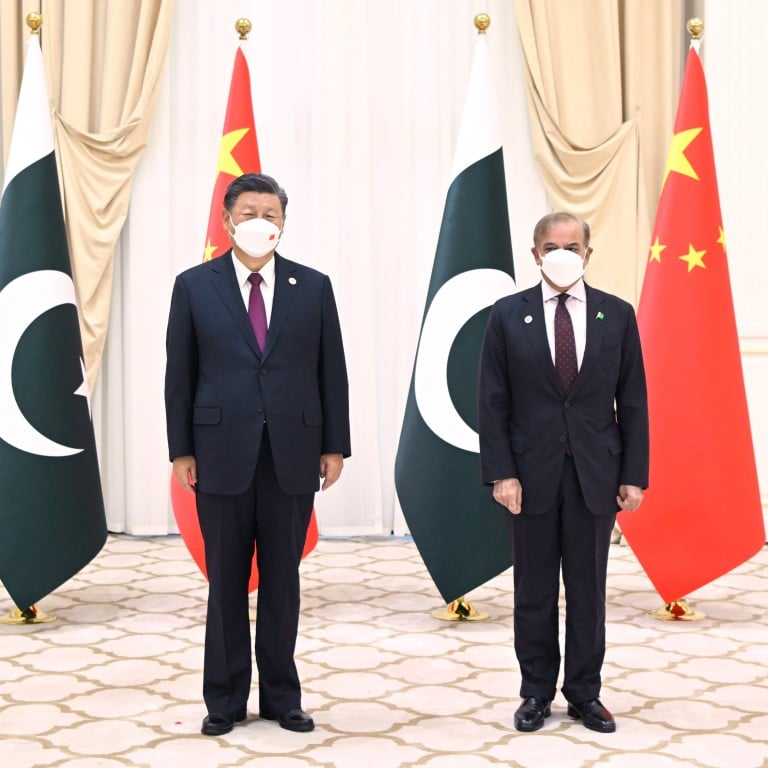 China's Xi Jinping skips mask-free SCO dinner amid packed talks schedule
Xi meets a dozen leaders in Central Asia on first trip abroad in nearly 1,000 days
Covid-19 policy cited as reason the Chinese president did not go to a banquet
Chinese President Xi Jinping made the most of
his first trip abroad
since the start of the Covid-19 pandemic, meeting 12 leaders in three days, but he nevertheless avoided a mask-free group dinner.
After nearly 1,000 days within China's borders, Xi had a series of meetings to shore up alliances on the sidelines of the Shanghai Cooperation Organisation (SCO) summit in the Uzbek city of Samarkand on Friday.
He held talks with Alexander Lukashenko of Belarus, Ilham Aliyev of Azerbaijan, Ebrahim Raisi of Iran, Recep Tayyip Erdogan of Türkiye, Shehbaz Sharif of Pakistan, as well as joint discussions with Ukhnaagiin Khürelsükh of Mongolia and Vladimir Putin of Russia.
He also met Uzbek President Shavkat Mirziyoyev, Tajik President Emomali Rahmon, Turkmen President Serdar Berdimuhamedow, and Kyrgyz President Sadyr Japarov on Thursday.
These engagements followed
a visit to Kazakhstan
on Wednesday, where Xi received the Order of the Golden Eagle, the country's highest, from President Kassym-Jomart Tokayev.
However, Xi was notably absent from SCO group photographs published late on Thursday when 11 other leaders, including Putin and Erdogan, went to the official dinner.
An Uzbek government source confirmed the Chinese delegation cited its Covid-19 policy as the reason for Xi's absence, according to a Reuters report.
China is still carrying out a
"zero-Covid" policy at home
, with occasional regional lockdowns – including bans on group dining – and tight restrictions on international travel.
Senior Chinese officials, such as Foreign minister Wang Yi, have sought to set an example for their domestic audience by being seen wearing masks at most diplomatic events.
One exception was in July when Wang met Russian Foreign Minister Sergey Lavrov in Tashkent. A leaked video showed he was saying "we trust each other" while taking off his mask and Lavrov said: "You are among friends."
Xi has been photographed wearing a face mask in most of his meetings but he went without one in his talks with Putin, as well those with the presidents of Mongolia and Uzbekistan.
Xi was also not wearing a mask in the group plenary meetings.
It is still not certain if Xi will have one-on-one talks with Indian Prime Minister Narendra Modi, who also missed the SCO official dinner because of his late arrival in Uzbekistan.
But the summit is the first time the two leaders have been in the same room since a deadly border skirmish between India and China in May 2020.
The SCO, established in 2001, is an Eurasian security grouping comprising nine full members, China, India, Iran, Kazakhstan, Kyrgyzstan, Pakistan, Russia, Tajikistan, and Uzbekistan, with Afghanistan, Belarus and Mongolia as observers, and Azerbaijan, Türkiye, Turkmenistan among others as dialogue partners or guest attendees.
Egypt, Qatar and Saudi Arabia were added into its dialogue partners during this meeting.
The 22nd meeting of the SCO's Council of Heads of State in Uzbekistan was also the first formal gathering of the group's leaders since
Russia's invasion of Ukraine
.