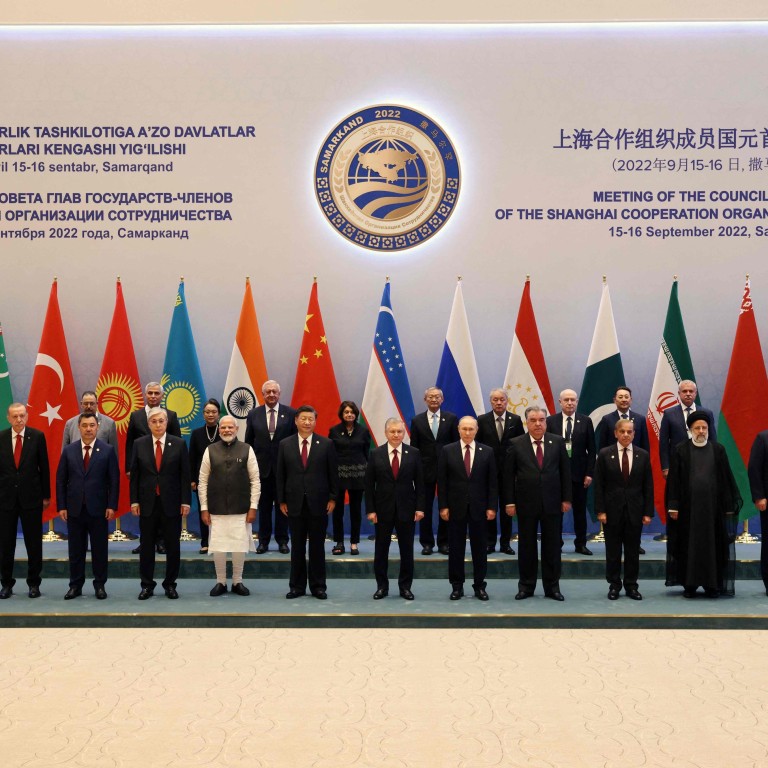 Chinese President Xi Jinping seeks to open doors in Central Asia as Ukraine war leaves Russia diminished
The Chinese leader's first trip abroad in more than 2 years saw him visiting Kazakhstan and Uzbekistan, where he signed a series of deals with local leaders
Although Xi also met Vladimir Putin, analysts say the Ukraine war has inevitably weakened Russia's influence, leaving a vacuum for Beijing to fill
Russia's setbacks in Ukraine have given China an opening in Central Asia, where President Xi Jinping has been
seeking to expand the country's presence
in a region that Moscow has traditionally seen as its backyard.
He followed the signing of cooperation deals on energy, logistics and agriculture in Kazakhstan with a raft of investment agreements worth US$15 billion when he met Uzbekistan's President Shavkat Mirziyoyev in the ancient Uzbek Silk Road city on Thursday.
His trip has enhanced China's role in sensitive regional issues, such as water-resources management, and allowed it to make progress on
major infrastructure projects
that have long been delayed because of Moscow's opposition, including the Trans-Caspian International Transport Corridor and a rail line linking China's Xinjiang region, Kyrgyzstan and Uzbekistan.
Chinese leaders and officials have been keen to brush aside Moscow's concerns about Beijing's deepening regional involvement, insisting China is mindful of Russia's strategic interests and has no intention of challenging its sphere of influence.
In his meeting with Putin in Samarkand, Xi hailed "effective strategic communication" and "a robust momentum" in bilateral cooperation and pledged to "extend strong mutual support" on Russia's "core interests".
"In the face of a changing world, our changing times and history, China will work with Russia to fulfil their responsibilities as major countries and play a leading role in injecting stability into a world of change and disorder," Xi said, according to China's foreign ministry.  
But diplomatic observers said China's expanding influence was largely an inevitable outcome from Putin's Ukraine war, which had weakened Moscow's regional clout and diverted Washington's attention.
"With Russia weakening due to the war, Central Asian countries understand the need to shift to a foreign policy less dependent on Russia and they are looking to China for improved economic and security relations as well as for a more prominent role in BRI 2.0," said Gal Luft, co-director of the Washington-based Institute for the Analysis of Global Security, referring to the Belt and Road Initiative, Xi's signature infrastructure plan.
"These countries will have to manoeuvre themselves carefully between China and Russia, balancing their instinct to pivot eastward while considering the dangers of Russian retaliation should they do so too abruptly."
According to Li Lifan, a specialist in Russia and Central Asia at the Shanghai Academy of Social Sciences, Moscow's preoccupation with the Ukraine war has left a leadership void in regional politics.
"China and Russia traditionally had different roles to play in Central Asia, with Moscow providing security guarantees for former Soviet republics and Beijing acting as an economic engine. But that has changed since the Ukraine conflict," he said.
Putin has made little effort to hide his disdain for the US and its Western allies, whose relentless diplomatic offensives and sanctions have pushed Beijing and Moscow to declare a "no limits" partnership.
Putin has also said Russia and China should act in "tandem" to ensure global and regional stability and attacked attempts to create a unipolar world as "an absolutely ugly configuration".
Li said the Ukraine war had created a "window of opportunity" for China.
"Against this backdrop, China's increased activities in Central Asia, which may inevitably be at odds with Russia's interests, should be viewed as more about counterbalancing the US and its allies in the region than about testing Moscow's influence," Li said.
George Magnus, a research associate at Oxford University's China Centre, said that although Moscow felt uncomfortable about Beijing's inroads in its sphere of influence, there was little it could do for now because Putin's overriding priority was to secure China's support.
"[Central Asian nations] are rich in oil and natural resources and China eyes them with great favour lying as they do on its western borders and next to Xinjiang. With Russia on the political and economic back foot, I expect China to try and consolidate economic and commercial relations with these important states," Magnus said.
According to Artyom Lukin, an associate professor at Russia's Far Eastern Federal University, Moscow has long been concerned about the Trans-Caspian International Transport Corridor, which runs through China, Kazakhstan, the Caspian Sea and the Caucasus before linking to the Black Sea and southeast Europe.
In a joint statement on Wednesday, Xi and his Mandarin-speaking Kazakh counterpart Kassym-Jomart Tokayev pledged to push forward the project.
"This is something that Russia may not be happy about, since the Trans-Caspian Corridor is an alternative to the more northern trans-Eurasian land bridge controlled by Russia," Lukin said.
Lukin also noted Moscow had hoped Beijing would use its growing clout to persuade Central Asia nations to resist the West's attempts to cut Russia off from the global economy.
"With the West trying to strangulate Russia economically, Central Asia could become a major route for bypassing the sanctions and limiting their effect," he said.
But according to Li, Central Asian nations have a similar stance to China's on the Ukraine war – refusing to condemn Russia's invasion but without offering sanctions relief or military support.
However, Kazakhstan, traditionally Russia's closest ally in the region, has adhered to Western sanctions.
"There has been a growing demand in the region for China's involvement especially in the wake of the Ukraine war and China is willing to take up a bigger role in Central Asia through various platforms, including the SCO," he said. "But China will also balance its regional development and the need for strategic ties with Russia."