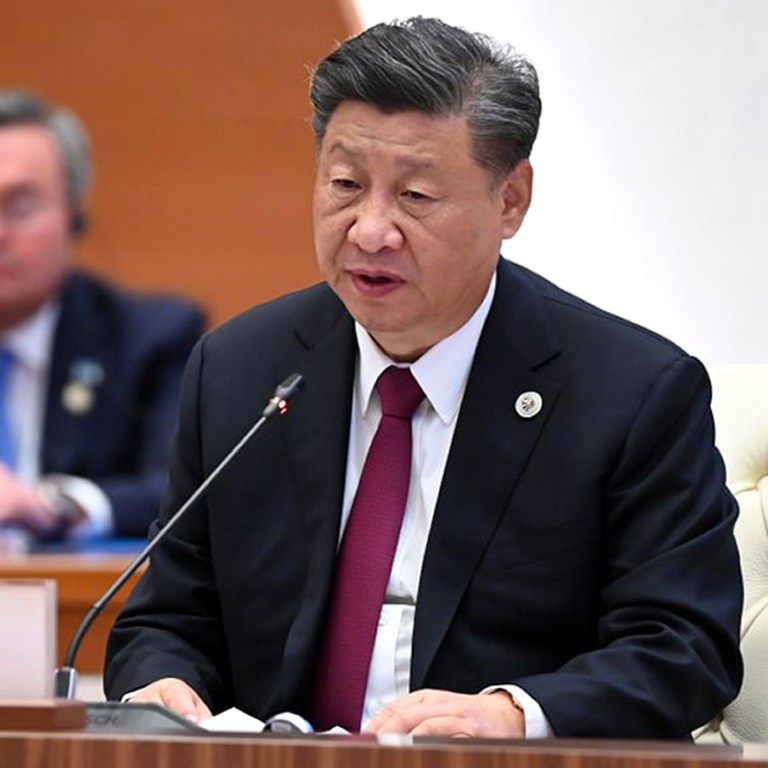 SCO summit: China urges member states to ward off foreign-backed 'colour revolutions'
Addressing leaders in Samarkand, Xi Jinping says competition between unity and division around the world is growing
We must jointly oppose interference in other countries' internal affairs, Xi says
The world is not at peace and confrontation is intensifying, Chinese President Xi Jinping told
a security summit in Uzbekistan
on Friday, calling on countries in the region to foster mutual trust.
"The world today is not peaceful," Xi told his counterparts at the
Shanghai Cooperation Organisation
summit in Samarkand. "The competition between the two policy orientations of unity and division, cooperation and confrontation has become more pronounced. It undermines world peace and stability, and is not conducive to the long-term development of the region.
"Faced with the complex situation, we should be clear about the direction of the organisation's development, deepen cooperation in various fields, and continue to create a favourable environment for the development and growth of member states."
Addressing leaders from eight member states, including Russian President Vladimir Putin and Indian Prime Minister Narendra Modi, Xi urged countries to prevent foreign forces from instigating "colour revolutions", popular protests that lead to the downfall of regimes.
"We must jointly oppose interference in other countries' internal affairs under any excuse, and hold the fate of our countries' development firmly in our own hands," he said.
According to Reuters, Xi also said China would train 2,000 law enforcement personnel over the next five years for member countries. But there was no mention of the initiative in the official Chinese statement on the meeting.
In a veiled attack on the United States and its Western allies, Xi criticised countries that promoted "small clique" politics, saying such manoeuvring would push the world towards "division and confrontation".
"We must firmly uphold the international system with the United Nations at its core and the international order based on international law, carry forward the common values ​​of all mankind, and abandon zero-sum games and group politics," he said.
Xi said the member countries should promote trade and regional economic integration, build mutual trust and maintain regional stability.
"[We should] enhance consensus on security cooperation and work together to maintain long-term peace and stability in the region. [We should] cooperate more on law enforcement and security, and strictly prevent terrorist and extremist forces from disrupting regional security."
Founded in 2001 in Shanghai, the SCO now comprises eight member states: China, Russia, India, Kazakhstan, Kyrgyzstan, Pakistan, Tajikistan and Uzbekistan, plus four observers and six "dialogue partners".
"More and more countries are applying to join the 'SCO family'," he said. "We should continue to expand our partnership and magnify the vigour in safeguarding international fairness and justice."
On Thursday, Iranian Foreign Minister Hossein Amir-Abdollahian said Iran had signed a memorandum of obligations to become a permanent member. The SCO has also started the procedure to grant Belarus membership, and approved Egypt, Saudi Arabia, Qatar as new dialogue partners, while Bahrain, the Maldives, the United Arab Emirates, Kuwait and Myanmar are set to get the same status at a later stage, according to state news agency Xinhua.
On domestic affairs, Xi said on Friday that China would draw up a comprehensive blueprint for the country's development during the twice-a-decade congress next month.
"No matter how the international situation changes, China will always adhere to peaceful, open, cooperative and joint development, and regard the SCO as a priority in its diplomacy," he said.
China's ruling Communist Party will hold its national congress in mid-October, an event that will usher in the top leadership for the next five years.