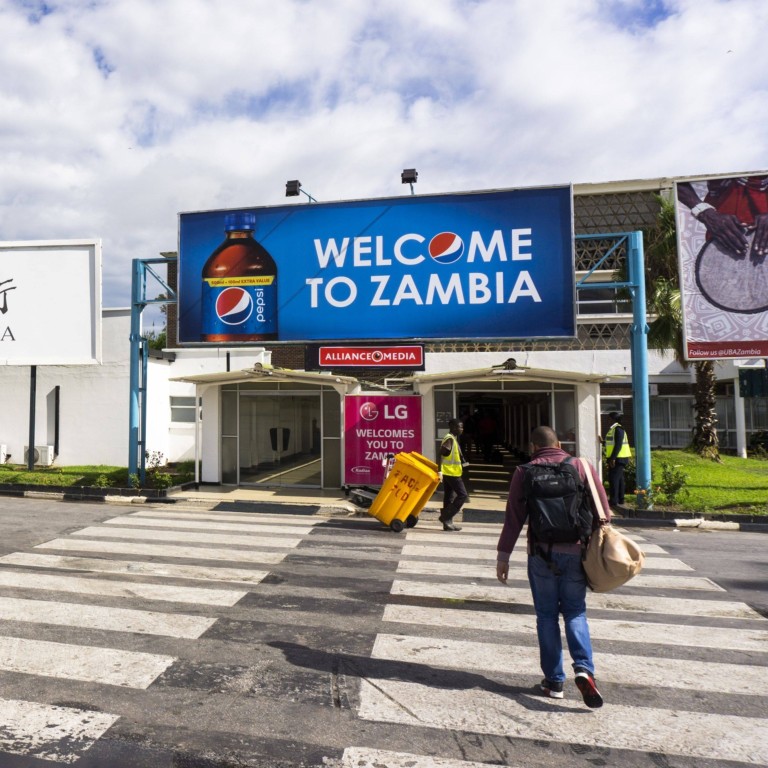 Zambian debt negotiations hit potential sticking point over treatment of Chinese lender
Beijing is expected to push the IMF to allow China Development Bank to be treated like other commercial lenders rather than a state-backed one
The issue is likely to set a precedent for other indebted nations and Beijing is unlikely to want to face a series of demands to cancel debts outright
China rarely cancels concessional or commercial loans and prefers to vary lending terms, such as lengthening the repayment period or reviewing interest rates.
However, under the Group of 20's Common Framework for debt restructuring it is likely to come under pressure from other lenders to agree to a debt haircut – a reduction in either interest payments or the amount repayable.
China is the single biggest lender in Zambia, with loans of more than US$6 billion out of the country's total US$16.8 billion debt as of December 2021.
Lusaka is also asking bilateral and external private lenders to cancel US$8.4 billion of its debt payments between 2022 and 2025 to return its debt to sustainable levels. The International Monetary Fund's debt sustainability assessment for Zambia also says it will need further cancellations until 2031.
Early this month, the IMF approved a three-year extended credit facility of US$1.3 billion after the country met certain conditions, such as getting relief assurances from government lenders such as China.
But the move by the IMF to categorise lending from China Development Bank (CDB) as a bilateral lender, rather than a commercial one, is a potential sticking point.
According to London-based consultancy Tellimer Research, China may argue against the inclusion of non-guaranteed state-owned enterprise debt and the classification of the commercial component of guaranteed SOE debt as bilateral.
It has previously agreed to restructure debt from bilateral lenders such as China Exim Bank – which has funded a range of projects from Zambia – but it mostly excludes creditors such as the CDB from debt restructuring negotiations, saying they should be treated just like other private lenders.
"This classification ensures that this debt is restructured bilaterally instead of being left until later in the process, but contravenes the preference of China to classify the CDB as a 'commercial' creditor," according to Tellimer Research.
Patrick Curran, a senior economist at Tellimer, said China had historically expressed strong resistance to reducing the amounts owed. "Bondholders, on the other hand, could be more open to nominal haircuts if it allows for less aggressive coupon cuts and maturity extensions," Curran said.
Curran said under the Common Framework for debt restructuring, all bilateral and commercial creditors would need to offer equal relief in present value terms. He said that as Zambia's biggest external creditor, China's participation and acceptance of the principles of transparency and equal treatment would be essential to get the restructuring over the finish line.
But Deborah Brautigam, a professor of international political economy at Johns Hopkins University and founding director of China Africa Research Initiative, said the IMF was unlikely to force China to accept CDB as an official bilateral creditor "but since the Common Framework requires all creditors to provide comparable treatment the labels shouldn't matter".
Tim Zajontz, a research fellow at South Africa's Centre for International and Comparative Politics at Stellenbosch University, said Chinese banks would face enormous peer pressure within the Common Framework, as other lenders would insist that all creditors accepted some debt haircuts.
"The ambitious amount of US$8.4 billion in debt relief that the Zambian government seeks is already indicative that Chinese financial institutions will not be able to pass the buck by solely postponing repayments," Zajontz said.
"It is likely that Beijing will accommodate Lusaka by forgiving some concessional loans while rescheduling repayments for commercial ones."
He said that because public pressure on private lenders to take on some losses was also mounting, it was likely that institutions like CDB would also have to make certain concessions.
"The likely division of labour will be that Chinese government agencies forgive zero-interest loans, China Exim Bank swallows certain cancellations and China Development Bank reschedules repayments," Zajontz, who is also a lecturer in global political economy at the University of Freiburg, said.
Oyintarelado Moses, a data analyst and database manager from the Global China Initiative at Boston University's Global Development Policy Centre, said each Chinese lender might have distinct processes for debt management and restructuring.
"Debt restructuring rather than debt relief is most likely because financial institutions generally seek repayment and do not want to take losses on these loans," Moses said.
"In Zambia's case, China's financing institutions are more likely to offer highly concessionary debt restructuring – or reprofiling as in Angola – instead of blanket debt forgiveness."
Curran said that as a test case for the Common Framework, the IMF and G20 had a strong incentive for the process to conclude in a smooth and timely manner, with the handling of Zambia setting the precedent for future restructurings from the likes of Sri Lanka and Ethiopia.
But Moses said: "Chinese financing institutions are not a monolith, and each country's debt to China profile is not the same … Although host governments could point to the Zambia case as an example, Chinese financing institutions will most likely respond based on the specific countries' sovereign debt profile and debt owed."
Zajontz said Beijing had a keen interest in avoiding a wave of debt cancellation demands from other highly indebted countries.
"As China's dealings with Zambia's debt crisis are closely watched in other parts of the world, Chinese banks will continue to avoid any impression of blanket debt relief, while the Chinese government will use the cancellation of interest-free and certain concessional loans as a sign of goodwill," Zajontz added.
Still, Chinese banks would continue to try to avoid outright debt cancellation, he said, adding: "The success of the Communist Party's second 'moving out' strategy in the form of the
Belt and Road Initiative
ultimately depends on a majority of these loans eventually raking in a surplus."