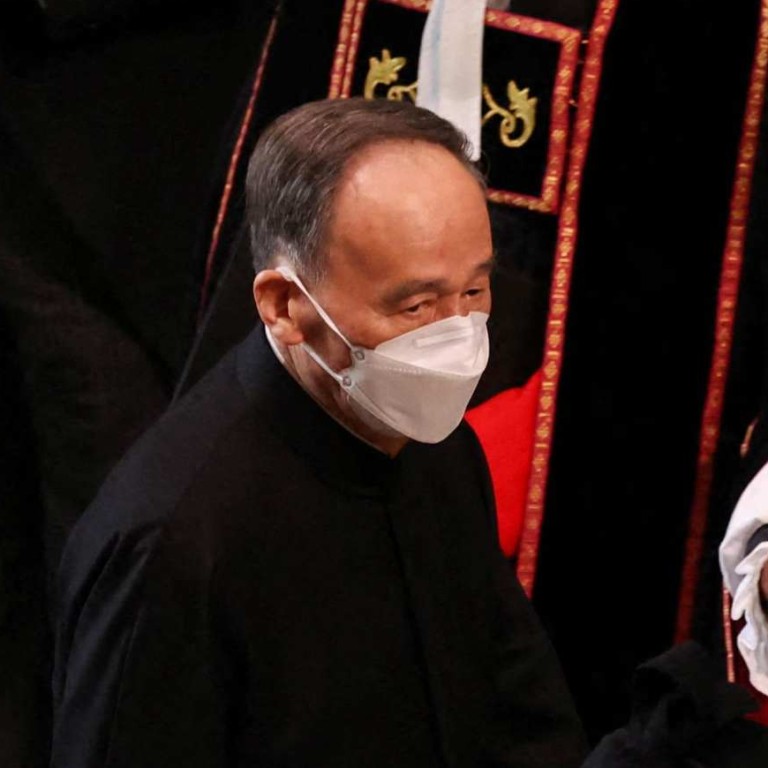 Chinese VP Wang Qishan attends Queen Elizabeth's funeral
Wang, as special envoy of Xi Jinping, pays tribute to the late queen alongside US President Joe Biden and other foreign leaders and dignitaries
He also viewed the queen's coffin in Westminster Hall on Sunday evening, days after a Chinese delegation had reportedly been barred from visiting
Chinese Vice-President
Wang Qishan
has joined world leaders at
Queen Elizabeth
's funeral at Westminster Abbey in London on Monday.
Dressed in a black Mao suit and wearing a mask, Wang – as the special envoy of President Xi Jinping – paid tribute to the late queen alongside US President Joe Biden and first lady Jill Biden and some 500 other foreign leaders and dignitaries.
A request by the delegation, including China's ambassador to Britain Zheng Zeguang, to view the coffin in Westminster Hall – part of the Parliamentary estate – was rejected by House of Commons Speaker Lindsay Hoyle earlier last week, Politico reported on Friday.
Zheng was
barred from attending Parliament
in September last year over Beijing's sanctions on British lawmakers who had been outspoken about alleged human rights abuses in China's
Xinjiang region
. Hoyle and Speaker of the House of Lords John McFall had agreed that Zheng could not enter until the sanctions were lifted.
Some British parliamentarians had written to Hoyle and Foreign Secretary James Cleverly last week, asking them to rescind the invitation to China to attend the queen's funeral.
That invitation was extended by the British government despite rising tensions between Beijing and London in recent years over issues such as Xinjiang and Hong Kong, while representatives of other countries – including Russia, Belarus and Myanmar – were not invited.
As deputy head of state, 74-year-old Wang has attended many foreign ceremonial events on behalf of Xi, including the enthronement of Emperor Naruhito of Japan in 2019, and the inaugurations of the presidents of South Korea and the Philippines this year.
Last week, Wang visited the British embassy in Beijing, stood in silent tribute in front of the queen's portrait and signed a condolence book.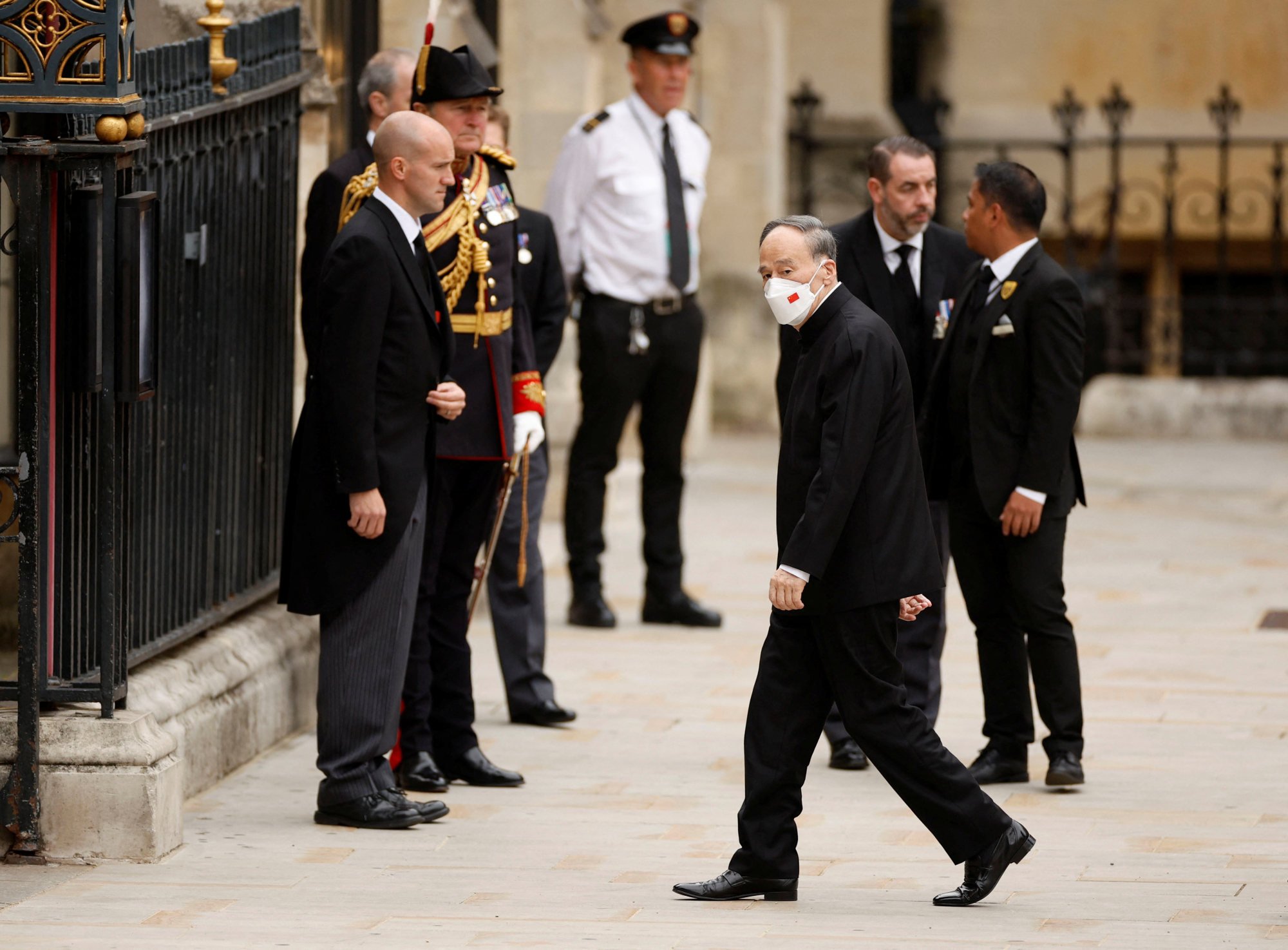 Queen Elizabeth, who reigned for 70 years after her father's death in 1952, died at Balmoral in Scotland on September 8 at the age of 96. Her funeral is the first state funeral in Britain since former prime minister Winston Churchill's in 1965.
Taiwan
was not invited to attend the queen's funeral, but its foreign ministry said that its representative to Britain, Kelly Hsieh Wu-chiao, had been "
specially invited
" to sign the book of condolence at Lancaster House.
Hsieh was allowed to do so "based on the importance attached to Taiwan-Britain relations and the precious friendship between the two peoples", the ministry said in a statement on Sunday.