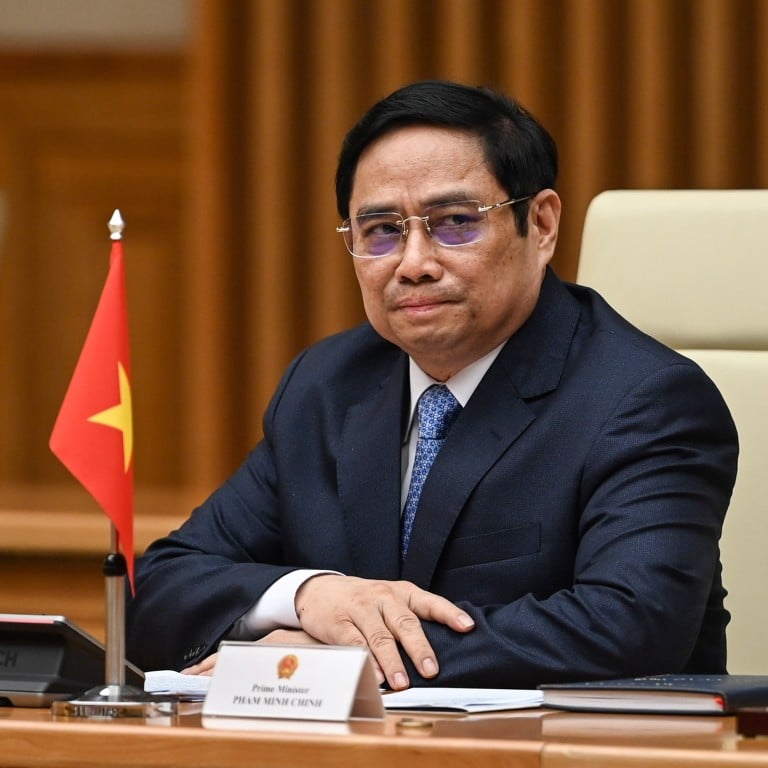 China vows to expand trade and travel with Vietnam in effort to boost ties after pandemic slump
Chinese Premier Li Keqiang and Vietnamese Prime Minister Pham Minh Chinh also discussed the disputed South China Sea during their call on Monday
Li encouraged Vietnamese students to come back after cross-border travel was disrupted for more than two years
China has agreed to expand trade and increase direct flights with
Vietnam
amid a slow economy and Covid-19 restrictions.
Chinese Premier
Li Keqiang
vowed to expand imports from Vietnam, especially for agricultural products, and ensure smooth customs clearance in a phone call with Vietnamese Prime Minister Pham Minh Chinh on Monday.
Li said that despite instability in the broader world economy affecting
China's economy
, it was showing an "overall recovery trend". He said China was committed to increasing bilateral trade with Vietnam.
He also pledged to increase direct flights with Vietnam and encouraged Vietnamese students to come back after cross-border travel was disrupted for more than two years because of the Covid-19 pandemic.
Zhou Shixin, a China-Asean relations specialist at the Shanghai Institutes for International Studies, said China and Vietnam's trade had been affected amid the pandemic but was gradually recovering now.
"As the Covid-19 situation improves, both countries think it is necessary to take actions to resume and expand their trade," he said.
China is Vietnam's biggest trade partner and was the second largest market for its agricultural products last year, behind the US, according to Vietnamese newspaper VnExpress.
Vietnam's agricultural, forestry and fishery exports to China reached US$1.3 billion in the first two months of 2022, down 7.4 per cent over the same period in 2021, as China's border management amid Covid-19 restrictions caused congestion for Vietnamese goods, according to a report in the official Nhan Dan newspaper citing the Vietnamese Ministry of Agriculture and Rural Development.
Zhang Mingliang, a Jinan University professor who specialises in Southeast Asian studies, said the customs barrier was the biggest issue for trade between the two countries during the pandemic. Zhang said that even though steps to ensure smooth customs clearance and increase people exchanges were good signs, completely relaxing cross-border travel rules between China and other countries might take time.
On Monday, China's Ministry of Culture and Tourism issued draft rules to further relax entry restrictions for foreign visitors, building on previous moves to cut the quarantine period for inbound travellers and allow international students with valid permits for long-term study to return in August, marking a major step towards reopening the country.
But some Vietnamese students remained hesitant to return because of skyrocketing airfares, according to VnExpress. For example, the best available one-way flight on Expedia from Hanoi to Beijing for travel on September 24 costs around 22.5 million Vietnamese dong (US$950).
Li also pledged to continue to work with Asean countries towards agreement on the South China Sea code of conduct. China claims most of the disputed waters as its own territory but the waterway has long been subject to claims by several Southeast Asian neighbouring countries, including Vietnam and the Philippines.
Negotiations over a code of conduct started in 2017 with the aim of managing tensions in the South China Sea among China, the Philippines, Malaysia, Vietnam and Brunei, but progress has been limited amid constant maritime conflicts.
In a 2014 incident, China's drilling in waters that were also claimed by Vietnam prompted anti-China protests throughout Vietnam.
Le Hong Hiep, senior fellow at the Vietnam studies programme at Singapore's ISEAS-Yusof Ishak Institute, said the overall robust trade relationship between China and Vietnam could, in some ways, ease their
tension in the South China Sea
.
He said the situation had been relatively calm in recent years and China "has to maintain stability in the South China Sea and has to stabilise bilateral relations" with Vietnam.
"The Asean-China negotiations for the code of conduct, if it's accelerated and concluded, will of course contribute to a more peaceful and stable environment that will benefit China and most Asean countries, particularly Vietnam."
Zhang said that while the South China Sea issue would continue to be a sore point, its impact would lessen as US involvement in the Indo-Pacific became the new focus in China-Vietnam relations.
"Vietnam will cooperate with US policies, which is in line with its interests, but in a way that will not attract too much opposition from China," Zhang said.
Last year, Kamala Harris became the first US vice-president
to visit Vietnam
, offering assistance in maritime security for Vietnam to counter China in the South China Sea.