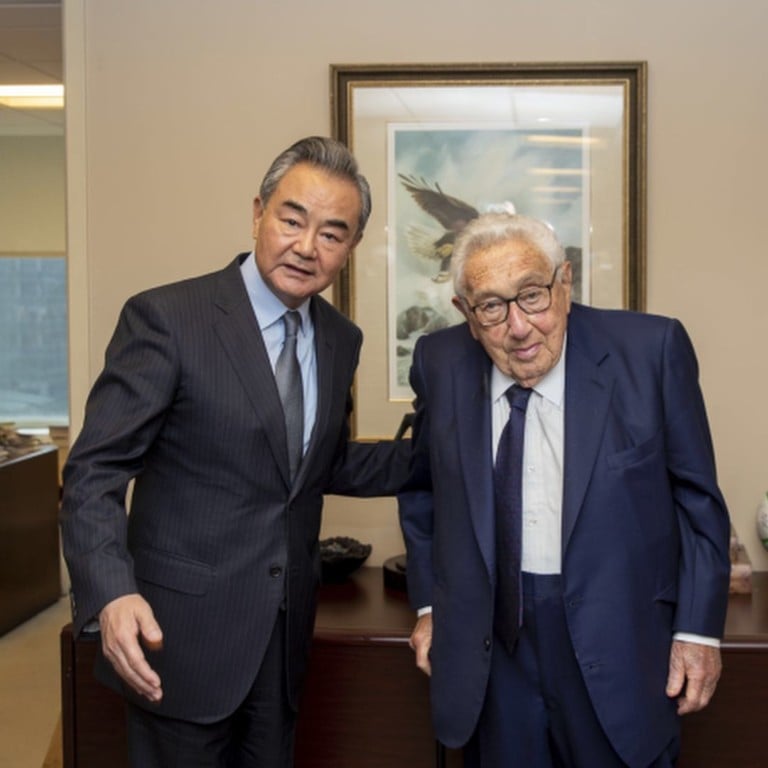 Beijing may use Anti-Secession Law to seek Taiwan reunification, Chinese foreign minister says
Wang Yi says if the law is violated, Beijing will take 'resolute actions to safeguard the country's sovereignty and territorial integrity'
He also warns that US approach may have 'subversive impact' on ties, during meeting with former secretary of state Henry Kissinger
Chinese Foreign Minister Wang Yi has said Beijing could invoke its Anti-Secession Law to seek reunification with
Taiwan
, in an escalation of rhetoric over the self-ruled island.
Wang also warned that Washington's pro-Taiwan, anti-Beijing approach might have a "subversive impact" on US-China ties, during a meeting with former US secretary of state Henry Kissinger on Monday. Wang is in New York for the general debate of the 77th session of the United Nations General Assembly this week.
Beijing – which sees Taiwan as a breakaway province that must be reunited, by force if necessary – lodged an official protest with the US over Biden's remarks.
They were made in an interview on CBS' 60 Minutes that aired on Sunday, when he also said decisions about independence were up to Taiwan. The White House later insisted that US policy on Taiwan – known as "strategic ambiguity" – had not changed.
It comes amid soaring tensions across the Taiwan Strait after US House Speaker Nancy Pelosi visited Taipei in August, angering Beijing, which responded with unprecedented military drills around the island.
"Achieving peaceful reunification is our greatest wish, and we will do our best to achieve it. But it must be seen that the more rampant 'Taiwan independence' is, the less likely the peaceful resolution of the Taiwan issue will be," Wang told Kissinger, according to a Chinese foreign ministry statement on Tuesday.
"There is an old saying in China: it is better to lose a thousand troops than an inch of land. This is the will and determination of the Chinese people. If the Anti-Secession Law is violated, China will take resolute actions in accordance with the law to safeguard the country's sovereignty and territorial integrity," he said, without elaborating.
The 2005 Anti-Secession Law provides a legal framework for Beijing to use non-peaceful means to guard against pro-independence forces in Taiwan and the island's possible separation from mainland China. But Beijing has remained vague about when and under what circumstances the law would be invoked.
Mainland analysts have suggested the law could be used to counter US tactics to hollow out its long-standing one-China policy through arms sales and high-level official exchanges, but it is unusual for a senior Chinese official to mention it.
In the meeting, Wang also lashed out at Pelosi's Taiwan visit and the Taiwan Policy Act, which would allocate up to US$6.5 billion in military aid to the island and received bipartisan support at the Senate Foreign Relations Committee last week.
"The top priority now is to properly manage the Taiwan issue, otherwise it will have a subversive impact on China-US relations," he said.
Kissinger – whom Wang called "an old and good friend" – is revered in China for his trailblazing role in the normalisation of US-China relations five decades ago and has since served as a key conduit for bilateral communications.
Citing Kissinger's remarks in 2019 that bilateral ties were in the "foothills of a cold war", Wang challenged the prevailing view in Washington that a decades-long engagement policy with Beijing was a failure.
"The outbreak of a new cold war between China and the United States will be a disaster not only for China and the United States, but also for the whole world," he said. "The US side should return to a rational and pragmatic China policy, return to the right track of the three Sino-US joint communiques, and maintain the political foundation of Sino-US relations."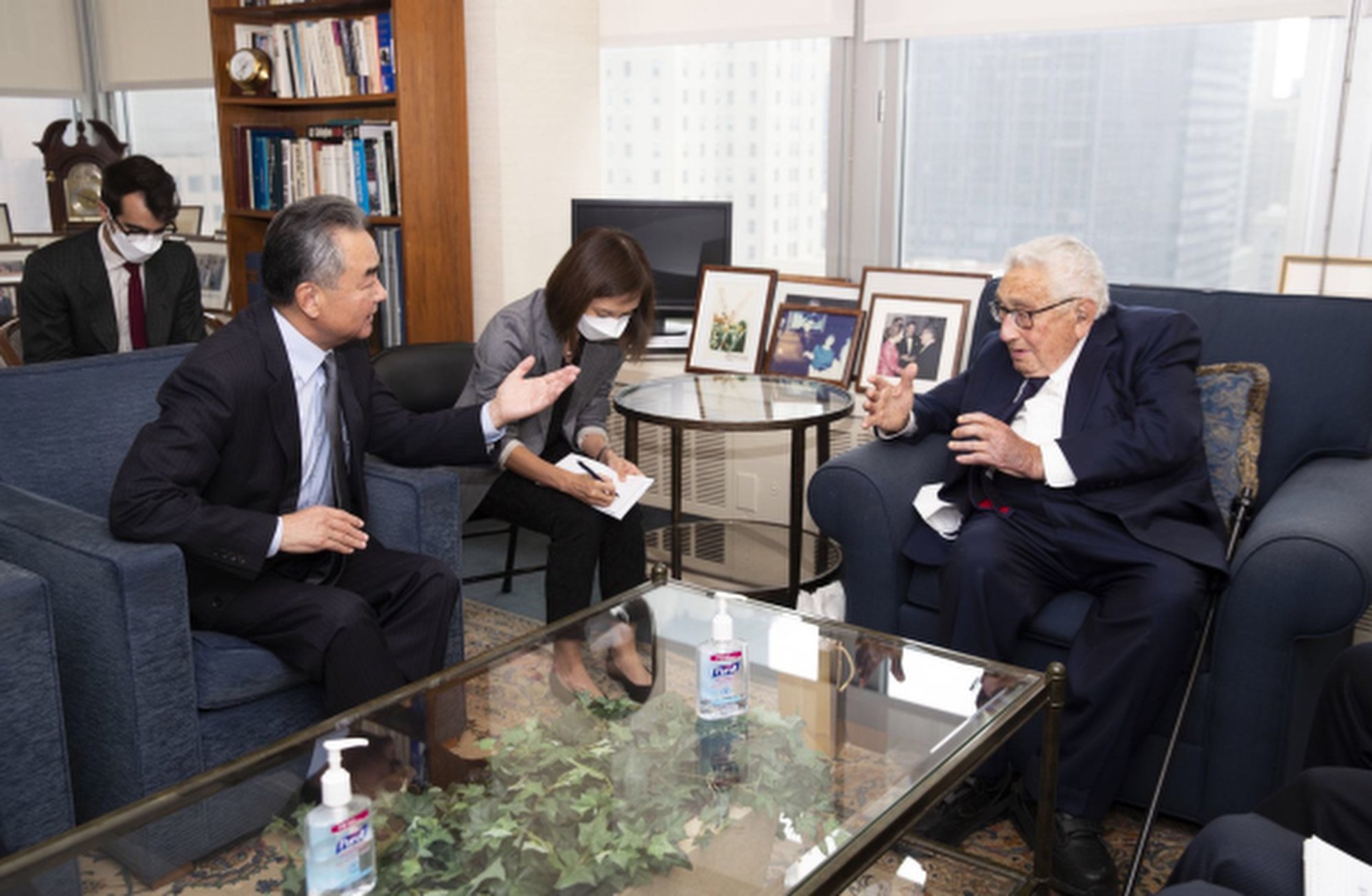 Wang also called for dialogue and consultation during a seminar with representatives of the National Committee on US-China Relations, the US-China Business Council and the American Chamber of Commerce in New York.
He said bilateral ties were "at a low ebb" in a year that marked 50 years since former US president
Richard Nixon's groundbreaking China visit
. He said while there was "less certainty and growing uncertainty" for relations, China's development, its determination to reform and open up, and its attitudes towards the US and the rest of the world would remain unchanged.
"We need dialogue rather than confrontation, and consultation rather than coercion. The US should stop unilateral sanctions that have no basis in international law, and stop engaging in 'small blocs' … that exclude China," Wang told the seminar.
"China's willingness to carry out multilateral coordination with the US is confirmed. History has and will continue to prove that China-US cooperation can accomplish many great things that are beneficial to both countries and the world," he said. "To this end, the political foundation of Sino-US relations must be well maintained, especially the one-China principle."
He also insisted that China did not intend to displace the US or challenge the existing world order. "China is the creator and beneficiary of the current international system, and of course it is the defender. There is no need for us to do something else and start anew," he said.
Wang urged US politicians, academics and businesspeople to help improve relations, which he said had a bearing on "the future and destiny of the two countries and world peace and stability".
"The two sides should work together to find a way for two major powers with different social systems, different histories and cultures to coexist peacefully," he added.