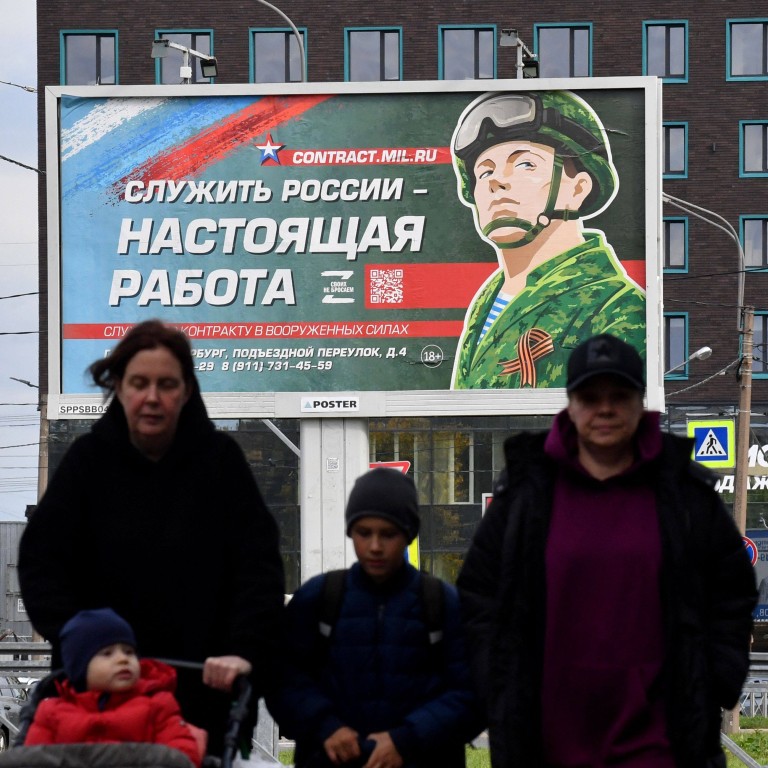 China holds firm on its Ukraine stance while Putin sends more troops
Beijing reiterates call for negotiated resolution after Russian president activates 300,000-strong military reserve
In an address to the nation, Putin also accused the West of 'nuclear blackmail' and promised to use 'all means' to protect territorial integrity
Beijing reiterated support for a "peaceful resolution" of the
Ukraine
crisis, after Russian President
Vladimir Putin
accused the West of engaging in "nuclear blackmail" against Moscow and activated the army reserves.
"If there is a threat to the territorial integrity of our country, and for protecting our people, we will certainly use all the means available to us – and I'm not bluffing," Putin said in an address to the nation on Wednesday.
He also called up the military reserves to join the Ukraine war – around 300,000 troops, according to the Russian defence minister.
When asked to comment on Putin's remarks, Chinese foreign ministry spokesman Wang Wenbin reiterated that Beijing has been consistently clear on its position and again called for a ceasefire through negotiation and solutions that answer all parties' security concerns.
"We always maintain that the sovereign and territorial integrity of all countries should be respected, the purposes and principles of the Charter of the United Nations should be observed, the legitimate security concerns of all countries should be taken seriously, and all efforts to resolve the crisis peacefully should be supported," Wang said.
In his address, Putin also repeated claims that Ukraine was responsible for the shelling of the Zaporizhzhia nuclear power plant in Russian-controlled territory. Both sides have blamed the other for the attack.
Putin said some representatives of Nato states had raised the possibility of using nuclear weapons against Russia: "Now they [the West] are talking about nuclear blackmail."
Andrew Korybko, a political analyst at the Russian International Affairs Council think tank, said there was "no change" in Beijing's position and its response was consistent with its position on most international conflicts and disputes.
"Beijing will not be militarily involved in the event of a major war between Russia and Nato," Korybko said.
In their meeting on Thursday, Chinese President Xi Jinping and Putin agreed to expand "pragmatic cooperation" on trade, agriculture and connectivity. Military collaboration was not included, with Putin acknowledging Beijing's "questions and concerns" about the Ukraine crisis.
State news agency Xinhua reported that Xi said "China is ready to work with Russia in extending strong support to each other on issues concerning their respective core interests", with no reference to Ukraine.
Brian Wong Yueshun, a geopolitics consultant and founder of the Oxford Political Review, said Beijing may distance itself from Moscow if the war escalates.
"China is unlikely to want to be dragged into or associated with further military escalation by Russia, which may feature the deployment of not only more troops, but also potentially weapons of vast destruction," he said.
"Beijing has been needling a fine line between not alienating a key strategic 'friend' while preserving regional stability and its ties with Europe and the US at large."