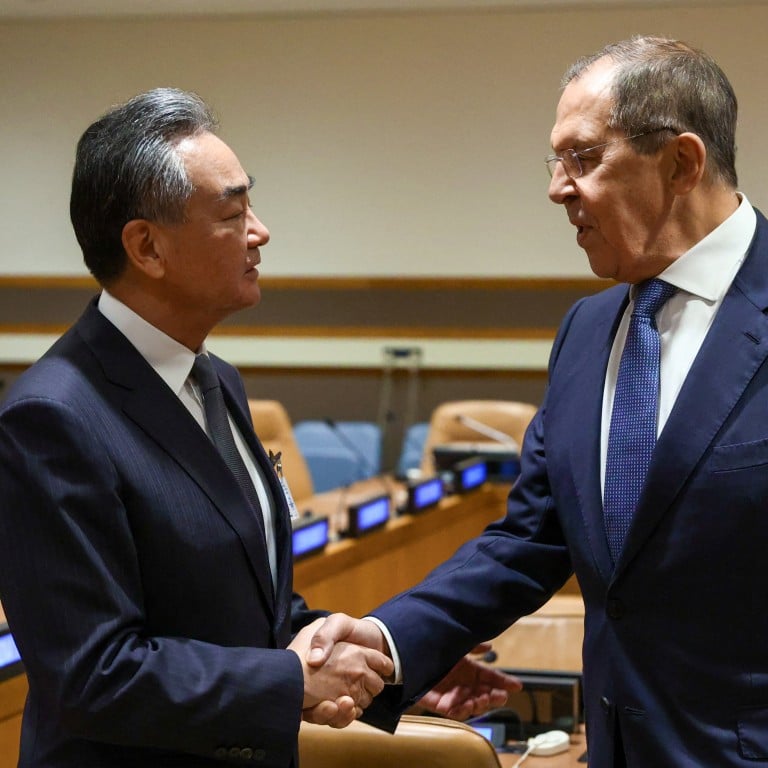 China repeats call for talks to end Ukraine war after Vladimir Putin threatens to use nuclear weapons
Foreign Minister Wang Yi expresses hope 'all parties will not give up on dialogue' in meeting with Russian counterpart Sergey Lavrov at the UN in New York
Beijing has tried to hold a balanced position but Russian leader may force it 'to stay somewhat further away' from him, one Chinese analyst says
"China will continue to uphold an objective and fair position to promote peace talks and hopes that all parties will not give up on dialogue efforts and insist on resolving security concerns through peace talks," Wang said during the meeting at the United Nations in New York, according to the Chinese foreign ministry.
The Russian President upped his rhetoric on Wednesday in a speech that accused the West of "nuclear blackmail", and said the country would "certainly make use of all weapon systems available to us" if its territorial integrity was threatened, adding: "This is not a bluff."
"I guess China has no other choice except to stay somewhat further away from Putin because of his war escalation, his aggression and annexation [of Ukrainian territory], and his renewed threat of nuclear war," said Shi Yinhong, an international relations professor at Renmin University in Beijing.
Washington and other Western governments have expressed concerns that Beijing and Moscow have been strengthening their partnership since Russia invaded its neighbour in February.
China and Russia have accused Nato of ignoring Moscow's security concerns by opening the door for Ukraine to join the alliance. The two leaders have also expressed opposition to what they call the West's "unilateralism" and "power politics" – sentiments echoed by Wang and Lavrov on Wednesday.
But at the same time, Beijing has not provided military support to Russia and has been careful not to fall foul of Western sanctions on the country.
Shi said Putin mistakenly assumed that China could be easily managed and that he was "indispensable because of China's intensive confrontation with the US", but had overlooked Russia's poor combat performance.
"Putin's speech should not be read as an explicit threat that Russia would use nuclear weapons against Ukraine if Ukraine continues counteroffensives against occupied territories after annexation," the Washington-based Institute for the Study of War said on Wednesday.
In June, the Russian foreign ministry summoned the British ambassador Deborah Bronnert to protest after Defence Secretary Ben Wallace said Moscow's spokeswoman Maria Zhakarova had been "threatening to nuke everyone" every week.
Wan Qingsong, an associate research professor at East China Normal University's Russian studies centre, said Putin's speech was a "discourse trap" – words that can restrict politicians' actions – and China did not need to respond to it positively.
"It could be that Russia, Ukraine and the West are using the UN General Assembly session to shape their narratives," he said. "It's not only inappropriate for China to join in that effort, it could also bring trouble upon itself."
Andrew Korybko, a political analyst at the Russian International Affairs Council, a think tank close to the government, said Wang's response showed China had not changed its position on the Ukraine war even after Putin's speech.
"China will likely maintain its consistent policy of arguing against the first use of nuclear weapons by any side," he said.
But he said it was also likely that Beijing would draw attention to any threats from Nato because this aligned with China's position that the West was destabilising the world through groups like the Aukus security pact.
This week pro-Russian separatists controlling parts of Luhansk, Donetsk, Kherson and Zaporizhzhia called a series of referendums on whether to join Russia. Western governments have dismissed the polls – which will start as early as Friday – as a sham.
It is unclear whether the Ukrainian counteroffensive led to the timing of the votes.
Crimea was similarly annexed in 2014 following a vote that took place under a heavy Russian military presence. China has never made clear whether it regarded Crimea as part of Russia or Ukraine after the vote.
Korybko said the regions in question will be considered Russian territory after the polls decide in favour of joining Russia and the onus will then be on Kyiv and Nato "to decide whether to escalate by attacking what Moscow would, by then, regard as its formal territory".
He said: "In that scenario, Russia's 'special military operation' would transform into a defence of its own borders, which could immediately and drastically change the rules of engagement."
Additional reporting by Cyril Ip