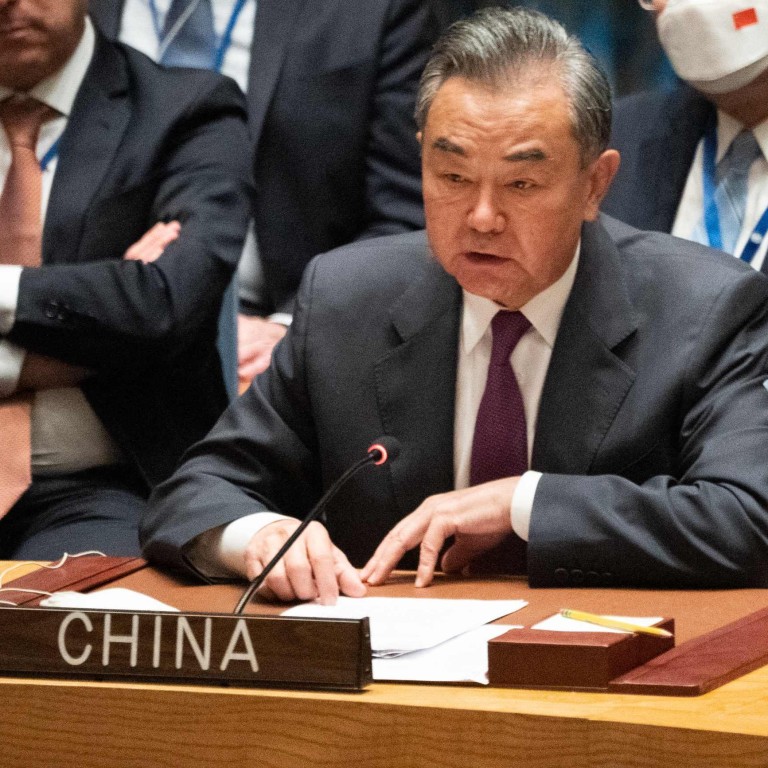 China goes 'its own way' on Ukraine as EU pushes for pressure on Russia
Chinese Foreign Minister Wang Yi says the country will 'neither stand by nor add fuel to the fire'
European Union foreign affairs chief Josep Borrell urges Beijing to use influence over Moscow to end the conflict
Beijing will continue to play a constructive role in promoting peace and will not take advantage of the Ukraine crisis for its own ends, Chinese Foreign Minister Wang Yi told his Ukrainian counterpart on the sidelines of the UN General Assembly meeting in New York on Thursday.
"China has always been committed to pursuing peace and promoting talks. It has never stood idly by, nor has it added fuel to the fire, nor will it take advantage of the opportunity to gain self-interest," Wang told Dmytro Kuleba.
Kuleba also said on Twitter that Wang "reaffirmed China's respect for Ukraine's sovereignty and territorial integrity, as well as its rejection of the use of force as a means of resolving differences".
Wang's talks with Kuleba were also on the same day as a foreign ministers' meeting at the United Nations, where he restated China's position that all countries' sovereignty should be upheld and their security concerns addressed.
He also put out China's four propositions on Ukraine, including calls for all parties to resume dialogue, eliminate nuclear risks and solve the food crisis.
Wang urged all sides to exercise restraint to de-escalate the situation.
"There is no room for trial and error on the safety of nuclear facilities, and any risk of accidents must be eliminated," he said.
The foreign ministers' meeting was dominated by Ukraine and attendees included Kuleba, Russian Foreign Minister Sergey Lavrov, and US Secretary of State Antony Blinken.
Lavrov walked out of the talks as Ukraine, the United States, and others called for Russia to be held accountable over its military actions.
A day earlier, as the European Union urged Beijing to use its influence on Russia to end the war, Wang told EU foreign affairs chief Josep Borrell that China would "play its role in its own way" in the Ukraine conflict.
He said China supported the EU and major European countries to "continue to actively mediate and make every effort to strive for peace" in the conflict.
Borrell and Wang reaffirmed their joint commitment to non-proliferation and their opposition to the use of weapons of mass destruction.
China has hesitated to pressure Russia on Ukraine, triggering concerns from the EU and other Western countries.
"China believes and hopes that Europe can play a more active and important role … China is not a direct party in the Russia-Ukraine conflict, and it is also far from the battlefield. Its position is more detached than that of Europe," said Yang, who specialises in Eurasian relations.
Wu Fei, a Jinan University professor specialising in Russian studies, said China was unlikely to meet the EU's demand to pressure Russia on Ukraine, as there was no mechanism for China to intervene. He said intervention would require an appropriate mechanism like the UN, where China is a permanent member of the Security Council.
During Wang's meeting with Borrell, he said human rights issues "should not be politicised" and he hoped the EU could maintain "strategic autonomy".
The two agreed to maintain dialogue over human rights issues.
Wang called for high-level strategic dialogues with the EU on the economy and trade, green development and other issues. He urged the two sides to step up cooperation on supply chains and energy.
Despite close trade and energy ties with Brussels, Beijing has been unnerved by the EU's apparent support for Taiwan.
Yang said China and Europe had balanced their cooperation and disagreement well, and they cooperated more than they competed in bilateral relations.