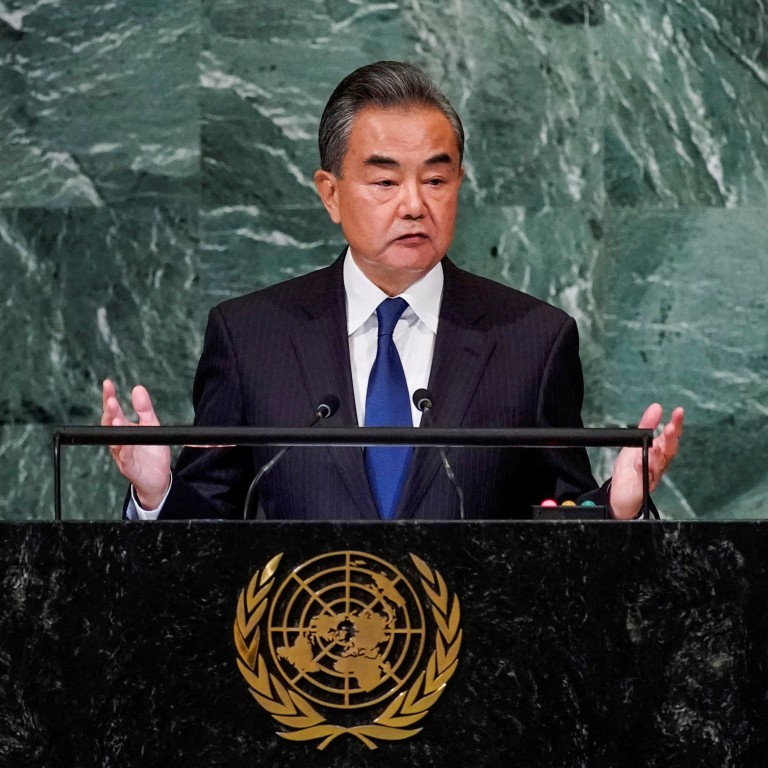 China tells UN it seeks end to Russia's war in Ukraine as it warns on Taiwan
'No country should abuse its power to bully other sovereign countries', says Foreign Minister Wang Yi in speech laced with barbs aimed at US
On Taiwan, 'any move to obstruct China's reunification is bound to be crushed by the wheels of history', Beijing's top envoy declares
China seeks an end to Russia's war in Ukraine and will hold firm in its Taiwan policy, Foreign Minister Wang Yi told the
United Nations
in a speech laced with barbs aimed at the
United States
.
"Turbulence and war can only open Pandora's box, and he who instigates a proxy war can easily get himself burned," said Wang during a 21-minute address in New York on Saturday.
"No country is above others, and no country should abuse its power to bully other sovereign countries," he added at the UN's first general assembly session since
Russia
invaded
Ukraine
in February, noting that Beijing would "take the most forceful steps to oppose external interference" involving Taiwan.
Although the foreign minister on Saturday addressed Russia's invasion of Ukraine – a primary focus for global leaders this week – he devoted little more attention to it than he did to
Afghanistan
,
Cuba
or the
Korean peninsula
in a rapid-fire overview of global hotspots.
"Only when China is completely reunified can there be enduring peace across the Taiwan Strait," the career diplomat said. "Any move to obstruct China's reunification is bound to be crushed by the wheels of history."
Wang's speech on Saturday repeatedly criticised Washington without mentioning the US by name, making references to protectionism, decoupling, bloc confrontation and arbitrarily imposed sanctions.
Analysts said Biden seemed more pointed this week in explicitly addressing US-China competition than during last year's general assembly. "Biden's main focus was of course Russia, but he did seem keen to throw in a few good sideswipes at China," said Richard Gowan, UN director of the International Crisis Group, a think tank.
"The path that China pursues is one of peace and development, not plunder and colonialisation," said Wang. "It is a path of willing cooperation, not zero-sum gain."
Wang's address comes in a year when the Chinese leader has opted not to address the UN body despite Beijing's drive for a greater role in global leadership.
"This year, by contrast, [Xi] was notable by his absence" during the first all-in-person general assembly since the pandemic, Gowan added. "Wang Yi was present and prominent, but obviously lacks Xi's overall clout."
Wang worked this week to counter the US, speaking to the Group of Friends Global Development Initiative, a Chinese-launched bid to bolster support among developing countries. He also called at the Asia Society for "win-win" cooperation between Beijing and Washington, and touted China's "certain" opening up to US business groups.