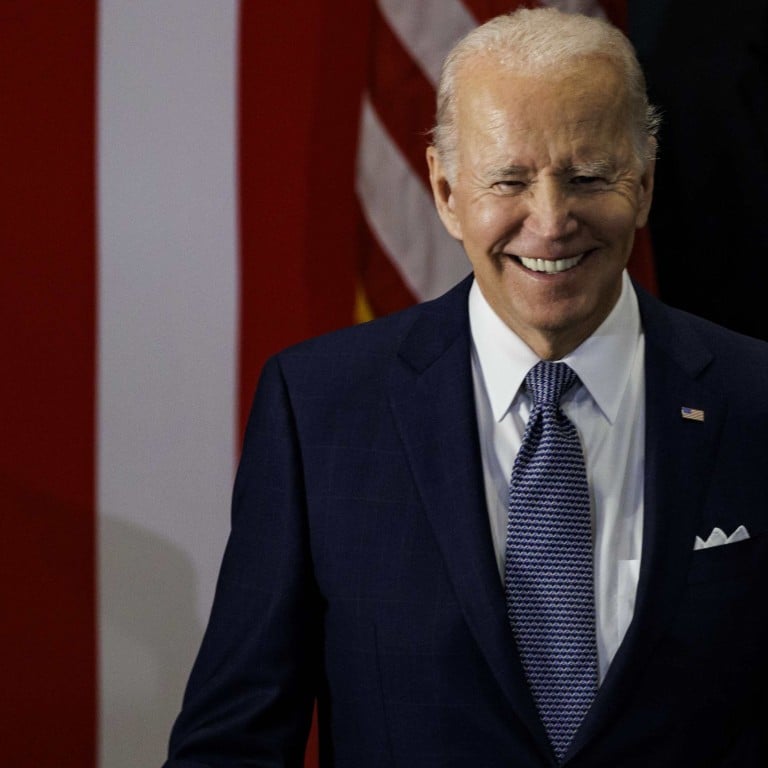 Has US strategic ambiguous clarity on Taiwan sunk hopes for a Xi-Biden summit?
The US president has said again that he is ready to defend the island against an unprecedented attack
His comments could be creating more incoherence about American commitments, an analyst says
In an interview aired on Sunday last week, Biden said that unlike the case with
Ukraine
he was ready to
defend Taiwan militarily
against "an unprecedented attack" from Beijing, which according to observers amounts to a shift away from decades of US ambiguity.
In another rare comment on the fate of the self-ruled island, Biden also told CBS' 60 Minutes that while his administration was not encouraging any moves, "Taiwan makes their own judgments about their independence" and "that's their decision".
Beijing views Taiwan as a breakaway province that must be reunited one day, by force if necessary, and has long opposed any discussions of the island's possible independence. Most countries, including the US, do not see Taiwan as an independent state, but Washington is opposed to efforts to take the island by force.
Although the White House was quick to clarify that the US policy on Taiwan,
known as "strategic ambiguity"
, had not changed, Beijing lodged an official protest over Biden's comments.
It is the fourth time since August 2021 that the US leader has vowed to defend the island.
When asked in August last year to compare America's chaotic withdrawal from Afghanistan and Washington's approach to Taiwan, Biden said Taiwan was fundamentally different and suggested the US would defend the island, as would Japan, South Korea and Nato allies.
During his first trip to Asia in May when Biden was asked if the US would treat Taiwan differently from Ukraine and become involved militarily, Biden said: "Yes. That's the commitment we made."
And in October 2021 during a CNN town hall, Biden said: "Yes, we have a commitment to do that," when asked if the US would defend Taiwan.
"If the previous three times [Biden] said it were 'gaffes', it is clear now that he meant what he said," said Zhiqun Zhu, a professor of international relations at Bucknell University.
"It shows that the Biden administration is trying to move from strategic ambiguity to strategic clarity on the Taiwan issue. We already see the US has been upgrading relations with Taiwan in recent years, and both Congress and the White House are moving in that direction."
In their 90-minute, "direct and honest" talks on the margins of the United Nations General Assembly in New York, Wang accused the US of sending "very wrong, dangerous signals" on Taiwan, which he said "is at the core of China's core interests".
According to state news agency Xinhua, Wang warned that bilateral ties were at a "critical juncture" and although China called for "peaceful reunification" with Taiwan, "the more rampant 'Taiwan independence' activities are, the less likely a peaceful solution would be".
Blinken defended Biden's comments and insisted "there has been no change" to the US policy of only recognising Beijing. He also voiced opposition to "unilateral changes to the status quo" by either side, according to the State Department.
In a speech at the Asia Society think tank before meeting Blinken, Wang described Taiwan as "the biggest risk in China-US relations" and accused the United States of stoking pro-independence forces. "Taiwan independence is like a highly disruptive great rhinoceros charging toward us. It must be stopped resolutely," he said.
However, analysts said Washington's shifting attitudes towards Taiwanese independence were more striking than Biden's latest comments on the US response to a potential military attack on Taiwan from Beijing.
Sourabh Gupta, a senior fellow at the Institute for China-America Studies in Washington, said the independence issue was "an absolute minefield to wade into".
"And it places him [Biden] even further away from official US policy which is to 'not support' Taiwanese independence," he said.
If strategic ambiguity on the defence of Taiwan gives way to strategic clarity, according to Gupta, "the US position on the unsettled legal status of Taiwan will also in most likelihood change" in the event of an unprovoked and unprecedented invasion of Taiwan.
"Ambiguity for ambiguity and clarity for clarity. But it takes an exceptionally brave man or an exceptionally reckless man to take a theoretical walk into this Taiwan independence minefield," he said.
Gupta said Washington's decades-old strategic ambiguity was becoming less ambiguous, especially with the recent two administrations relentlessly challenging the Nixon-Kissinger proposition in the Shanghai Communique that the US "does not challenge the position" that "there is but one China and that Taiwan is a part of China".
Gupta said he believed Biden's unusually harsh remarks on Taiwan were partly related to the situation in Ukraine, which dominated the president's general assembly speech on Wednesday.
"In a year in which peace and security has been utterly shredded, Biden is using the [UN] session as a teachable moment to tell a great power adversary that the disturbance of peace and security in the Indo-Pacific will doubtlessly invite a telling American response," he said.
"Draping himself in the flag as the protector of peace, security and deterrence in the multilateral system can only be win-win in Biden's calculus as well as in the calculus of many member states, big and small," he said.
In an unmistakable message to Beijing,
Biden called for calm in the Taiwan Strait
in his general assembly speech and said the US continued to "oppose unilateral changes in the status quo by either side", referring to Beijing's increased military intimidation against the island. Biden was the first sitting US president to comment on Washington's cross-strait policy at the assembly since 1971, according to the State Department.
Pang Zhongying, a professor of international affairs at Sichuan University, noted that Biden's remarks followed reports that the White House managed to persuade the Senate Committee on Foreign Relations to tone down the Taiwan Policy Act, which Beijing warned would undermine the foundation of bilateral ties.
He said Biden's manoeuvring over Taiwan was part of the US grand strategy to bolster deterrence against China, especially in the midst of Russian President Vladimir Putin's escalation of the Ukraine war.
"The timing of his remarks is very interesting, coming after Ukraine's successful counteroffensives and the Samarkand summit between Xi and Putin," Pang said.
"The escalation of the Ukraine crisis is far more dangerous than the cross-strait tensions and will be the most pressing challenge for the Biden administration in the coming weeks.
"So those remarks could probably be read as a forewarning for Beijing amid concerns that Beijing may see Moscow's escalating war attempts as an opening to make advances on the island."
But former US State Department official Jessica Chen Weiss said that without giving Taiwan the means to defend itself, Biden's remarks risked creating more incoherence by misrepresenting US policy commitments.
"The president may be trying to signal strength at a time when China is conducting more threatening manoeuvres in the Taiwan Strait" following Pelosi's visit, said Weiss, now a professor at Cornell University in New York.
"By appearing to change US policy without acknowledging that he is doing so, his comments may be counterproductive to preserving peace and stability across the Taiwan Strait."
She also questioned Biden's combination of pledging to send troops while leaving decisions about independence to Taiwan, which amounted to "an unconditional US defence commitment" and a "blank cheque" for the island.
"Such comments will do more to feed Beijing's sense of urgency than they will bolster deterrence. And Biden's comments risk emboldening those on Taiwan who seek to change the status quo by pursuing steps toward de jure independence, permanent separation, or US diplomatic recognition," Weiss said.
Zhu also said it was deeply worrying that the Biden administration seemed fine with Taiwan independence and was using the salami-slicing tactic to undermine its own "one China" policy.
"Biden seems to suggest that it's Taiwan's own decision, and if they go ahead to declare independence, we will be OK. This is a departure from the previous policy," he said.
"Although the White House continues to claim that the US one-China policy remains unchanged, in reality, what has not changed is the name only."
But he said it was not surprising that Washington chose to play the Taiwan card to counter Beijing ahead of the midterm elections in the US.
"Given the current status of US-China relations, it would be surprising if the US did not play the Taiwan card. For Washington, Taiwan is a low-cost card to play. Nothing can infuriate the Chinese leadership more than insulting them on Taiwan," Zhu said.
According to Zhu, Washington's efforts to chip away at the one-China policy, with arms sales, high-level exchanges and pro-Taiwan legislation, were largely due to its bet that Beijing was not ready to take over the island by force.
"Some in Washington may even be goading China to fire the first shot now before it becomes more powerful. It is a risky gamble, similar to constantly poking someone in the eye and wishing they will not respond vehemently," he said.
The lack of communication between the two governments is worrying, according to Philippe Le Corre, a non-resident fellow in the Europe and Asia programmes at the Carnegie Endowment for International Peace.
"Meetings like the recent one [between Wang and Blinken] have zero outcome. China keeps repeating that the US is changing its policy – which is not true, while the White House was not able to prevent Nancy Pelosi travelling to Taipei. Still, everyone I know in Washington wants to avoid an armed conflict and therefore is recommending Taiwan to keep the status quo," he said.
Although Biden's remarks have dimmed hopes about the easing of cross-strait tensions any time soon, observers said the planned Xi-Biden summit in November on the sidelines of either the G20 summit in Bali or the Apec gathering in Bangkok would not be affected.
Pang said "as long as both leaders attend the summits as scheduled", there would be little reason for them to shun their much-anticipated meeting, talks that were critical for bilateral ties and had global implications in the post-pandemic world.
The Ukraine situation would add fresh urgency to the face-to-face meeting between Xi and Biden, Pang added. "While China needs such a top-level meeting to exert influence on Washington's possible steps on Taiwan, Biden, who is focused on Ukraine, needs to align with Xi and its allies on how to rein in Putin's nuclear brinkmanship," Pang said.
The New York meeting between Wang and Blinken on Friday was also seen as a positive sign that both sides wanted to manage the cross-strait tensions to avoid negative implications on the planned Xi-Biden summit.
While Blinken stressed the need "to maintain open lines of communication and responsibly manage the US-China relationship, especially during times of tension", Wang said both Biden and Xi sought to "make the China-US relationship work" and to "steer clear of conflict and confrontation".
"Unless there is a drastic change in circumstances, the planned first in-person summit between Xi and Biden in November will almost certainly go ahead," Gupta said.
"The Taiwan issue is not an impediment. Just as Mao had confided to Nixon that 'the small issue is Taiwan; the big issue is the world', the big issue for President Xi is the stabilisation of US-China relations, and this overrides the Taiwan issue – even though the Taiwan issue is an important cause of the destabilisation of US-China relations."