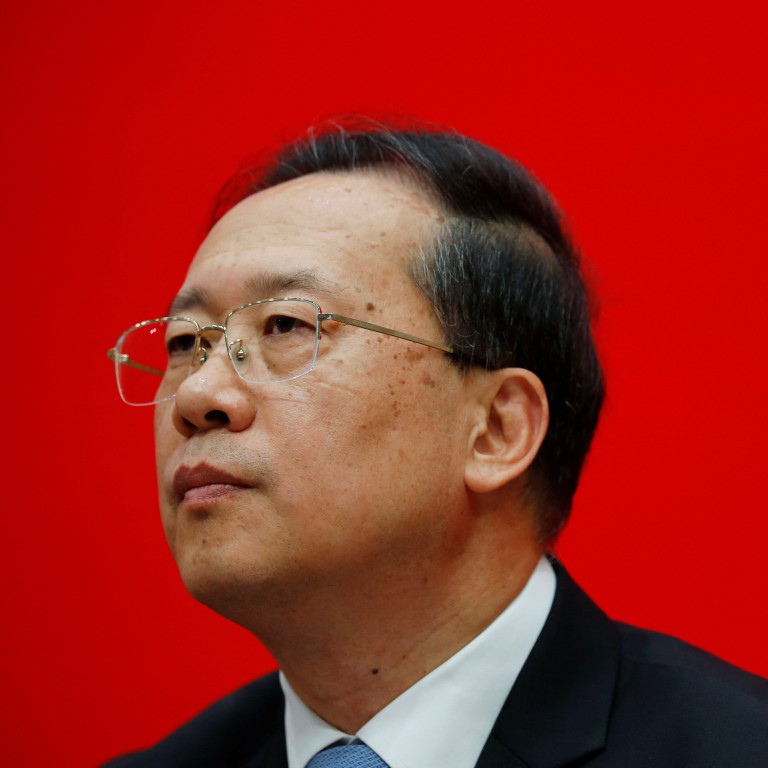 'No retreat' for China's hardline diplomats after 20th party congress
Deputy foreign minister Ma Zhaoxu makes clear that 'diplomatic struggle' against threats to core interests will continue after October event
'The era of China being slaughtered by others is long gone, and no force can stop China's development and progress,' he says
Beijing will continue its "diplomatic struggle" against threats to its core interests beyond the
20th party congress
, the five-yearly political reshuffle that takes place in mid-October.
At a press conference to review China's diplomatic achievements in advance of the congress, first-ranking deputy foreign minister
Ma Zhaoxu
made clear there would be no change to Beijing's response to threats to its core interests in the next five years.
"Chinese foreign policies will continue to cut their way through thistles and thorns and march forward with bravery and courage, and continue to serve as a loyal guardian of the interests of the country and the people," he said.
The press conference was one of dozens hailing the country's achievements since 2012, the year President Xi Jinping took the helm of the party. They are a curtain-raiser to the main event which starts on October 16 in Beijing and is expected to confirm Xi as party leader for a historic third term.
More than 2,000 delegates from around the country will attend the meeting, which will also see a major reshuffle of other leadership positions.
Ma was responding to a question on whether China's diplomatic corps would stick to the "struggling spirit" celebrated by Xi in the next five years, and if China was concerned that these assertive acts would further sour ties with other countries.
"Our diplomatic struggle is aimed at words and deeds harmful to Chinese national interests and national dignity, [it] safeguards our own legitimate rights and interests, opposes hegemony and bullying, and upholds international fairness and justice," Ma said.
China's diplomats would "proactively respond to battles" over sovereignty and national security, he added.
"We used our actions to tell the world that the era of China being slaughtered by others is long gone, and no force can stop China's development and progress … We firmly defended [our] national interests and national dignity.
"We have a clear-cut stand on critical issues, and we did not yield one inch."
According to Brian Wong Yueshun, a geopolitics consultant and founder of the Oxford Political Review, the use of the term "diplomatic struggle" is specific to the philosophy of China's ruling party and represents a "firm and unyielding adherence" to the nation's diplomatic priorities under Xi's governance.
"The communist nomenclature of 'struggle' is a very peculiar turn of phrase – one that symbolises an ethos or spirit of defiance and perseverance with potentially great individual sacrifice and the need to resolve the contradiction in question through either defeating, reconciling with, or absorbing the target of said struggle," he said.
Wong added that while Beijing's attitude will not become more or less assertive, it will draw clear distinctions between friend and foe.
"I expect an approach to diplomacy that more adeptly combines hardline threats on one hand towards 'enemies', with a more proactive attempt to court and reward 'neutral' or 'friendly' states that China regards as worthy of and receptive towards more bridging and consolidation of relations," he said.
Ma also took pride in friendships formed with other countries over their common stance on Taiwan, Hong Kong, Xinjiang and the South China Sea and warned against interfering in "China's internal affairs under the pretext of human rights issues".
The foreign ministry said more than 170 countries had voiced support for Beijing on the Taiwan issue, following US House Speaker Nancy Pelosi's controversial visit to the island in August.
Ma also noted the "unremitting efforts" which led to the release of Huawei executive
Meng Wanzhou
, after a three-year court battle in Canada.
Meng's return to China last year was met with ebullience across the country. The Shenzhen-based company remains subject to harsh US trade sanctions.
Foreign ministry officials at the press conference also emphasised the ruling party's commitment to strengthening relations with developing countries and fellow socialist states, including Vietnam, Laos, Cuba and North Korea.
Guo Yezhou, deputy head of the party's international department, said more than 75 per cent of the political parties in frequent contact with Beijing belonged to developing countries.
"The Communist Party of China has always placed China's development in the coordinated system of human development, and has closely linked its own destiny with that of people around the world," Guo said.
Moscow-based American political analyst Andrew Korybko said Beijing had positioned itself as an "informal leader" of the BRICS [Brazil, Russia, India, China and South Africa] grouping of developing countries and, more generally, the global south through its Belt and Road Initiative.
"Beijing has special sympathy for fellow socialist states due to their shared economic-centric worldviews. It envisages economic-financial reforms paving the way for institutional-political ones that ultimately have military-strategic implications for accelerating the global systemic transition to multipolarity," said Korybko.
At the press conference, Ma was asked whether Beijing intended to "build a new kitchen" and change the "rules-based international order". China's only objective is to make such an order "more fair and reasonable" under the principle of multiculturalism, he replied.
"The international order can only be based on recognised international law. So-called rules cannot be formulated by a few countries, let alone [having them] impose their own 'family rules' and 'gang rules' on others," Ma said.
As it counts down to the party congress, Beijing will see its position hardened, while the US, perceived as a "declining unipolar hegemon", may continue their provocation, Korybko expects.
"Beijing isn't expected to compromise on what it considers to be its core interests. In response, the US is expected to escalate its containment efforts, both unilaterally and multilaterally, and through economic and military means."