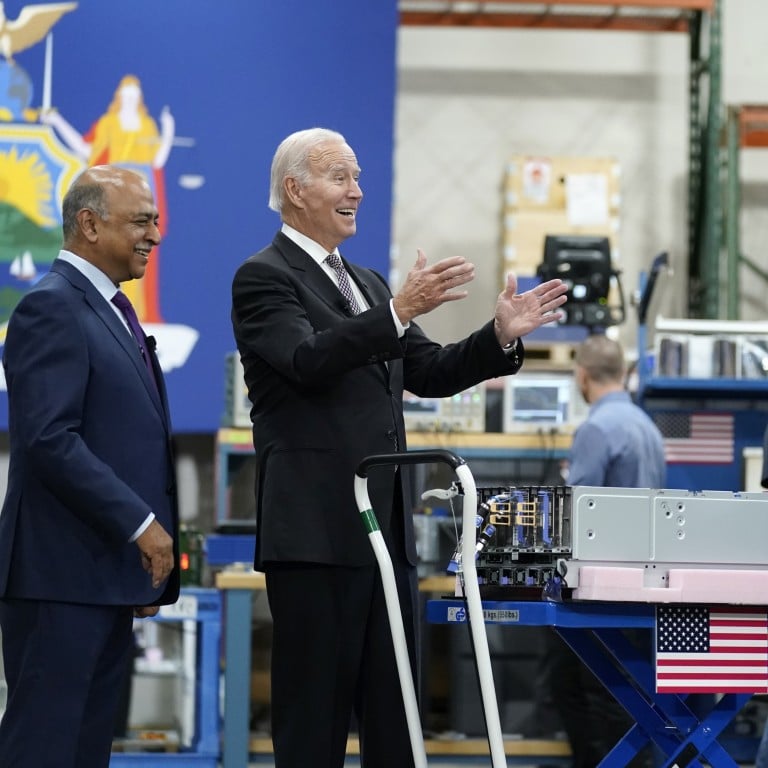 Tech war: Washington takes new steps to frustrate China, advance US chip-making
US Commerce Department imposes restrictions on dozens more Chinese companies and institutions to impede their ability to obtain core US technologies
'We are updating our policies today to make sure we're addressing the challenges posed by the PRC,' a department official says
Washington doubled down in its hi-tech rivalry with Beijing on Friday, as the US Commerce Department released an expansive battle plan to propel the US forward and hold China back in the manufacture of advanced semiconductors, the strategic building blocks underpinning everything from fighter jets and artificial intelligence weaponry to cars and toothbrushes.
The administration of US President Joe Biden said it would impose restrictions on 31 Chinese companies, research institutions and related groups effective October 21, aimed at impeding their ability to obtain core US technologies.
The move is the latest in a series of steps intended to halt shipments of chips and chip-making technology of potential use to China in its military build-up and bid to dominate key industries.
"We are appropriately doing everything in our power to protect our national security and prevent sensitive technologies with military applications from being acquired by the People's Republic of China's military, intelligence and security services," said Alan Estevez, undersecretary of commerce for industry and security.
"We are updating our policies today to make sure we're addressing the challenges posed by the PRC while we continue our outreach and coordination with allies and partners."
The latest additions to the US "unverified" list are based on a US assessment that these Chinese entities' use of Western technologies linked to AI and supercomputing has crossover potential from civilian to military use.
The designation allows Washington to extend its reach well beyond its borders, preventing companies globally from sending products to the China firms made with US software, machinery or technology.
The list also is a shot across the bow for American companies closely linked to China. In addition to a division of the Chinese Academy of Sciences, the list includes Wuhan-based Yangtze Memory Technologies, a major state-owned enterprise that Apple has considered using as a supplier.
The US also added 28 companies to the "entity list" – subjecting them to government licensing and sanctions requirements – including several provincial arms of China's National Computer Centre, the Beijing Institute of Technology and Beijing Sensetime Technology Development, a subsidiary of a major Chinese AI company.
Chinese foreign ministry spokeswoman Mao Ning said on Saturday that the new export controls were an abuse of trade measures and designed to maintain the country's "technological hegemony".
"The United States will only hurt and isolate itself when its actions backfire," Mao said.
The Chinese embassy in Washington condemned the added restrictions. "What the US is doing is purely "sci-tech hegemony," embassy spokesman Liu Pengyu said on Friday.
"It seeks to use its technological prowess as an advantage to hobble and suppress the development of emerging markets and developing countries. The US probably hopes that China and the rest of the developing world will forever stay at the lower end of the industrial chain."
The announced restrictions are the latest in a series of steady tightenings by the US over China's access to semiconductor and other critical technologies in the last several years.
Washington banned Chinese telecommunications giant Huawei Technologies' access to US computer chips in 2019; this summer, Congress approved and US President Joe Biden signed into law the CHIPS and Science Act, which includes US$52 billion in subsidies to the US semiconductor industry; and last month the Commerce Department barred US industry leaders Nvidia and Advanced Micro Devices from selling cutting-edge artificial intelligence chips to Chinese firms.
Paul Triolo, senior vice-president at Albright Stonebridge Group, sees Friday's move as an effort by Washington to tighten its grip on and insight into what US products, intellectual property and semiconductor expertise are moving to China.
"The real goal is simply to give the US government granular control and visibility on all these technologies and who's selling to China, who's investing in them," said Triolo, a former electrical engineer, likening export controls to a dashboard with dials that could be adjusted.
"This will galvanise this process, this package will put the US effort on steroids."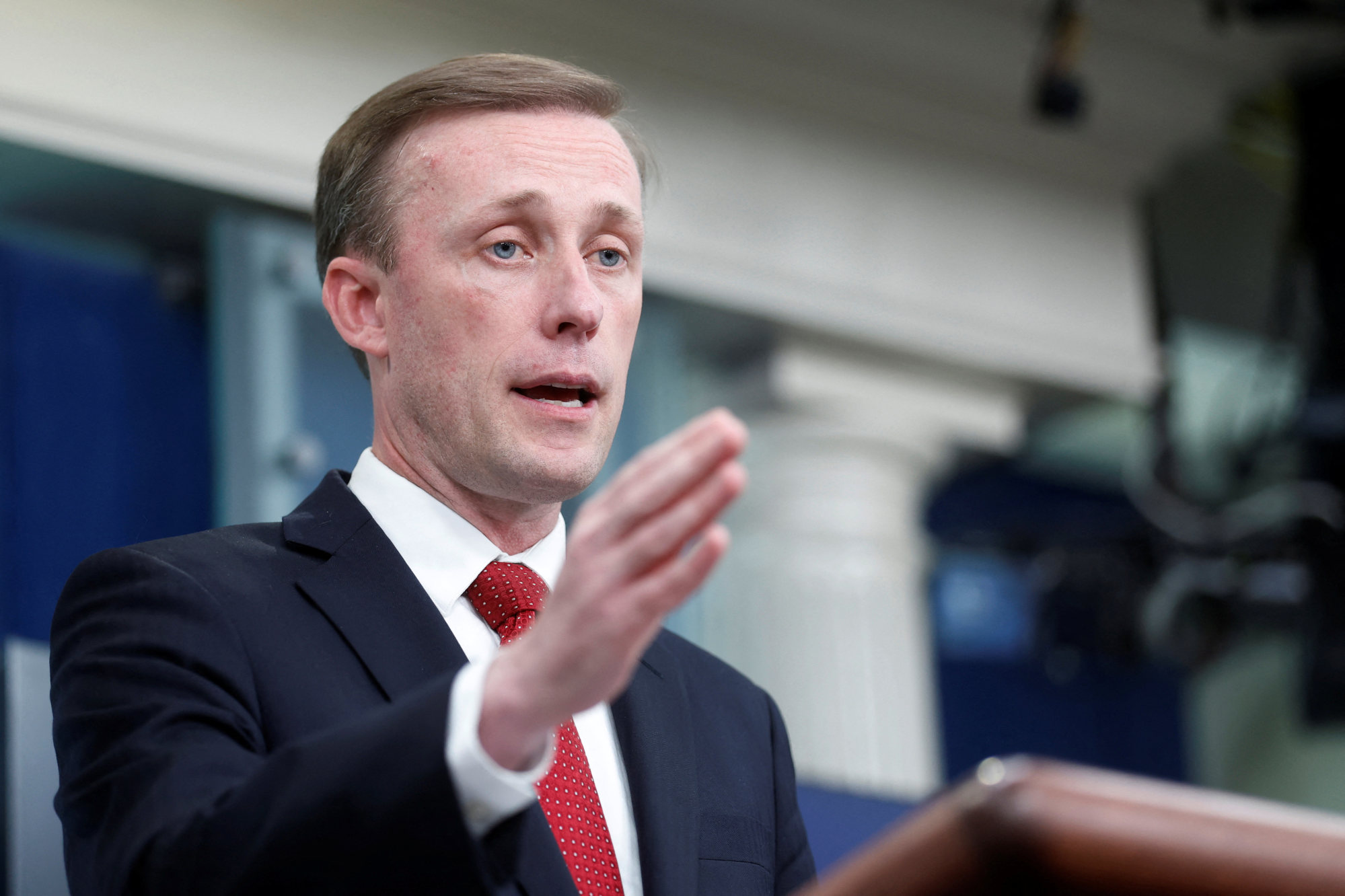 Outlining the framework last month behind Washington's tougher export controls on chips, National Security Adviser Jake Sullivan cited a four-pillar strategy to restore US leadership in chip manufacturing, research and development and otherwise reduce US reliance on foreign-produced chips.
"Preserving our edge in science and technology is not a domestic issue or national security issue. It's both," he said.
Referring to China, Sullivan added that "we are facing a competitor that is determined to overtake US technological leadership and willing to devote nearly limitless resources to that goal".
Industry experts said the new rules, involving some of the broadest tech export controls since at least the 2019 Huawei ban, reflect an effort to plug loopholes and take a more holistic view of safeguarding America's technology lead.
In a related move Friday, the White House National Science and Technology Council released a 47-page "National Strategy for Advanced Manufacturing" that outlines 11 strategic goals to bolster competitiveness, research, supply chains, materials science and tech talent with a particular eye to semiconductors.
"Production and employment have fallen sharply in several advanced manufacturing industries," the document said. "It is, therefore, imperative for the United States to develop and implement strategies to regain American leadership."
The Biden administration, which has made closer ties with allies a cornerstone of its China strategy, chose to go it alone with Friday's expanded list of sanctioned companies and institutions, a possible sign that allies do not share Washington's view that the loss of sales to China is worth the perceived gains to national security.
"There's one big catch," said Sarah Kreps, a Cornell University professor of government and former US Air Force intelligence analyst: whether semiconductor powers South Korea and Taiwan will continue exporting their latest to China.
"In which case," she noted, "US firms will lose market share and China will find a bypass to the US restrictions, a worst-case scenario."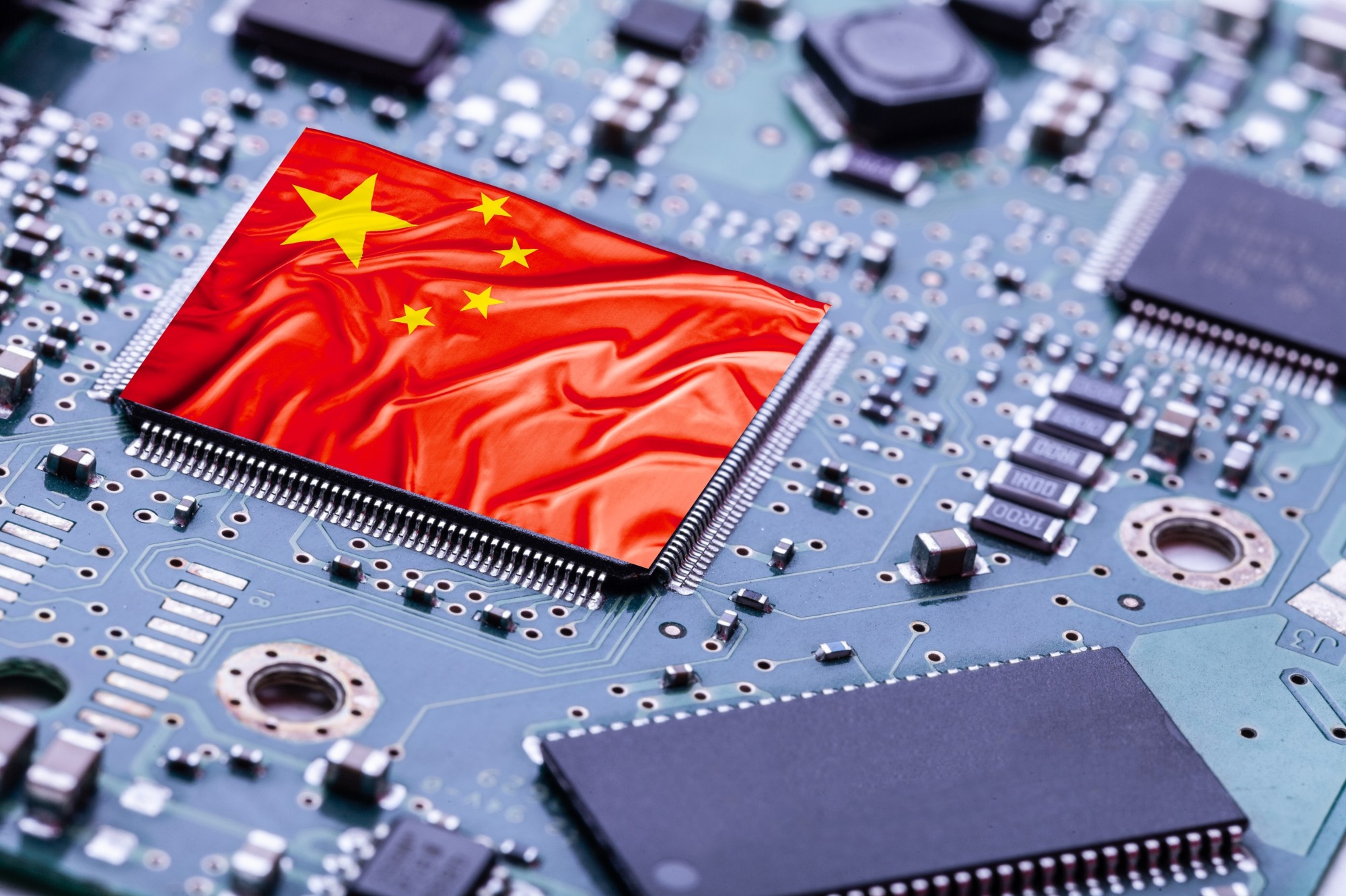 US industry, while it welcomed the billions of dollars it will receive under the Chips Act, is also wary of the huge hit to its bottom line as parts of the massive Chinese market are ruled off limits. Nvidia, for example, estimated that US restrictions on its exports to China would deliver a US$400 million hit to its bottom line.
"We are assessing the impact of the new export controls," the 2,500-member Semiconductor Industry Association said in a statement on Friday.
"We understand the goal of ensuring national security and urge the US government to implement the rules in a targeted way – and in collaboration with international partners – to help level the playing field and mitigate unintended harm to US innovation."
The Commerce Department also said on Friday that it had removed nine entities from the unverified list, including Wuxi Biologics, after the department's Bureau of Industry and Security was able to verify that their end use of the US technologies were legitimate and reliable.