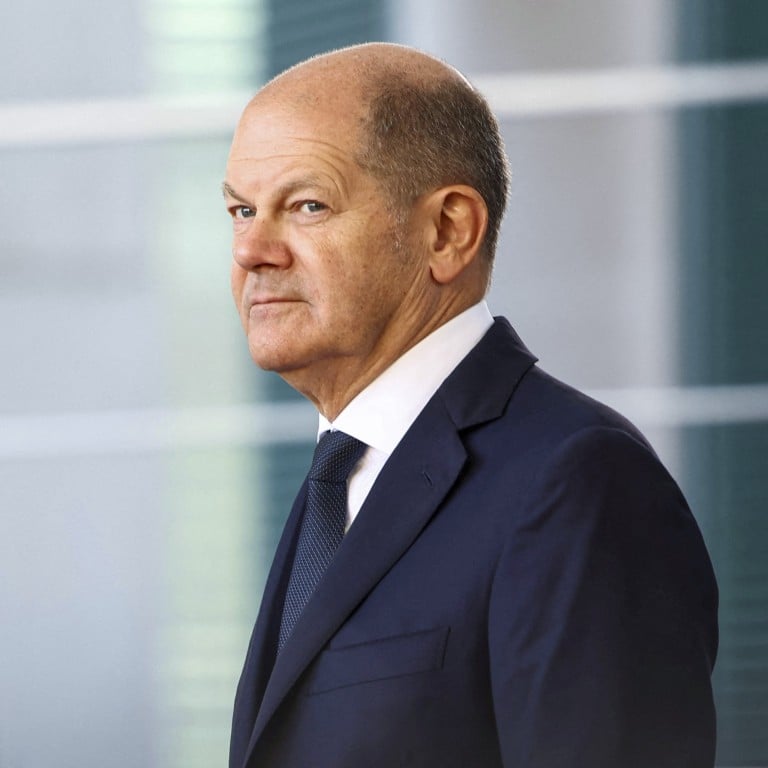 Decoupling from China 'the wrong answer', says German leader
Olaf Scholz says Germany 'must continue to do business with China' while also trading with Africa, South America and the rest of Asia
German chancellor is reportedly planning a trip to Beijing next month – the first visit by a G7 leader since the Covid-19 pandemic began
German Chancellor
Olaf Scholz
, who is reportedly planning a trip to Beijing early next month, said decoupling from China would be the wrong path as the two countries marked the 50th anniversary of diplomatic ties on Tuesday.
Scholz plans to travel to China around November 3-4 for the first time since taking office in December, according to Bloomberg and Politico, which would make him the first
Group of 7
leader to do so since the outbreak of the Covid-19 pandemic.
Pending official confirmation from Beijing and Berlin, he is also expected to become the first Western leader to meet President Xi Jinping after the Chinese leader secures his norm-breaking third term in office at the Communist Party's national congress, which starts on Sunday.
The Post
reported in July
that Beijing had invited Scholz and French President Emmanuel Macron to visit China, along with the leaders of Italy and Spain, in a bid to counter Washington's alliance-based approach to confronting China.
Scholz and Xi are expected to meet again soon at the G20 summit in Bali around November 12-14, where Xi plans to have an
in-person meeting
with US President Joe Biden for the first time since the American leader took office.
Scholz, who described Beijing as a
"systemic rival"
during a trip to Japan early this year, defended his nuanced approach to China at a business conference in Berlin on Tuesday and stressed the need to diversify political and economic ties.
"Globalisation has been a success story that enabled prosperity for many people. We must defend it," Scholz said. "Decoupling is the wrong answer."
"We don't have to decouple from some countries," he said. "I say emphatically we must continue to do business with China. But we also have to ensure that we trade with the rest of the world, look at the rest of Asia, Africa, South America – that's the opportunity."
Chinese foreign ministry spokeswoman Mao Ning said China took Scholz's remarks positively.
"China also supports globalisation and opposes 'decoupling'. Sticking to cooperation and strengthening economic and trade ties will not only benefit
China and the EU
, but also help the recovery of the world economy amid the current sluggish world economic situation," Mao said on Wednesday.
"The Chinese side is willing to work with the European side to push for greater development of bilateral cooperation in various fields and bring more benefits to the people of both sides."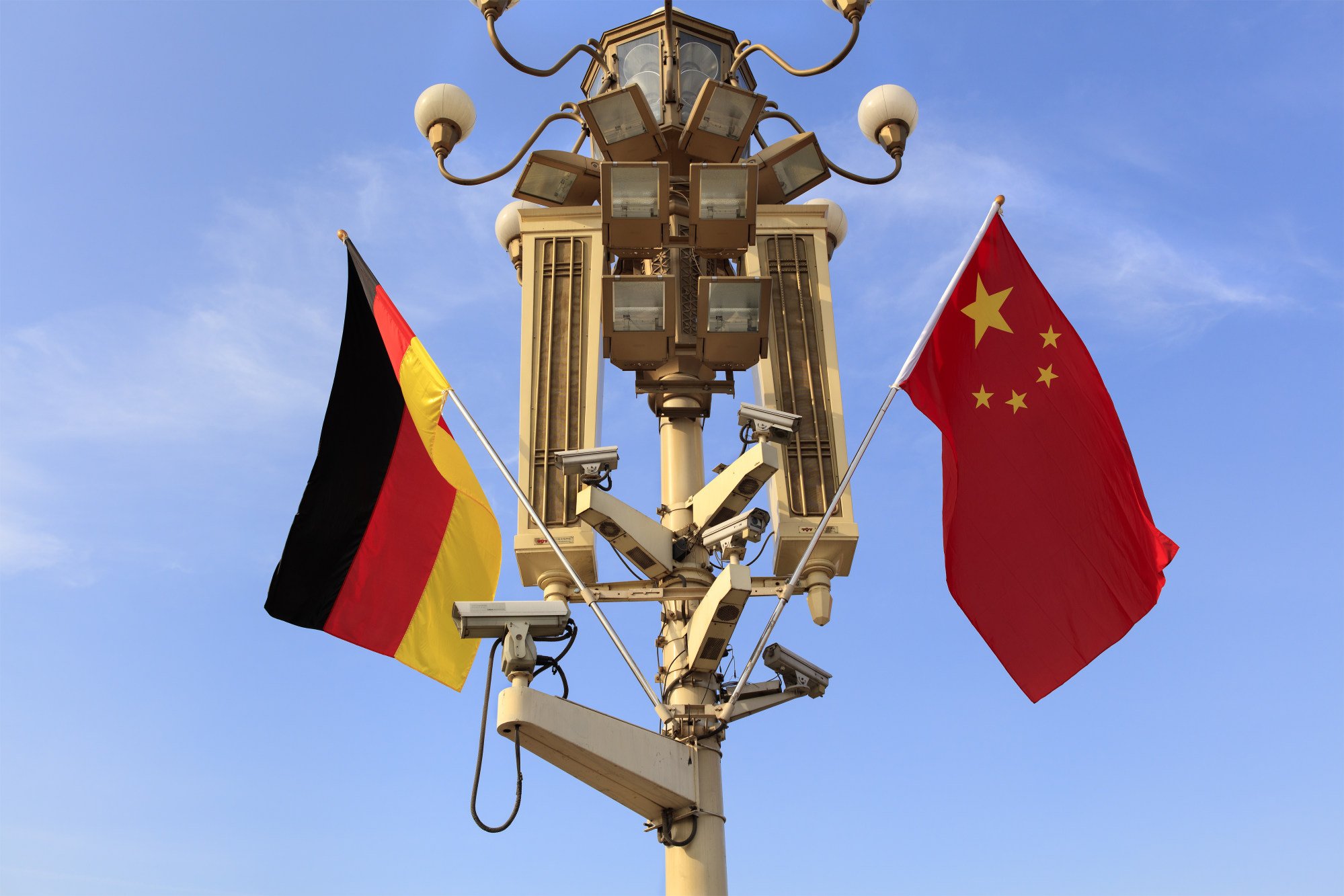 Scholz's coalition government has adopted a tougher stance on China regarding human rights, Hong Kong, Taiwan and
Xinjiang
– a departure from his predecessor Angela Merkel's "business first" approach to Beijing.
Germany is working on a new China strategy that seeks to balance close trade ties with Beijing and the need to reduce strategic dependence on it, especially in the wake of the Ukraine war.
Xi exchanged congratulatory letters with German President Frank-Walter Steinmeier on Tuesday, with the Chinese leader calling on Berlin to view the 50th anniversary of official ties "as an opportunity to build on past achievements and forge ahead into the future", according to Xinhua.
Noting China is Germany's
top trading partner
, Steinmeier was quoted by Xinhua as stressing the importance of economic and trade cooperation in bilateral ties.
Pang Zhongying, professor of international affairs at Sichuan University, said Scholz's China trip would be an important step for both sides to manage tensions and repair ties amid chaos and uncertainty in the post-coronavirus world.
"For Europe, they'll need to make a strategic choice amid the stand-off against Russia over Ukraine. They'll have to show pragmatism in dealing with China, although such pragmatism with Russia has already failed," he said.
For China, Scholz's visit would be an opportunity to display diplomatic pragmatism and try to mend ties with European powers amid the deepening
US-China feud
, according to Pang.
"They'll need to rebuild trust and seek consensus, such as on the decoupling issue, which could have disruptive impacts globally. While the EU cannot afford to bind China and Russia together, China also has plenty of room to make adjustments when it comes to how it views US allies and partners, such as Europe," he said.
Apart from Russia's invasion of Ukraine and economic cooperation, Scholz is likely to seek climate cooperation with China and discuss human rights concerns during his visit.
In a speech at the United Nations General Assembly last month, Scholz said China should implement the recommendations of a UN envoy's
report on the treatment of Uygurs
in Xinjiang, which accused Beijing of "serious" rights abuses in the region. "This would be a sign of sovereignty and strength and a guarantee of change for the better," he said.
But Reinhard Buetikofer, head of the European Parliament's delegation on China and a member of the German Green Party, warned Scholz would need to stand firm on critical issues such as human rights and peace and stability in the Taiwan Strait and the Indo-Pacific region.
"With all the willingness to engage positively where possible, Germany's China policy must significantly reduce existing dependencies vis-à-vis China," he said on Twitter. "It must be made clear to the leadership in Beijing that it would have to pay an extraordinarily high price if it pursues a course of confrontation."
Echoing Scholz's comments, European Commission Vice-President Valdis Dombrovskis said at the same conference in Berlin that decoupling from China was not an option for European companies.
"The EU should continue engaging with China with pragmatism and without naivety. Our trading relationship needs more balance and reciprocity," he said, calling China an important growth market and supplier of affordable components.
"I would therefore argue that the focus should be on diversification and better risk management. In parallel, the EU should continue engaging with China with pragmatism and without naivety," Dombrovskis said.
But in a speech at the bloc's ambassadors conference in Brussels on Tuesday, Josep Borrell, the EU's foreign and security policy chief, warned that "access to China is becoming more and more difficult".
He admitted that Europeans were suffering the consequences of the years-long decoupling of "the sources of our prosperity" – Russia's energy and China's market – from "the sources of our security", the United States.
Borrell said that the US-China rivalry and the divide between democracies and authoritarianism had become "the most important 'structuring force'" in the world, and Europe must fight harder in the
"battle of narratives"
against China and Russia.