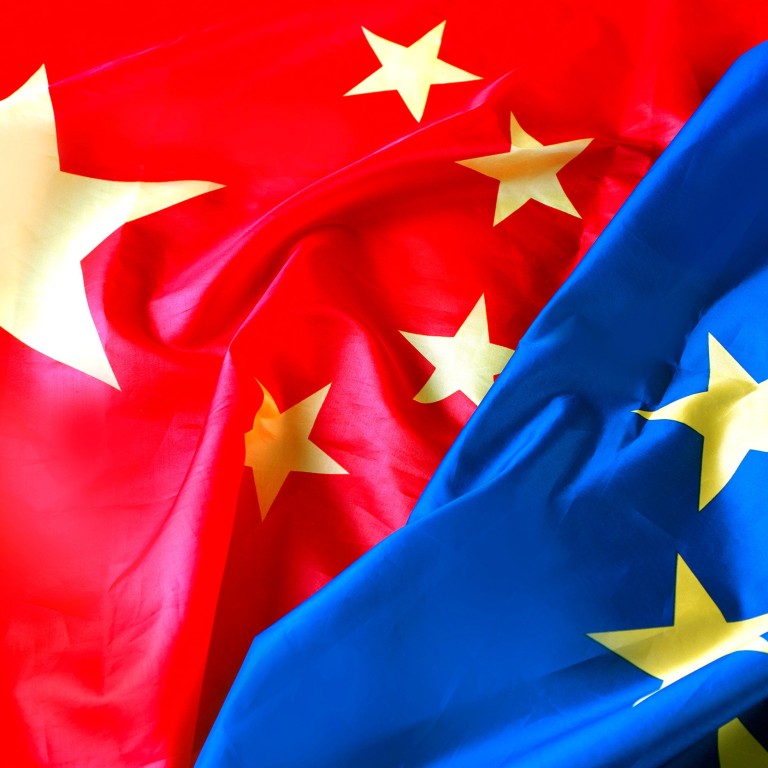 China relations slide down crisis-hit agenda for EU leaders summit
A call for urgent action to toughen stance towards Beijing is likely to take a back seat to Europe's numerous other problems in 2-day meetings
Challenge to find space for discussion also signals distance between official advice and how far member states are prepared to go in policy shift
China
will be on the agenda for the first time in 12 months as European leaders meet in Brussels on Thursday for two days of crunch talks.
But even after an internal memo by the
EU's
foreign service called for urgent action to toughen the bloc's stance towards Beijing, a litany of other crises means its worsening relations with China will take a back seat.
The EU's deteriorating energy crisis, its military and financial backing for Ukraine, and the emergence of Iran as a provider of military drones to Russia will take centre stage at October's European Council summit.
It means that while diplomats and officials wanted the 27 leaders to have a "substantial" discussion on China, they are unlikely to dive deeply into the litany of issues that have emerged since October last year.
"Since last year we have seen developments both in the internal situation [in China] but externally too. I think we are entering a new world, and that needs to be factored in," said a senior EU official involved in the meetings' planning.
At a meeting in Luxembourg on Monday, the EU's foreign ministers confirmed their support for the China memo, written by the bloc's External Action Service (EEAS).
But in the run-up to the European Council, some distance has appeared between how Brussels officials believe the EU should handle its relations with China, and how far its member states are willing to go.
The report said the EU "must prevent and isolate China's attempts to apply its divide et impera tactics … and refrain from isolated or uncoordinated initiatives that would weaken our stance".
It advised EU leaders to stand up to Beijing's efforts to "systematically promote an alternative world order" in which human rights are secondary to national sovereignty.
It called on member states to work together to reduce their economic dependence on China, which should be considered a "strategic competitor".
A second senior EU official rolled their eyes when asked whether German Chancellor Olaf Scholz's plans to take a business delegation to Beijing in November for a summit with Chinese President Xi Jinping fitted with the report's recommendations.
They compared Scholz's trip, which the chancellery has yet to confirm, to the fact that some EU states bought more Russian oil following the invasion of Crimea in 2014, instead of reducing their reliance on Moscow.
"Some countries instead of reducing their dependence [on Russia] increased it. That is the problem, but it is their decision. For Germany with China, the more they will increase their economic dependence the more exposed they are," said the official.
"We cannot hamper Chancellor Scholz's trip to Beijing, but maybe within his coalition his partners can say something. The sooner we start, and the more we are united, the better for all of us … we are now competing [with China] in all possible areas."
Diplomats from other EU members said they hoped that Scholz would represent the bloc's broader interests in Beijing, rather than just those of German industry.
"Member states are entirely free to continue doing bilateral visits to third countries. But of course when a big power like China is involved it's in everybody's interest to have a chat about it, to feel what are the common lines to take," said one.
"We will not give messages to Chancellor Scholz. He will maybe try to find some elements of evaluations, appreciations from colleagues around the table," they added.
A second diplomat defended the German leader's potential business delegation to China.
"It's not that we have forbidden business dealings with China. Can imagine if [they] have discussions with Chinese, a lot of issues need to be discussed. Human rights, forced labour, Taiwan, way they conduct business," they said.
"So I think this needs to be discussed and maybe at some point in the future, a new gathering of the 27 could be relevant to discuss many of these issues. And of course with any contact with the Chinese we should try and convince them to join our position on Russia."
A third diplomat said they were confident German Foreign Minister Annalena Baerbock – a stern critic of the Chinese government – would ensure the message that the EU plans to get tougher on China would be delivered in Beijing.
"The message to China has to get tougher, particularly on the areas where we have significant disagreements. So I think that message will go along with the chancellor," they said.
The Council meets as the Chinese Communist Party approaches the end of its week-long five-yearly congress.
EU officials noted that in his opening speech last Sunday, Xi signalled the party's intent to push forward with policies around dual circulation, zero-Covid, and external assertiveness.
Facing a raft of negative headlines about China's relations with the EU, Beijing's top official for Europe, Wang Lutong, took to Twitter to urge the bloc to "come to a right decision".
"Heard contradictory views on China from Europe: continued engagement vs. competition and rivalry. Sound conclusions need to be based on reality, rational thinking and good logic. Hope our European friends will come to a right decision as to what exactly is in their best interest," Wang tweeted.