Most Americans think China-Russia partnership is a 'very serious problem', poll finds
Survey reveals 87 per cent of Americans believe China-Russia ties are a serious problem for US
Only 71 per cent consider Xi Jinping's likely third term as party leader a serious problem
Nearly three in five Americans see
China's partnership with Russia
as a very serious problem for the United States, according to a survey published on Wednesday.
The Washington-based Pew Research Centre found that 57 per cent of Americans think that the partnership is a "very serious problem", higher than all other issues polled: China's military power, human rights policies, Beijing's tensions with Taiwan, US-China economic competition and President Xi Jinping assuming a third term as Communist Party leader.
Beijing has been walking a political tightrope since
Russia invaded Ukraine
in February. It has refused to condemn the war or sanction Russia, and has criticised the US and Nato for ignoring Russia's security concerns. However, there is no evidence that China has supplied Russia with weapons or planned to recognise Moscow's annexations.
Between October 10 and 16, Pew asked more than 5,000 randomly chosen American adults to label six China-related issues as either "very serious problems", "somewhat serious problems", "not too serious of a problem" or "not a problem at all".
Their responses were weighted to American demographics to reflect the opinions of the entire population.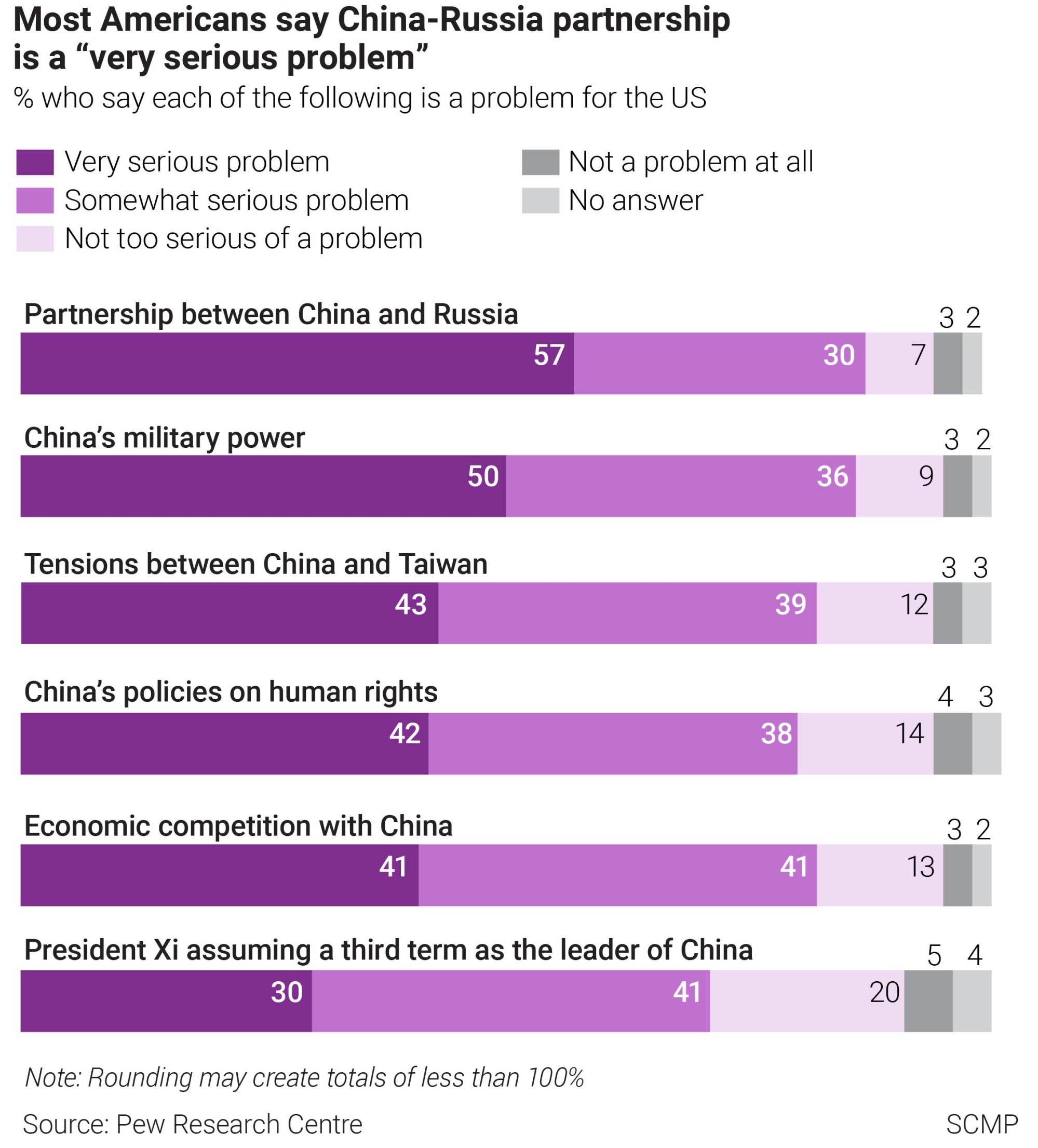 Among the choices, the China-Russia partnership was rated by the highest number of Americans – 87 per cent – as either a "very serious" or "somewhat serious" problem.
However, the number was less than in March – a month into the Ukraine war – when another Pew survey found 92 per cent of Americans said the ties were a serious problem.
Despite the global attention on the
Communist Party's 20th national congress
in China, fewer Americans considered Xi's norm-breaking third term as party leader a serious problem. Only 71 per cent of them saw it as a serious problem.
Xi's immediate predecessor, Hu Jintao, was the party's general secretary for only 10 years during his two terms. Jiang Zemin, Hu's predecessor, also led the party for 10 years from 1992 to 2002, after his unexpected accession to power in 1989 following the Tiananmen Square crackdown.
Older Americans were more likely to rate an item as a very serious problem, the poll showed. While 70 per cent of Americans aged 65 or above rate China's partnership with Russia as a very serious problem, only 46 per cent of Americans aged 18 to 29 would do so.
Most Americans, 54 per cent, also said the US should continue to have senior politicians visit Taiwan even if that harms ties with Beijing.
However, 38 per cent of Americans said their country should prioritise its
relationship with China
, even if it meant not having high-level politicians go to the island.
Taiwan is a major flashpoint
for ties between Beijing and Washington, especially after US House Speaker Nancy Pelosi's visit to the self-ruled island in August. Beijing said the trip impinged on Chinese sovereignty and, in response, staged unprecedented live-fire
military exercises around Taiwan
. Washington said the drills were aggressive and that US lawmakers had the right to visit.
Beijing sees Taiwan as a breakaway province to be brought under its control and has refused to rule out the use of force. It has blocked Taipei's attempts to join international health, civil aviation and policing organisations. Most countries, including the United States, do not recognise Taiwan as a sovereign state.
Pew said those who identified as conservative Republicans and liberal Democrats were about equally likely to say that senior US politicians should continue visits to Taiwan. Moderates in both parties, however, were less likely to agree.
More Americans believe cross-strait tensions are a very serious problem for the US. Only 28 per cent of Americans said so in February last year, but that number grew to 35 per cent in March and to 43 per cent this month.
Using an online survey, Pew polled 5,726 adults, chosen at random, who live in the US, with 5,098 – or 89 per cent – responding. The survey has a margin of sampling error of plus or minus 1.7 percentage points.