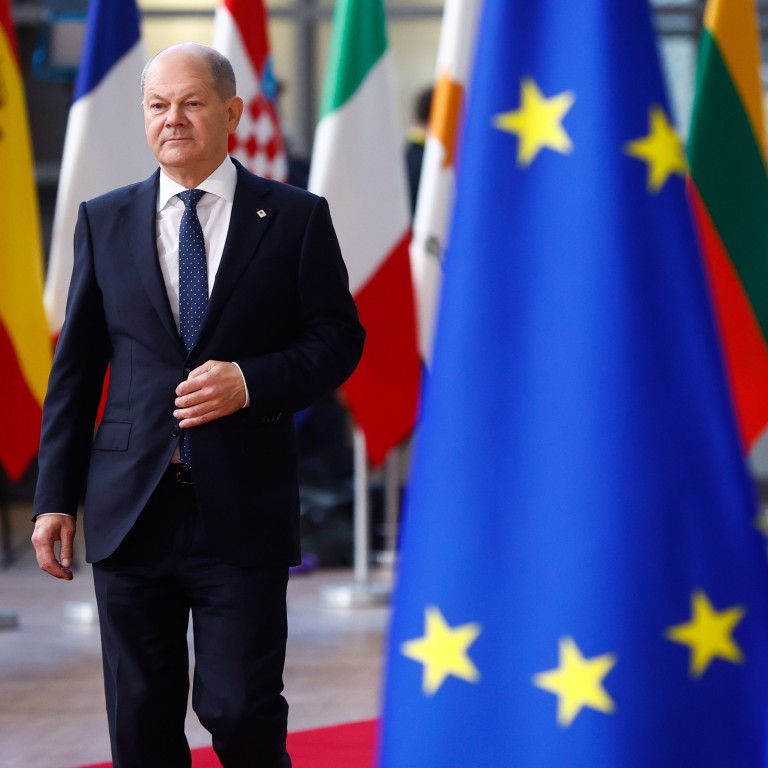 'No separate deals with China': EU leaders speak out against Scholz trip to Beijing
As EU officials met on Friday, several leaders stressed a 'single voice' on China
German leader will visit China early next month, along with a delegation of German businesses
German Chancellor
Olaf Scholz's China policy
has been criticised by his governing coalition at home, and there are signs that it may be causing friction at a European level too.
Scholz on Friday confirmed he would visit China early next month, along with a delegation of German businesses, in a move that has distressed some members of his governing coalition, who are pushing for a tougher German policy on China.
Speaking to reporters after the conclusion of a two-day European Council meeting, Scholz said there had been "no vote on deglobalisation or to get out of China" when the leaders of the EU's 27 member states discussed China for the first time in 12 months.
"We are liberal democracies, and have no illusions about who we are dealing with," Scholz said.
Le Monde, the French newspaper, reported on Friday that Macron had proposed the pair go together.
However, ahead of a three-hour debate on China policy at Friday's European Council meeting, several leaders of smaller EU countries voiced concerns about the plan, saying they would prefer the bloc spoke to Beijing with a "single voice".
Kallas said her country had exited the "16+1 format", an informal group that China launched to build economic ties with Central and Eastern European countries, "so we can talk with one voice".
Asked about Scholz's trip, Latvian Prime Minister Krišjānis Kariņš said that "in Europe, we need a united approach to China".
The Post reported on Wednesday that the trip had caused some consternation among EU officials, who have been urging member states to take a more strident approach to China policy.
A senior EU official compared Scholz's trip to some EU states buying more Russian oil after the invasion of Crimea.
"Some countries, instead of reducing their dependence [on Russia], increased it. That is the problem, but it is their decision. For Germany with China, the more they will increase their economic dependence the more exposed they are," the official said.
"We cannot hamper Chancellor Scholz's trip to Beijing, but maybe within his coalition his partners can say something. The sooner we start, and the more we are united, the better for all of us … we are now competing [with China] in all possible areas."
During Friday's talks, EU leaders reaffirmed commitment to the 2019 designation of Beijing as a partner, competitor, and systemic rival, even as partnership opportunities are few and far between.
In a sign of how concerned Brussels is about leaks ending up in Beijing, the discussion was held with no telephones present. A long debate about the war in Ukraine – a highly sensitive topic – has no such security restrictions.
European Council President Charles Michel said the "very dense" debate "showed a very clear will to avoid being naive, but neither did we want to embark [on] a logic of systematic confrontation".
"We will always be firm in standing up to defend our principles, democracy, fundamental freedoms," Michel said.
Arriving for the council meeting on Friday, Finnish Prime Minister Sanna Marin struck a more conciliatory tone when asked about Scholz.
"We shouldn't be dependent on authoritarian regimes on critical issues such as technology, as we are now seeing how problematic it is that we are so dependent on Russian energy … but that doesn't mean there can't be any economic relations with China," Marin said.
Belgian Prime Minister Alexander De Croo said that while China was a partner on "certain topics like climate change", in some domains it showed "hostile behaviour".
"In the past we have been very complacent as European countries," De Croo said.
Scholz has been pushing to greenlight the deal, despite the opposition of six government ministries, German broadcasters NDR and WDR reported.
The chancellor has been criticised for reportedly ignoring his ministries' concerns that selling a 35 per cent stake in the port to a Chinese government-backed buyer would be a national security risk.
Robert Habeck, the economy minister and Green Party co-leader, said last month he was leaning towards blocking the deal.
"Our critical infrastructure must not become a plaything for the geopolitical interests of others," Green party lawmaker Marcel Emmerich said in an Agence France-Presse report.
The pro-business Free Democratic Party, another coalition member, is also opposed to the deal.