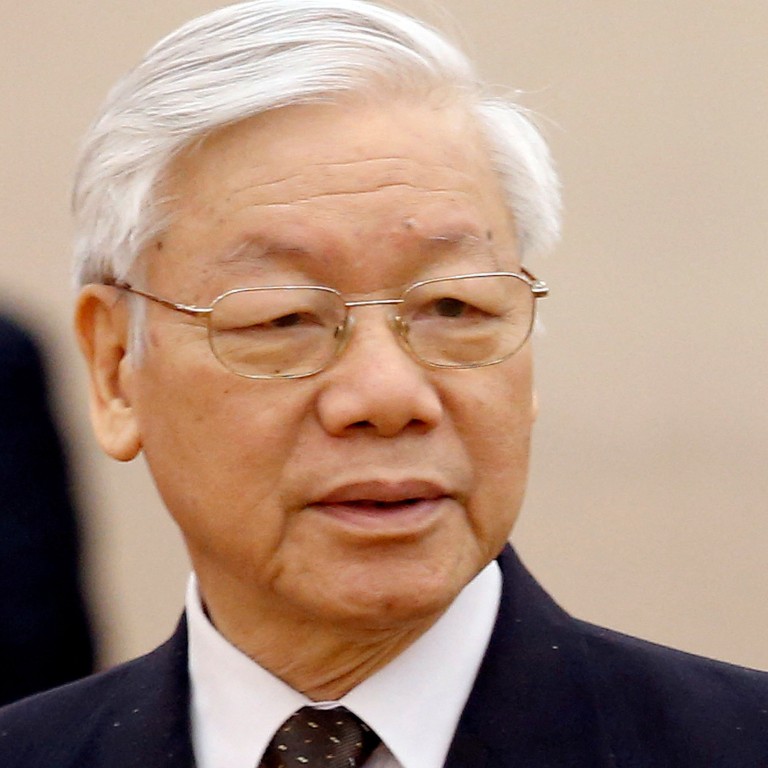 Vietnam's Communist Party chief to be first foreign leader to visit China after 20th congress
Nguyen Phu Trong's arrival on Sunday comes as Vietnam and the US are in talks over strengthening ties
On Sunday, Trong congratulated Xi Jinping and celebrated 'Xi's sincere concern and great contribution to Vietnam-China relations'
Trong's trip comes as his country is in talks with the United States over strengthening ties between the former warring enemies.
Invited by Xi, Trong will visit for four days, becoming the first foreign official to visit China since the close of the party congress and leadership reshuffle in which Xi secured an unprecedented third term as Communist Party chief and ushered in his new leadership team.
Trong has held the highest position in Vietnam, general secretary of the ruling Communist Party, since 2011, and was president between 2018 and 2021.
On Sunday, he congratulated Xi on his re-election as general secretary of the Central Committee and lauded "Xi's sincere concern and great contribution to Vietnam-China relations for the benefit of the people of the two countries".
According to Kalvin Fung Ka-shing, international relations researcher at Waseda University in Tokyo, Trong's visit reflected the two parties' "ideological solidarity and affinity", which trumped any hiccups over their sovereignty claims in the
South China Sea
.
"The high-level visit is an important signal to Beijing, and the world, that Hanoi wants to maintain healthy Sino-Vietnamese relations," he said. "It is also meaningful in that Xi and Trong are both 'path-breaking' [by staying] in power for more than two tenures."
Fung said Trong's congratulatory message and coming visit were in line with tradition because envoys had always been sent to meet the new leaders after each Chinese party congress.
Managing ties with Vietnam is one of Beijing's diplomatic priorities to offset rising US influence in the region.
The US has conducted freedom-of-navigation operations over the disputed South China Sea and called for Southeast Asian nations to stay alert to China's military moves in the region.
Trong met visiting Chinese State Councillor and Foreign Minister Wang Yi in September, with Trong saying no one could undermine the unity and cooperation between the two socialist countries.
Wang, who turned 69 this week, is expected to replace Yang Jiechi as director of the General Office of the Central Foreign Affairs Commission.
Vietnamese Prime Minister Pham Minh Chinh also told Wang that Vietnam's relations with China were a top priority in its foreign policy.
Two weeks later, US ambassador to Vietnam Marc Knapper said the relationship between their two countries had "no limits", and backed Vietnam on territorial disputes.
"We share with Vietnam the view that the People's Republic of China has made illegal and overreaching claims in the South China Sea," Knapper told Japan's Mainichi newspaper, adding that Washington viewed Hanoi as a "true and equal partner".
"We desire Vietnam to be strong, independent, prosperous, resilient and be able to defend its interests and protect its territory," he said.
US assistant to the secretary of state for East Asia-Pacific Daniel Kritenbrink similarly stated that ties between the US and Vietnam were "stronger than ever" in his visit this month.
"Our two nations have a common view on a rule-based order in the Indo-Pacific. This acts as the foundation for the security and prosperity in the region," he said, reiterating Washington's objective to improve the strategic capability of its regional allies under the
US Indo-Pacific strategy
.
Fung argued that Hanoi would tread lightly amid tensions between China and the US, because the two superpowers brought different values.
He said the interests of Vietnam and the US converged in security and economic cooperation but the main pillar of China-Vietnam ties might include ideological values as well as economic cooperation. He added that China's rise had prompted Vietnam to improve its ties with the US.
"But, as constrained by Vietnam's 'four noes' defence policy, historical memory and ideological incompatibility, Vietnam-US security cooperation will fall short of becoming a military alliance," Fung said.
Under the "four noes", Vietnam advocates not joining military alliances, not siding with one country against another, not giving any other countries permission to set up military bases or use its territory to carry out military activities against other countries, and not using force – or threatening to use force – in international relations.
It is in Beijing's interest to maintain the status quo in the South China Sea, over which most regional countries have also made claims, according to Jan Robert Go, assistant professor of political theory at the University of the Philippines Diliman.
"Despite the arbitral ruling [in The Hague] in favour of the Philippines, not a single country in the region has aggressively made a claim," he said, referring to a case brought by Manila against Beijing's sweeping claim to the South China Sea.
He added that no incidents had escalated into altercations between the Chinese coastguard and the naval forces of regional states.
"Apart from its claims in the waters, I see China's need for more allies anchored on the Taiwan issue. If the region can be secured to their advantage, possible tensions could be avoided, if not reduced," he said, noting that Beijing's positioning was prompted by Washington's regional presence.
"After all, Asean countries have benefited in one way or another from investments and cooperation with Beijing. If they choose to side with the US, it could mean abandoning possible economic advances," Go said.
He cited the example of Philippine President Ferdinand Marcos Jnr who, despite his strong stance on territorial claims, still partnered with China on economic and infrastructure developments.