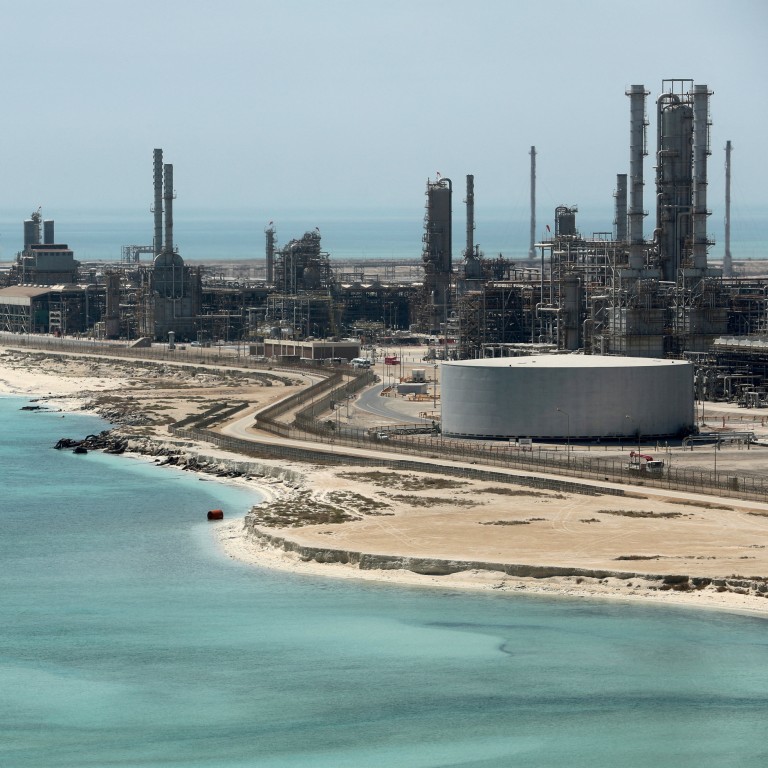 Saudi Arabia reaffirms energy ties with China amid US fears over oil cuts
Saudi and Chinese energy officials agree to expand links in energy
Riyadh's relations with Washington have long been unbalanced and the kingdom has more options now, Chinese analyst says
The assessment follows a video conference between Saudi Arabian Energy Minister Abdulaziz bin Salman and Chinese National Energy Administration director Zhang Jianhua on Friday.
In the meeting, the two officials agreed to deepen cooperation in the energy supply chain through establishing a "regional hub" for Chinese manufacturers in the kingdom to take advantage of Saudi Arabia's access to three continents. They also discussed cooperation and joint investments under China's Belt and Road Initiative.
"They also highlighted the importance of long-term and reliable oil supply to stabilise a global market that endures various uncertainties due to complex and changeable international situations," the Saudi government said, adding the kingdom continued to be China's most reliable partner and supplier of crude oil.
Saudi Arabia is the world's largest oil producer and China is the kingdom's biggest oil importer.
Last year, exports to China accounted for 27 per cent of Saudi Arabia's total crude oil exports, or a record 1.75 million barrels per day, according to data from the Mercator Institute for China Studies, a German think tank.
The two countries established a "comprehensive strategic partnership" in 2016, pledging all-round cooperation including in energy and trade.
Saudi Arabia was also the biggest recipient of belt and road investments in the first half of this year, attracting US$5.5 billion, according to a Fudan University report. The report did not say what proportion of the overall investment went to the kingdom.
The meeting between the two energy officials comes ahead of planned oil output cuts by the Saudi-led Opec+ group.
From November, the group, the Organisation of Petroleum Exporting Countries and non-Opec allies, will reduce production by 2 million barrels per day to boost oil prices.
The move is in response to declining global demand, but the United States has expressed concerns about rises in petrol prices and ripple effects on its economy, right before its midterm elections.
US President Joe Biden
warned of "consequences"
for Saudi Arabia and some Democrat lawmakers have urged Congress to suspend arms sales to Riyadh for one year.
Some observers suggested Saudi Arabia's energy meeting with China was a message to the US that the kingdom had other partners.
However, Li Shaoxian, a Middle East specialist at Ningxia University, said that would be reading too much into the situation.
Li said ties between Saudi Arabia and China would strengthen with the kingdom's growing geopolitical importance amid Russia's war in Ukraine, but relations between the US and Saudi Arabia had long been extremely unbalanced.
"[Saudi Arabia] has more choices now. It will further seek balance," Li said.
"Russia is seeking more cooperation with it; China's relations with it have always been good, and now shows a trend of further strengthening. Europe's dependence on it is increasing, so its relationship with the US must be adjusted."
He said Saudi Arabia and China had long enjoyed robust energy ties, and relations were expanding to other sectors including new energy as Riyadh sought to diversify its economy and reduce its dependence on oil as part of its Vision 2030 plan.
Victor Gao Zhikai, deputy director of the Centre for China and Globalisation, a Beijing-based think tank, and an adviser to Saudi Aramco, the world's largest oil production company, said China would expand investment in Saudi Arabia, particularly in infrastructure, where China had expertise.
"China sees Saudi Arabia as an important partner, so we are willing to invest in Saudi Arabia and build factories, and to do import substitution, etc," Gao said.
"[It] can even use Saudi Arabia as a bridgehead to the Islamic world … to West Asia and North Africa, among others, because Saudi Arabia does have significant influence in these countries."
He added China had long valued its relationship with Saudi Arabia, in contrast to Washington's "disrespectful" and "wary" relations with Riyadh.