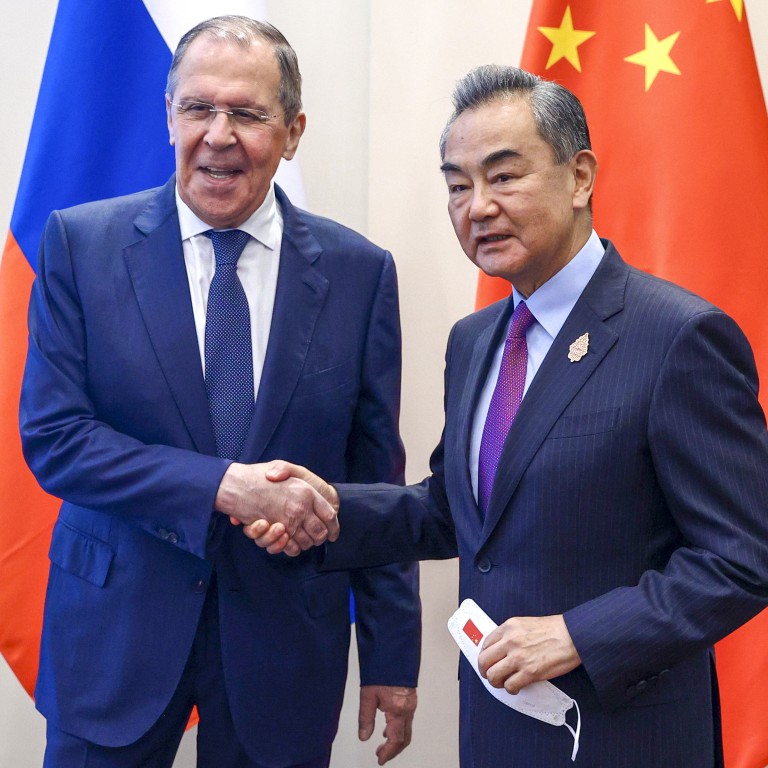 China reasserts 'firm support' for Russia as Foreign Minister Wang Yi calls Moscow counterpart
China willing to deepen exchanges at all levels, Wang Yi tells Sergey Lavrov in first overseas phone call after party congress
Call in line with tradition for China to first call its most important strategic partner after the congress, analyst notes
China has reaffirmed its support for Russia, with Foreign Minister Wang Yi telling his Russian counterpart that Beijing would
continue to support
Moscow in the international arena as a major power.
Any attempt to block the advancement of China and Russia would never succeed, Wang told Sergey Lavrov during a phone call on Thursday, less than a week after the
20th Communist Party congress
unveiled a new top Chinese leadership and gave a groundbreaking third term to President Xi Jinping.
It was Wang's first call to a foreign counterpart since the twice-a-decade congress concluded on Saturday, an assurance of Beijing's unchanged policy towards Moscow, a Chinese analyst said.
Wang was promoted to the now 24-strong Politburo, China's top decision-making body, in a leadership reshuffle after the congress.
Wang, 69, is
expected to replace
Yang Jiechi as China's foreign affairs chief, with the 72-year-old top diplomat set to retire.
A day before his call with Lavrov, Wang met Asean envoys in Beijing, in what was his first diplomatic activity after the weeklong event.
Briefing the Russian minister on the congress, Wang said Xi's re-election as the party chief provided the most fundamental political guarantee for the realisation of China's rejuvenation goal.
Wang also highlighted Xi's remarks in the congress calling on party members to "dare to fight and be good at the fight", a phrase widely believed to indicate an assertive approach for Chinese diplomacy.
Soon after the congress, Russian President Vladimir Putin sent a message congratulating Xi on his third term.
That message reflected the high level of mutual trust and firm bilateral support between China and Russia, Wang said, according to a statement from the Chinese foreign ministry.
"China will also firmly support Russia, under the leadership of President Putin … to further establish Russia's status as a major power on the international stage," he said.
Wang told Lavrov that it was the legitimate right of China and Russia to realise their own development and revitalisation.
"China is willing to deepen exchanges with Russia at all levels, push China-Russia relations and cooperation in various fields to a higher level … and provide more stability to the turbulent world," he said.
The two sides also exchanged views on Ukraine, according to the statement.
China-Russia ties, hailed as a "no limits" partnership by the leaders of the two countries, have drawn criticism from the United States and allied Western nations following the Russian invasion of Ukraine.
In his
work report
to the congress, Xi said that in terms of foreign policy China "has always decided its position and policy on issues based on their own merits" – terminology that has been used to defend Beijing's support for Russia.
Yang Shu, former dean of Central Asian studies at Lanzhou University in northwest China, said the Wang-Lavrov phone call was in line with the tradition for China to first call its most important strategic partner after the congress.
"[Beijing] is telling the outside world, despite speculation of a policy change after the 20th congress, we don't have any change but will adhere to past policy and strategy," Yang said.
Many observers had hoped for a change in China's stance on Russia after the congress, with former US secretary of state Henry Kissinger saying Xi might "recalibrate" his response after the miscalculation of siding with Russia, which has been hit by a slew of Western sanctions over its attacks on Ukraine.
"Under the current situation, China still insists on the previous stance, which actually shows that our support for Russia has not changed," Yang said, adding that ties had actually "warmed up" since the invasion of Ukraine in late February.
On Thursday, Putin said Russia's relations with China were at an "unprecedented level", as he called Xi a "close friend".
The level of bilateral political trust was higher than ever, China's charge d'affaires in Moscow, Sun Weidong, told a conference on Russia-China relations on Wednesday, according to Russian news agency Tass.
"These relations will undoubtedly be stable and aimed at the future," Sun said, noting that China had "objectively and impartially assessed the problems that Russia is currently facing with regard to Ukraine".
"China is deeply critical of the West's unilateral policy and hegemonic ambitions, emphasising that it is the root cause of the crisis," he added.