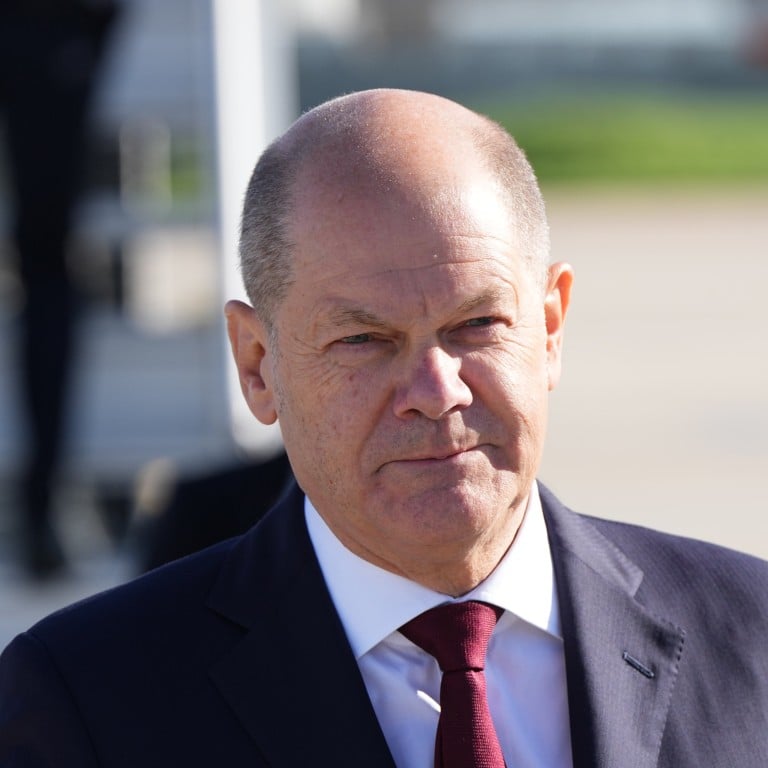 German Chancellor Olaf Scholz to visit China next week
Scholz will be the first Western European leader to go to Beijing since the start of the coronavirus pandemic
Opposition politician says trip with business delegation sends to the wrong message at home and abroad
German Chancellor Olaf Scholz
will visit China on November 4 at the invitation of Chinese Premier Li Keqiang, the Chinese government confirmed on Friday.
The long-expected trip was confirmed by the chancellor last week, but he did not give a date.
Scholz will be accompanied by a delegation of major German companies, and will also make stops in Vietnam and Singapore, before going to Bali for the Group of 20 summit in mid-November.
The South China Morning Post first reported in July that Beijing had invited Scholz, along with other Western European leaders, to meet Xi.
Bloomberg reported the business delegation would include representatives from Adidas, Deutsche Bank, Siemens, vaccine maker BioNTech, Volkswagen and BMW, chemicals giants BASF and Wacker Chemie, and pharmaceutical firms Bayer and Merck.
Last year
Adidas faced a consumer boycott
in the world's second-largest economy after expressing concern about allegations of forced labour in Xinjiang in China's west.
French media reported that President Emmanuel Macron raised the idea of a joint visit to Beijing, but Scholz rejected it. The French leader is now expected to visit China early next year.
Speaking at last week's European Council summit in Brussels, Scholz said "we are liberal democracies", and when it came to China we "have no illusions about who we are dealing with".
However, he added, there had been "no vote on deglobalisation or to get out of China" among the European Union's 27 member states.
The trip has caused some dismay in the governing coalition, as well as with some European partners.
Diplomats and officials have criticised Scholz for travelling with a group of industrialists, claiming that it showed Germany had not learned any lessons after the invasion of Ukraine exposed Germany's dependence on Russian gas.
At home, the Greens and Free Democrats (FDP), the two junior partners in the coalition with Scholz's Social Democratic Party, advocate a tougher policy towards China.
Earlier this week, the German government approved the sale of a
24.9 per cent stake in a terminal at Hamburg Port
, the country's busiest, to Chinese state-owned shipping company Cosco, despite officials saying a deal would leave Germany more vulnerable to "blackmail" and economic coercion by China.
Cosco was originally going to buy 35 per cent of the terminal, with the Greens and FDP opposed to allowing the company to take any stake. But in a compromise, Cosco's purchase was reduced so it would not have voting rights.
Germany's economic ministry – run by Greens co-leader Robert Habeck – said the "reason for the partial prohibition is the existence of a threat to public order and safety".
The chancellery had backed the sale despite opposition from six ministries and the European Commission, which had warned of the national security risks of having a critical EU port partly owned by a Chinese state company.
Cosco and other Chinese shipping companies have steadily built up stakes in various European maritime infrastructure, including stakes in ports in Antwerp, Duisburg, Rotterdam, Zeebrugge and Athens.
Scholz also wants to push through the takeover of the chip production arm of German company Elmos by Chinese-owned competitor Silex, German business newspaper Handelsblatt reported on Thursday.
Swedish company Silex is owned by the Chinese firm Sai MicroElectronics. The sale is under review by the economy ministry, but Handelsblatt reported that German intelligence agencies had warned against it.
Opposition politicians have criticised the series of China-related developments.
"The coalition has promised a strategic realignment of China policy," said Norbert Roettgen, a conservative member of the Bundestag's foreign affairs committee.
"But what we see so far is not an improvement but a deterioration in German-China policy, as they do not take into account China's transformation from an authoritarian system to a dictatorship.
"The federal chancellor acts as if nothing has changed in China and will travel to Beijing next week as usual with a huge business delegation. That is the wrong signal internally and externally."